Head(ings) of the Class
(Sorry, Gen-Xers, we're not talking about the classic sitcom starring Howard Hesseman.) It's that time of year when folks are celebrating their academic achievements by wearing gowns and strange hats and going out into the world armed with new knowledge. Here at Virtuous, we don't wear silly hats (usually) and our learning never stops; we're always listening for ways to improve. This month, we're particularly excited to roll out a feature that many of you have asked for: the ability to add more than one Heading—and Paragraph—in Forms!
Now, in the form builder, you'll still be able to drag and drop the Heading and Paragraph fields into your form, just as before. But once you do, you'll see that both fields are still available to be used again, as many times as you like!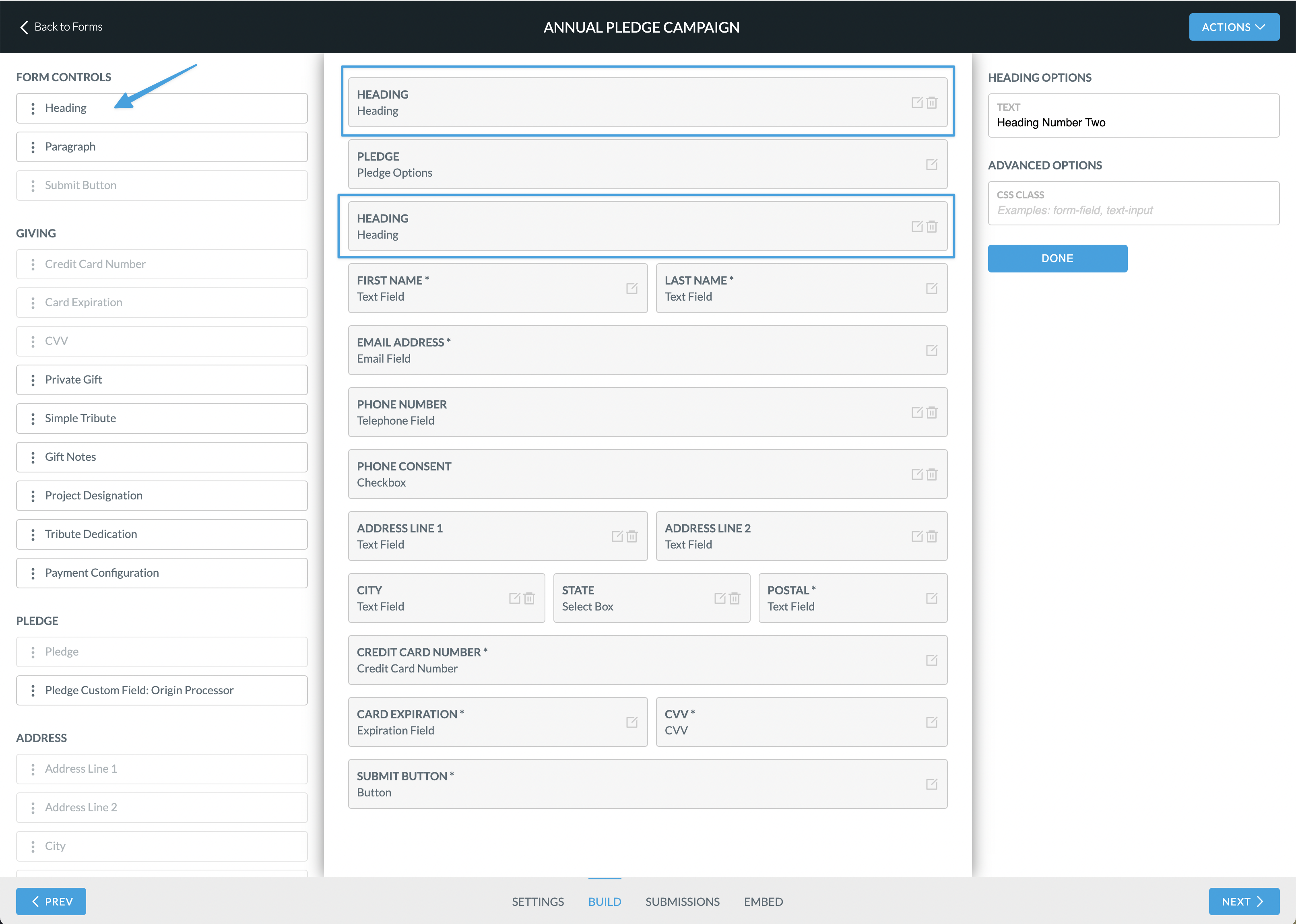 With this update, now you can create more robust forms and break up your form into clearly defined sections. This is a great way to create Lead Forms that can be used for surveys or as intake forms!
Want to know more about working with forms? We've got you covered! You can check out this article to get started with Lead Forms, or check out our Virtuous Marketing course over in the Virtuous Academy.
It's Dangerous to Go Alone! Take This
Especially if you are new to the process, importing data can feel just as dangerous as exploring the world of Hyrule in the famed Legend of Zelda games. But now, you can venture forth with a trusty guide. Well—several trusty guides, really. Because in this release, we are introducing new, downloadable Import Template + Guide options for every import in Virtuous!
What is an Import Template + Guide?
Well, it's no Master Sword, but, dare we say, it might be even more handy?
Each import will now show both the option to download the csv template for that import, as before, OR the template + guide.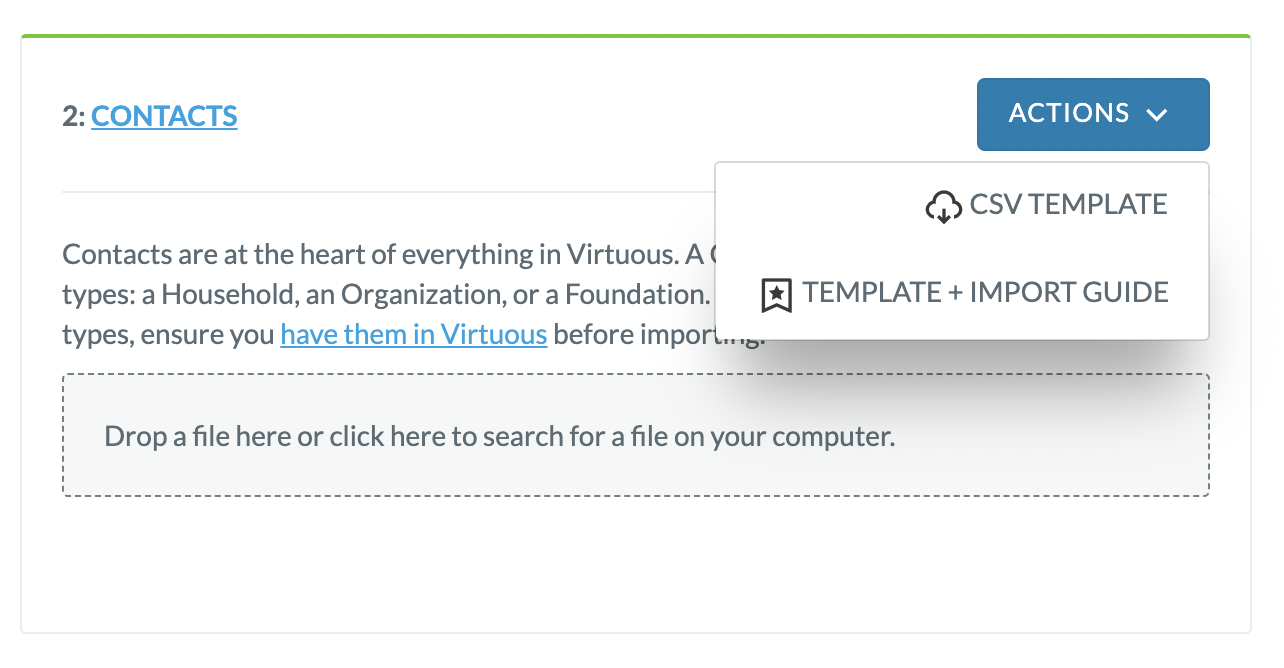 The latter is an XLS workbook with three tabs. The first includes notes for using the guide, how the import itself works, and any notes or prerequisites related to your import (for example, when importing Gifts, and Segments or Projects must be created beforehand).

The second tab will include the actual template, and the third tab provides detailed explanations for each field in the import, including which are required, what type of data is expected, and more.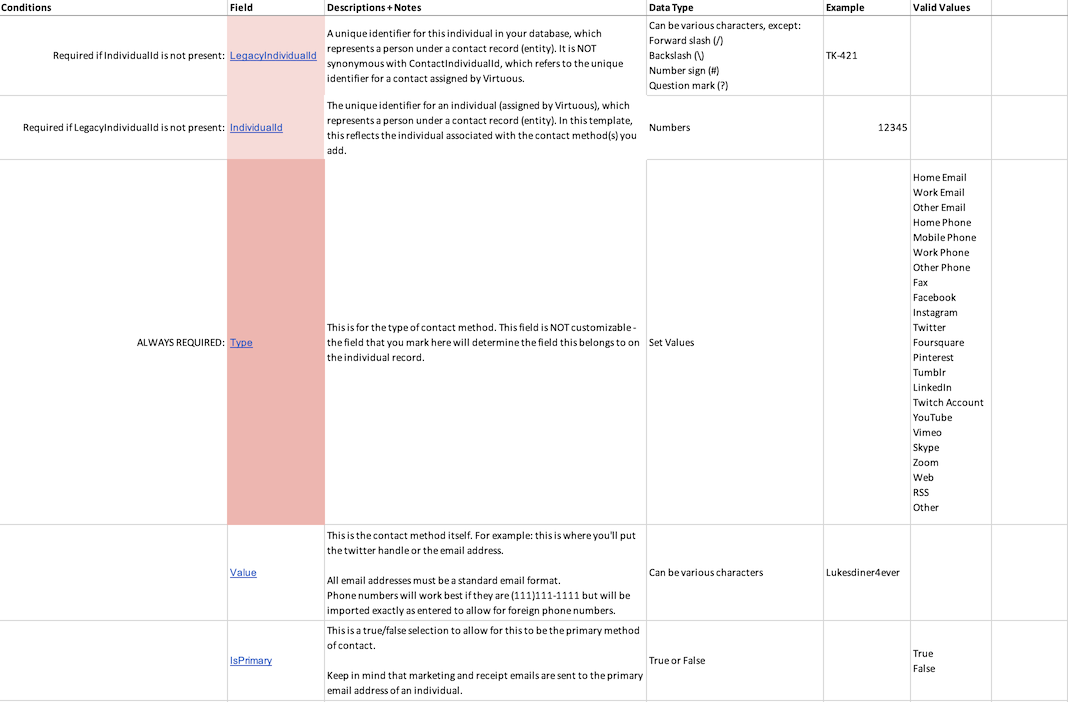 And when we say these guides are available for every import in Virtuous, we really mean it! In addition to the Bulk Data Tools, you'll even see links to download the Template + Guide for importing Contacts or Gifts via the Gifts & Contact Import tool.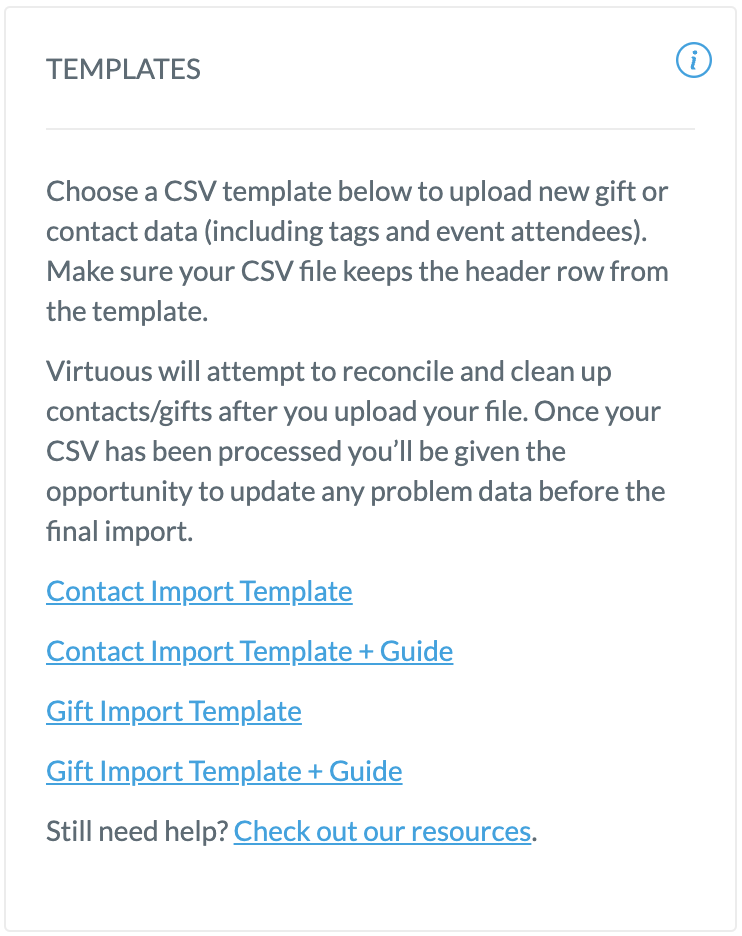 Check them out today! And happy importing!
We've Got the Best Rates in Town
Hey, you!
Yes, you!
Would you like to see even more data on your email send? Well, then, friend, we have got you covered. We've already added additional metrics to sent email data (loyal readers may recall this from our previous release) but now we are adding overall metrics on bounce rates and unsubscribe rates to the Rolling Twelve Month Email Activity Report.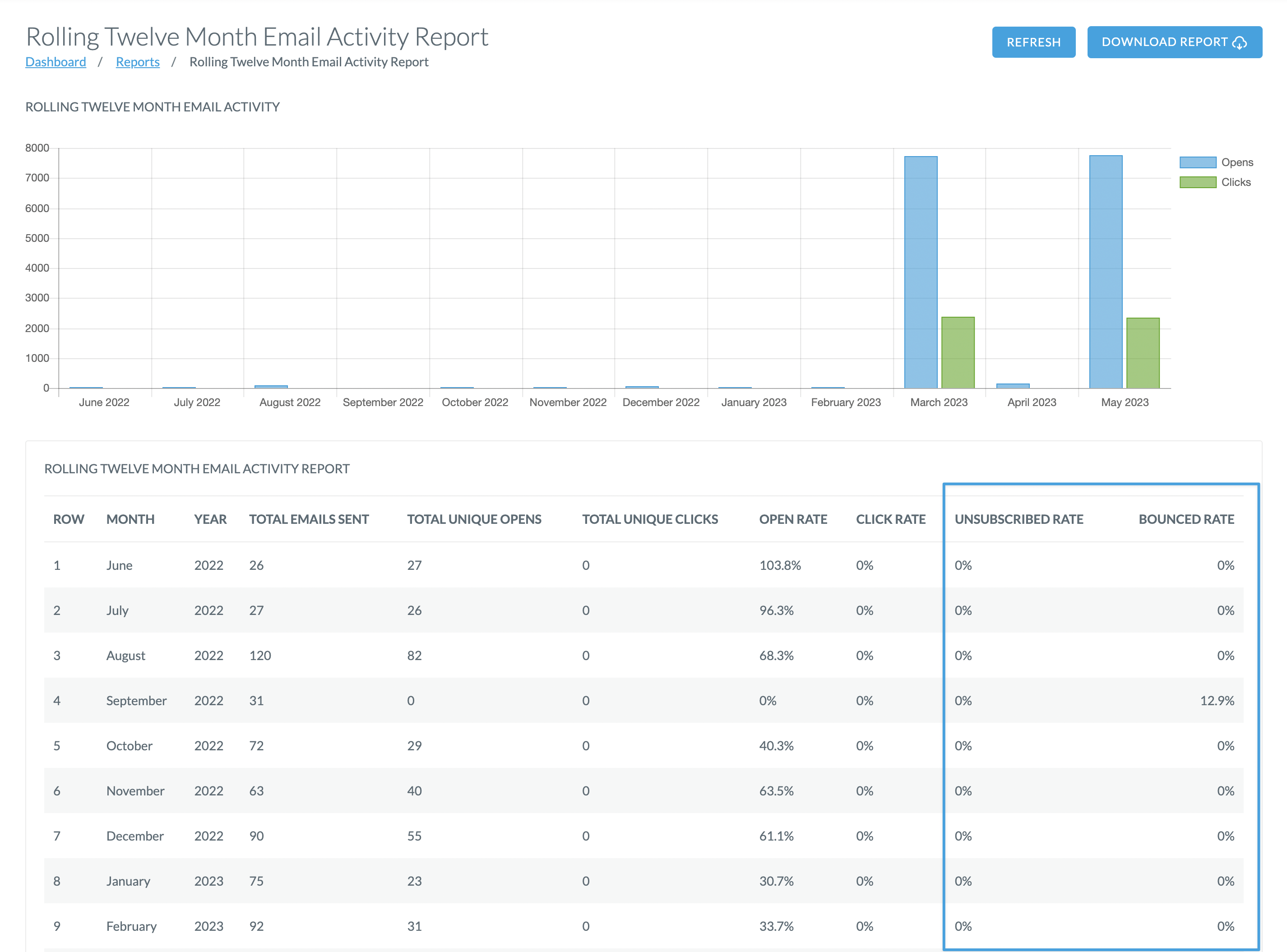 Now, it will be easier to chart the long-term effectiveness and reach of your email content.
Not familiar with the Rolling Twelve Month Activity Report? Well, you can run it from the Actions menu on the email page. Go on over and take a gander!
...And The Rest
As with every release, this latest update also includes a number of other fixes, tweaks, minor modifications, and assorted nudges. Among this month's assorted fixes:
Way back in the heady days of autumn 2022, we introduced a slew of eye-catching new email templates which, while pleasing to the eye, did not actually contain unsubscribe links. This meant that, when using these delightful-looking templates, some rather unfortunate-looking default unsubscribe links were being added in automatically. We've made sure that all templates have fully functional unsubscribe links so that all emails remain as aesthetically pleasing as possible from now on.

OK, this one's a little technical, so buckle up. (Or, feel free to skip to the next bullet. You do you.) Virtuous forms have supported "onSuccess()" events for some time, meaning that it is possible to connect forms to a platform like Google Analytics to see form submissions. In this release, we are adding support for "onLoad()" events as well, making it possible to see when someone has viewed a form. This provides an excellent way to be able to track and report on traffic and conversion for any or all of your forms. Check out the hyperlinked support article if you want to learn more! (Or don't, we're not here to tell you what to do.)


If you use the Grant Management features in Virtuous, then you know that each Grant can have an Owner, which is the user who is responsible for managing a particular grant application. (If you don't use the Grant Management features, well, now you know it too!) You may have also noticed that, when filtering Grants, it was not possible to filter for Grants by Owner. If you hadn't noticed this, well, it's too late, because we've added the ability to filter by Owner. You missed your chance to request a feature! Maybe next time...

We squashed a bug that was preventing A/B split test emails from sending out the winning email, thereby denying recipients the opportunity to see the very best version of a marketing email. We mourn for their loss, and we have ensured that no one will be denied the opportunity in the future.
And that's the list! Phew! As always, if you have any questions about these or other features, feel free to contact our team using the support widget in Virtuous, or drop us a line by email: support@virtuous.org