Better Than Halloween Candy: Pledge Forms!
OK, maybe not better than Reese's peanut butter cups, but definitely better than a Baby Ruth.
That's right, by very popular demand, we are introducing Pledge Forms for Virtuous Giving. Now, you can give donors the option to create a pledge, set the schedule, and automate payments on their credit card, via their bank account, or even choose to pay later or pay via gifts of stock.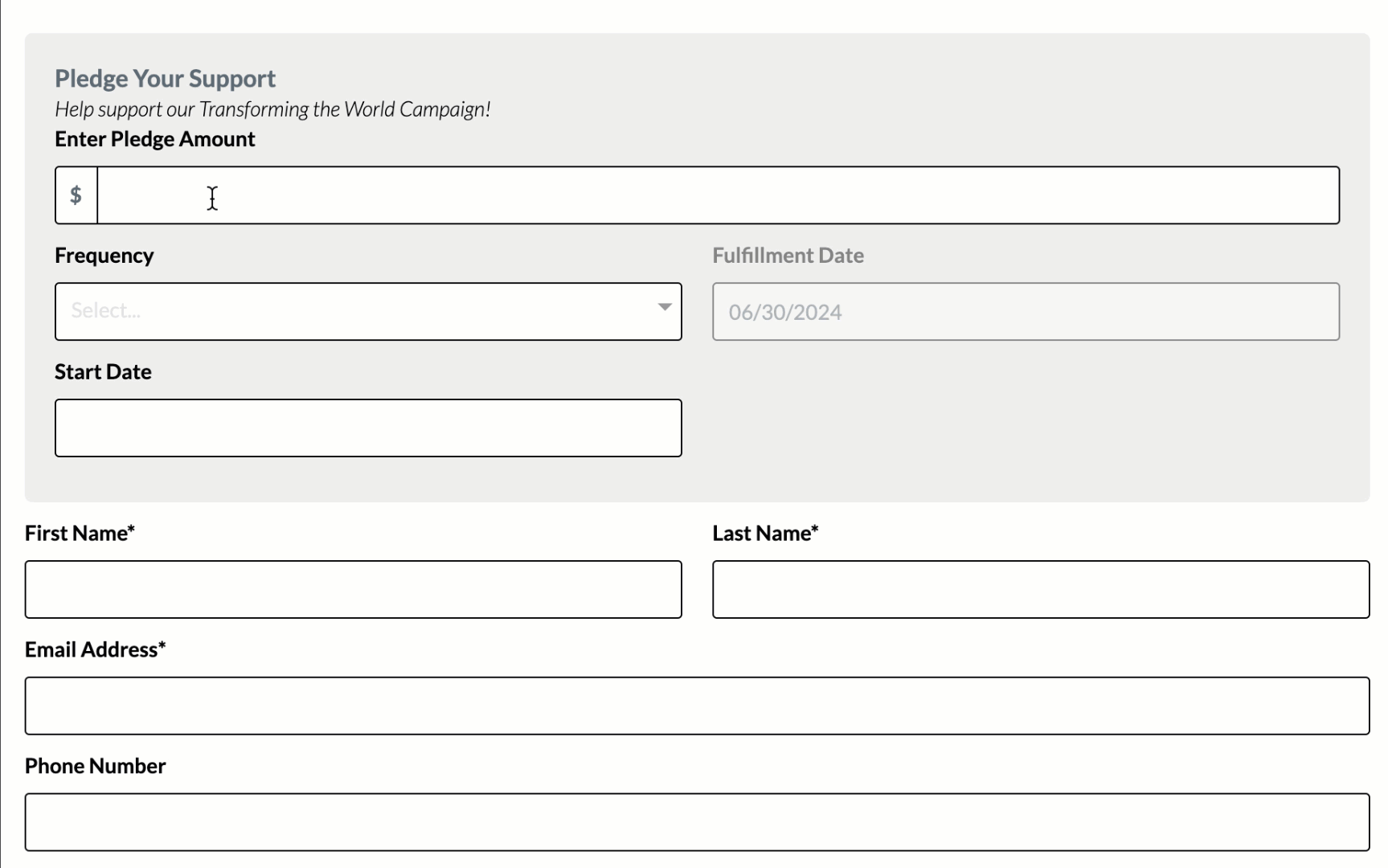 Because there are so many options, Pledge forms are an entirely new type of form. In order to offer your supporters the option to give a one-time or recurring gift, you'll need a separate giving form. To offer both options, it's easiest to create a giving page with content encouraging supporters to give or pledge, with buttons or links to the separate pages where each form is embedded. Kind of like the house that offers trick-or-treaters a choice between a Peppermint Patty and a Snickers (always go for the Snickers!).
With the introduction of Pledge forms, we're also introducing the ability to automatically charge a donor's credit card or debit their bank account for pledge payments—no need to send out pledge reminders! This should make it much easier to reconcile pledges and reduce the amount of legwork needed to track pledge payments. Automated payment pledges can only be created via Pledge forms, so donors will have control over their payment methods.
When creating a Pledge form, there are several options for allowing donors to set the duration and frequency of their payments. Donors can choose the end date of their commitment, or each form can have a default date set. Or, make the match simpler by allowing donors to set the total number of payments they'd like to make.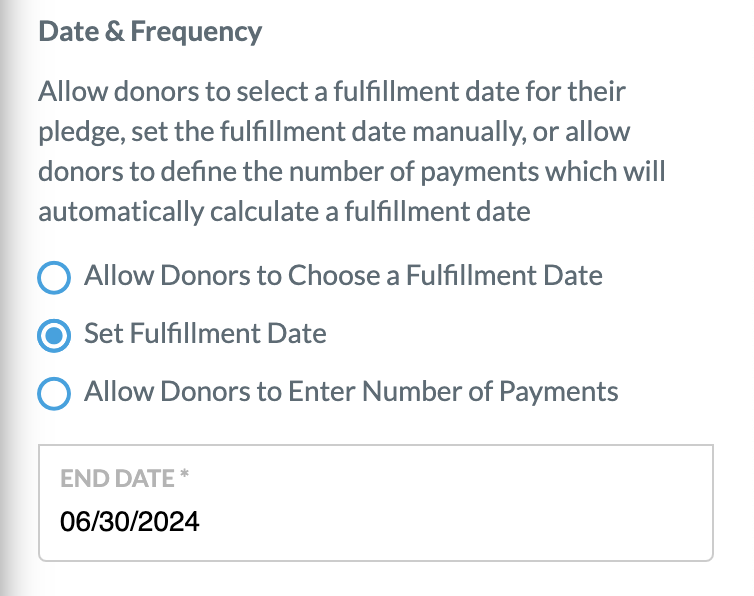 Choose from a drop-down list of frequency options to limit a form to a specific frequency like Monthly, or allow a wide range of options.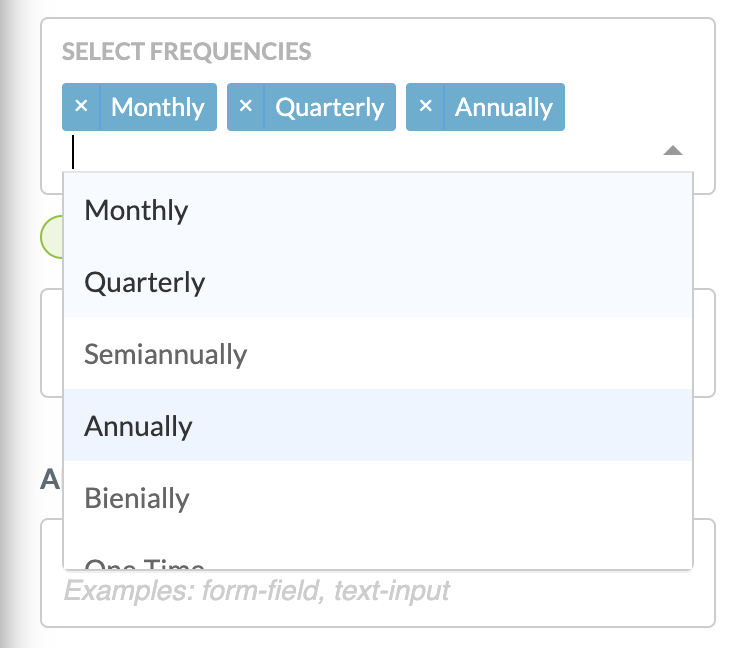 Still want to allow donors the option of paying via check? Then be sure to include the "Pay Later" option in the "Payment Configuration" field when creating a Pledge form.
But donors paying by check will probably need statements or reminders. Which is why we didn't just stop with creating Pledge forms…we've also added additional fields to Pledge queries and the trusty Pledge Payment Report! We've included new fields for the Next Payment Due (Amount and Date), the Last Payment (Amount and Date), and the Amount Paid to Date Towards Pledge. These additional merge fields should make it easier than ever to create pledge statements and reminders via a mail merge.
Want to learn more about pledge forms? Then feast your eyes on this support article!
Greetings and Salutations, Trick-or-Treaters!
Names are super important, no matter what Shakespeare says. (If you want to see for yourself, call any trick-or-treater dressed as a character from Paw Patrol the name of a different Paw Patrol character and see how upset they get.) And if you want to be responsive and truly connect with your supporters, then you'll need to listen to them and learn not just their name, but how they'd like to be addressed. For instance, you might know that a donor's name is John Jacob Jingleheimer-Schmitz, but maybe you don't realize he likes to go by "J.J." (you probably would too, kids can be rough and there's even a whole song about his name).
Why are we talking about this?
Because, in this release, we've made it easier than ever before to keep track of your supporters' names. In fact, we've added a whole host of new fields for Contacts and Individuals so you can address supporters the right way, every time.
When creating a new Contact, you'll see right way that we've added three new Individual fields, including a second title, Nickname, and Pre-marriage Name.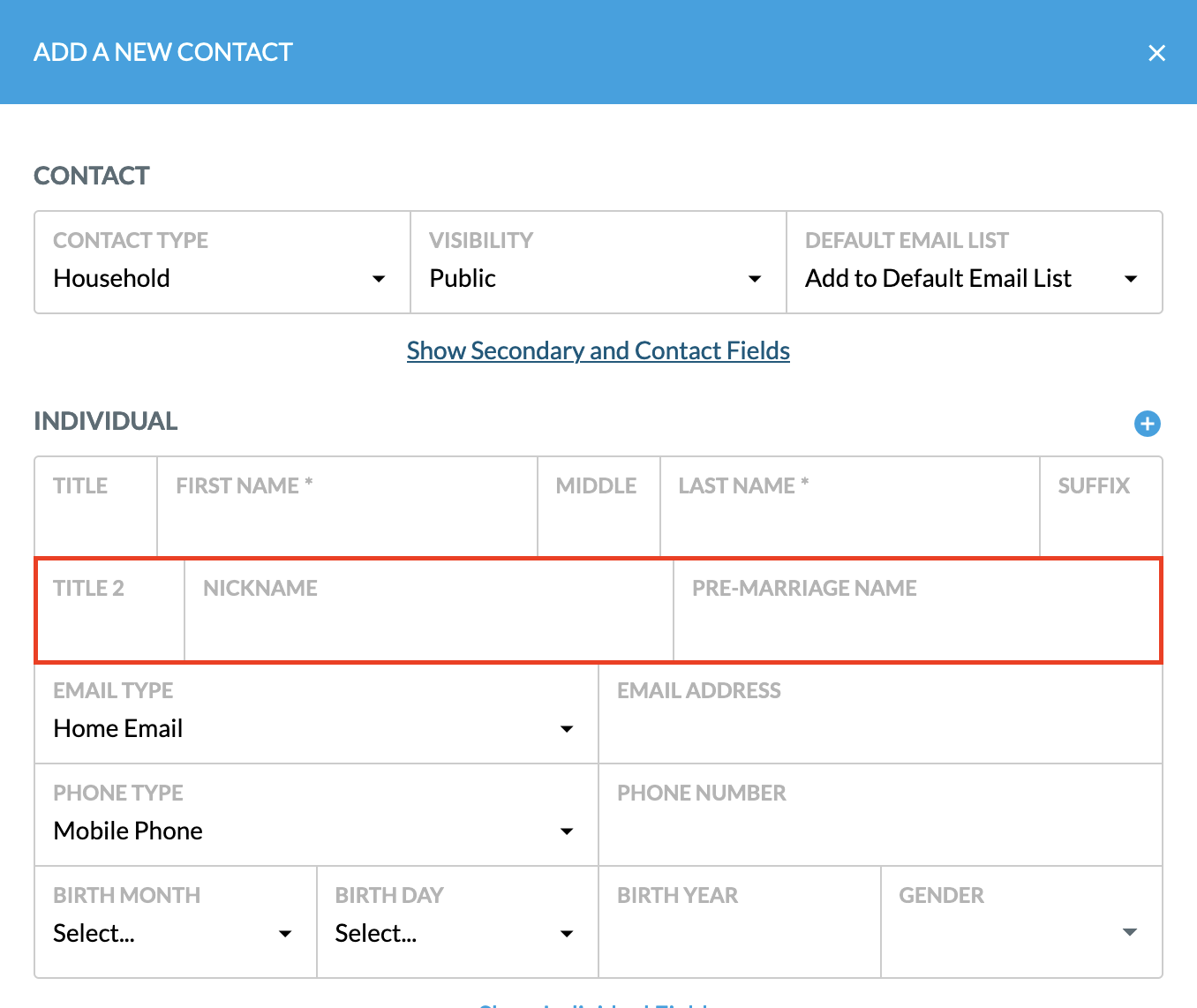 If you've already created Individual custom fields for these, don't worry—we'll be moving that data to these new fields for you, because we like to go the extra mile.
Click on "Show Secondary and Contact Fields" and you'll see that we've added several new Contact fields.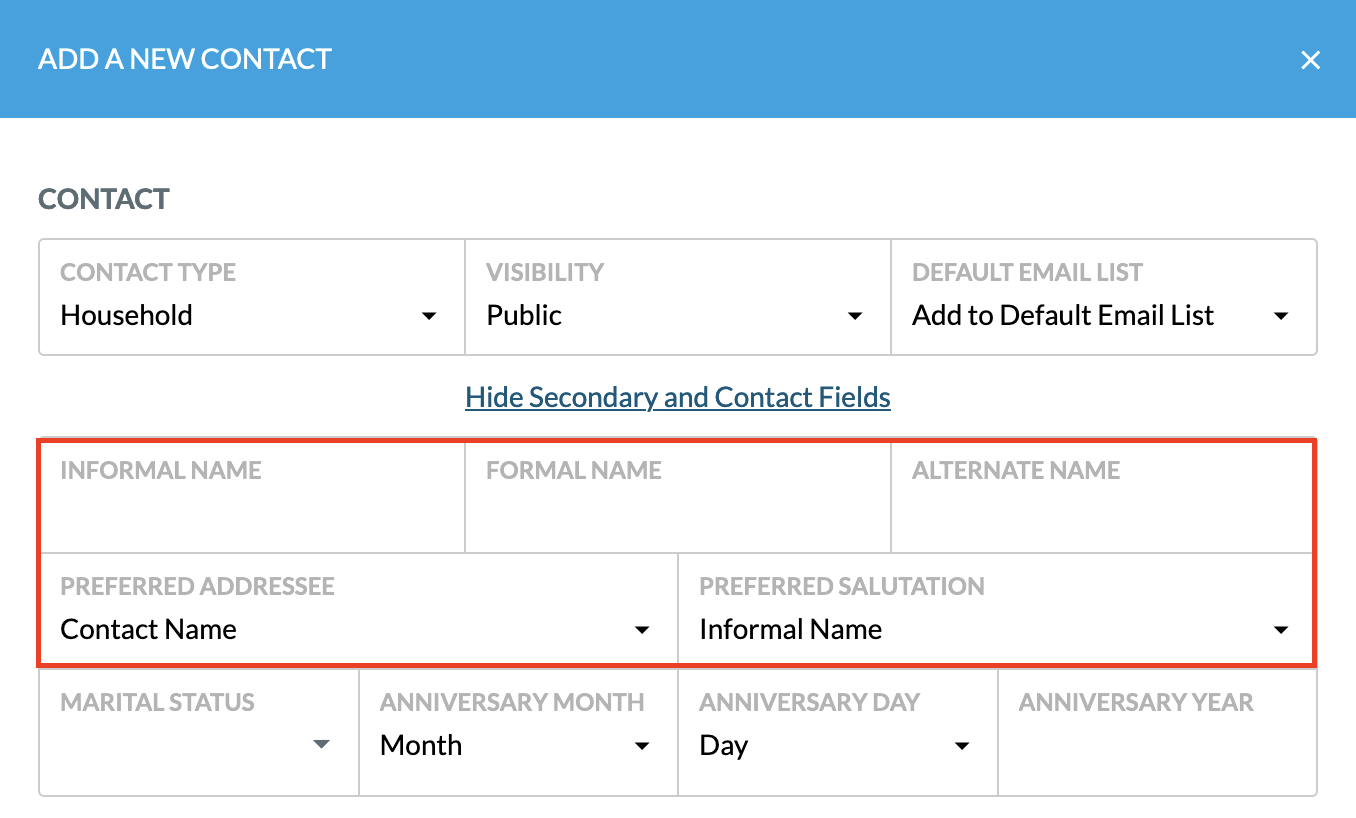 Now, in addition to having a Contact Name and Informal Name, you'll also see fields for Formal Name and Alternate Name. That's right, we've doubled the names! Like getting a full-size candy bar instead of fun size! But having four different names isn't always enough. Maybe one donor wants to be addressed using their Contact Name ("Jim and Pam Halpert") and another prefers that you use their Formal Name ("Mr. and Mrs. James and Pamela Halpert").
That's where the new Preferred Addressee and Preferred Salutation come into play!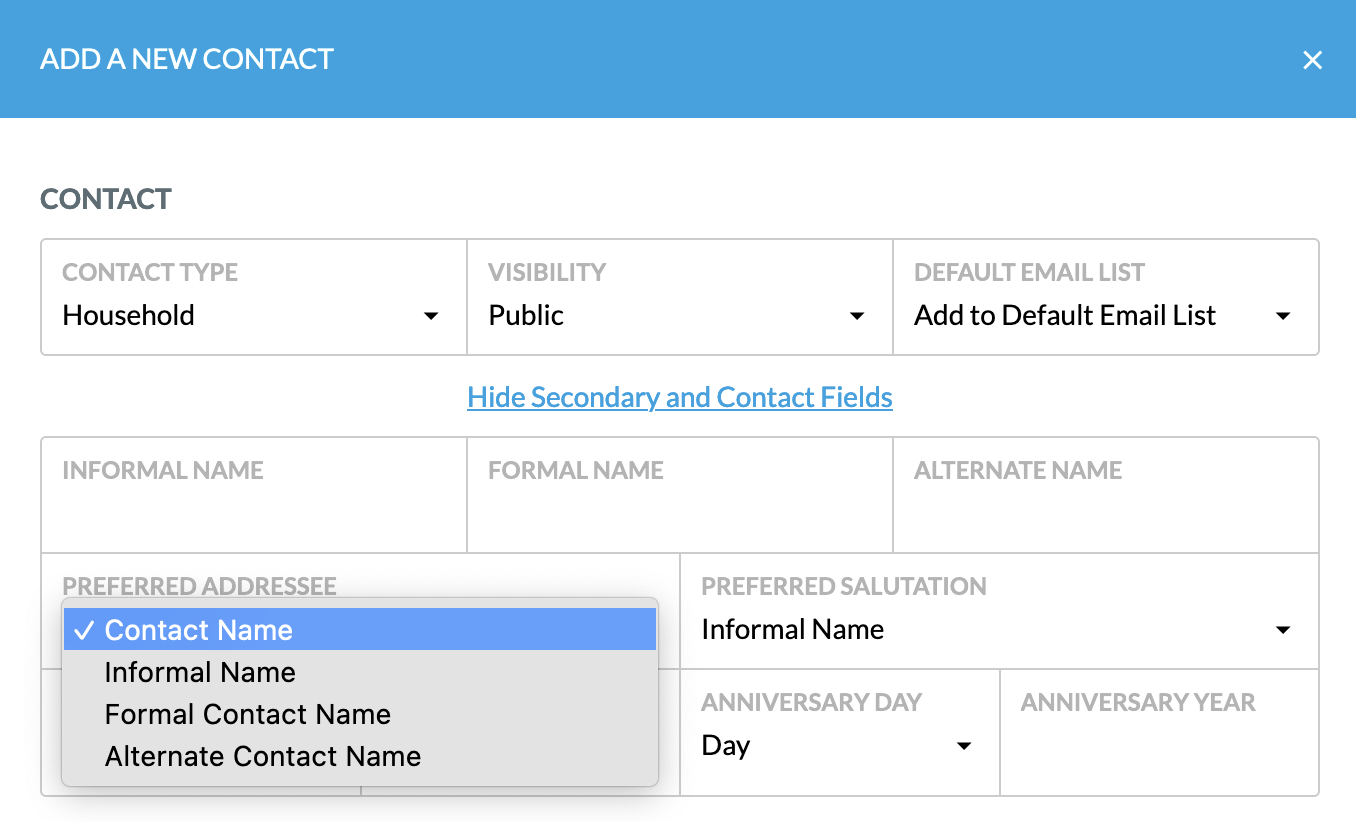 By default, each Contact's Preferred Addressee will be the Contact Name and the Preferred Salutation will be the Informal Name. These new "preferred" fields can be used as merge fields in receipts and emails, and included in queries or segmentation files to be used in mail merges.
takes deep breath
BUT WAIT…THERE'S MORE!
That's right, why stop there? We've added new rules for setting these new Contact Name fields, with the ability to define rulesets for populating the Contact Name, Informal Name, Formal Name, and Alternate Name for Contacts with a base type of Household. Now, you can define custom formats for all four names, with the ability to include all of the newly added Individual Fields as well as First or Middle initials.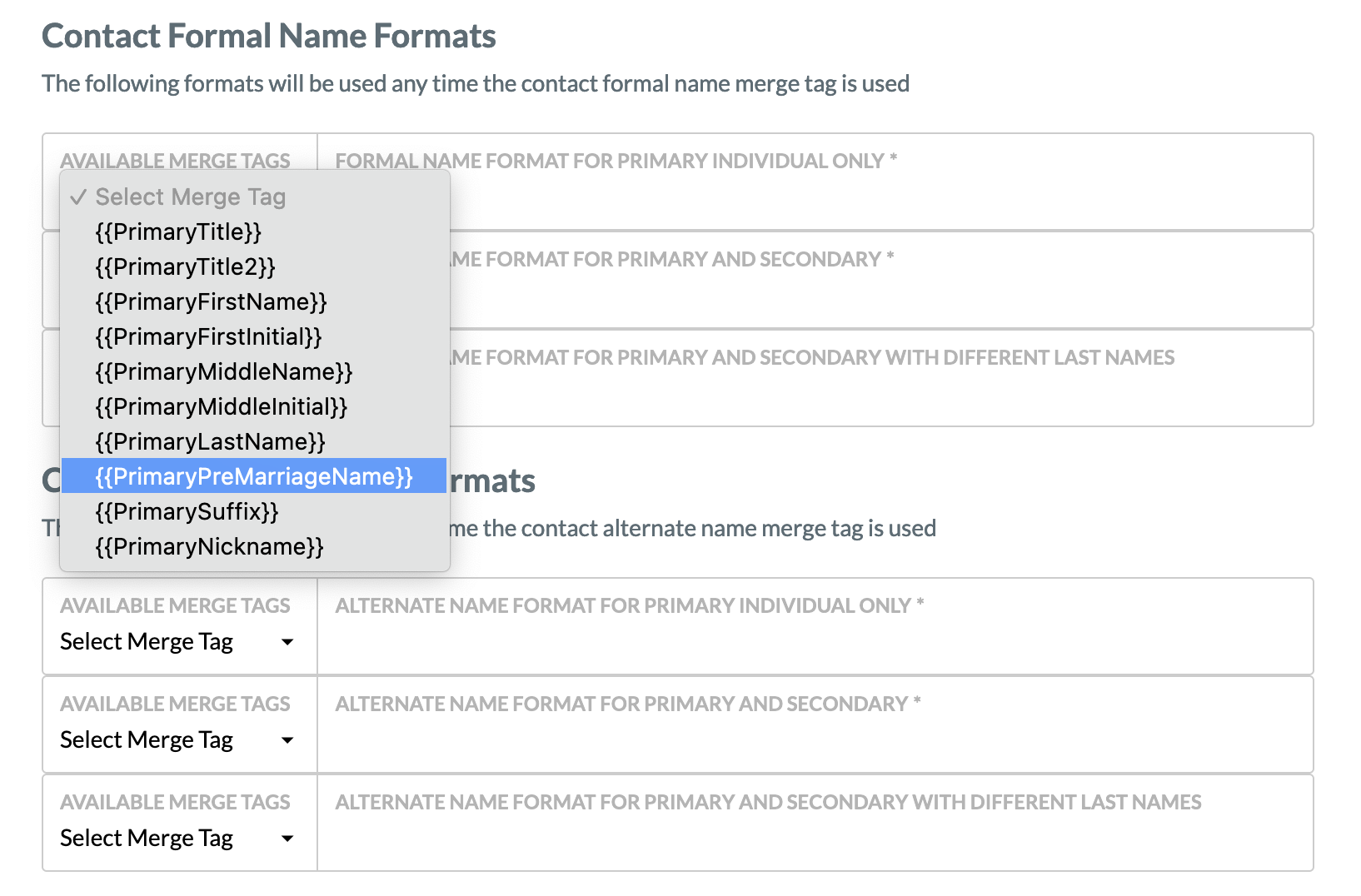 And we've updated the logic for setting name values to allow more customization and control.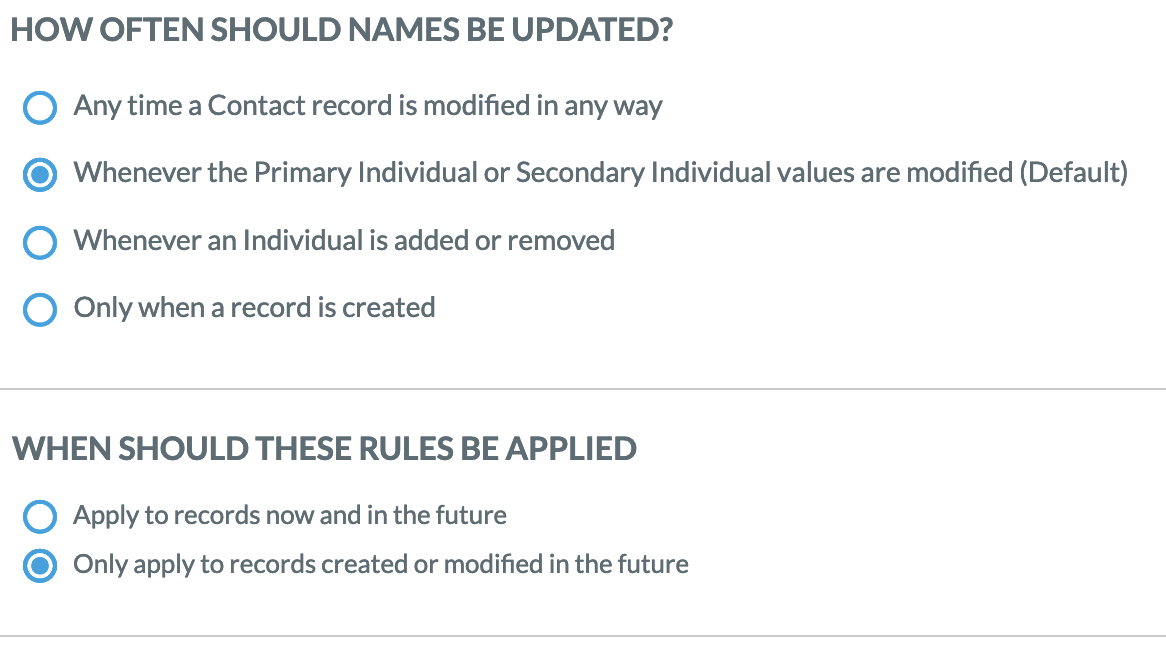 So now, you can be sure you'll be addressing your supporters the right way, no matter what. In your face, Billy Shakespeare!
Want to learn more? Check out this article to learn all about customizing Contact Names.
…And the Rest
As with every release, this latest update also includes a number of other fixes, tweaks, minor modifications, and assorted nudges. Among this month's assorted fixes release over the last month:
We squashed a bug that was preventing some users from editing existing Lead Forms. Now, you can edit to your heart's content!
Several users have requested the ability to connect a new membership to an existing recurring gift that may have been linked to an expired membership. So, if a member lapses and then decides to renew late, a new recurring gift needed to be created. Well, by popular demand, we've added this for memberships! No more need to fear those late renewals!
Some user who have an older version of our Stripe integration reported some issues with receiving transactions from Stripe. We took a look behind the scenes and made some updates to ensure data will flow smoothly now. Phew!
Gift imports containing only one currency were displaying a banner indicating they contained multiple currencies (spooky!). We've had a sit-down with the import tool to make sure it can more accurately identify currencies going forward, and the import tool has agreed to comply.
Organizations tracking pledges as receivable were not seeing Projects listed on the Recent Gifts widget when Pledges were listed. We are all about equal treatment here at Virtuous, so we've made sure Projects will display correctly going forward.
By popular demand, we've made a change to our Campaign Summary report. Now, when entering in a date range to run the report, we'll only return totals for gifts dated within that date range. What a concept!
Users assigned to Organization Groups! This one is for you! (Well, technically it's for the admins who control your permissions, but that doesn't have quite the same pizazz.) We've modified our filter options for Organization Groups so now the filter option for the dashboard will show the option to "Filter Best Calls and Thank You Calls By Group." We never meant to leave Thank You calls out and we apologize to Thank You calls everywhere for the oversight.
And that's the list! Phew! As always, if you have any questions about these or other features, feel free to contact our team using the support widget in Virtuous, or drop us a line by email: support@virtuous.org