There's no doubt that moving to a new donor database takes serious work (and trust us, we take it seriously) and preparation. But where should you begin to prepare yourself and your organization for migration to Virtuous?
The answer is: with our best practices below!
1. Identify Your Donor Database Champion
Sure, "identifying your champion" might sound more like something you'd do to prepare for a gladiatorial contest in ancient Rome. But it's a key part of the database conversion process, too. Some organizations are lucky enough to have a dedicated donor database administrator, but not everyone does.
Identify the right person to manage the transition process, "own" your data, and act as the main point of contact for everyone involved. Choose someone who is familiar with your organization, processes, and above all, your nonprofit database. You'd be surprised how often someone tabs a well-organized employee with limited knowledge of their data and the organization!
Organization is a great skill, one that is very important when managing a big project like a data conversion. But your organization's institutional knowledge is paramount.
2. Find the Why Behind Your Data
Every organization, no matter their size or mission, has unique data points that they track in their donor database. But not all data is created equal. And data that isn't mission critical, especially data that isn't used at all, may not need to be moved into your shiny new donor database.
The key to knowing what needs to move and what can stay behind is knowing why a particular field or value is needed. Here are some helpful questions to ask yourself:
Who uses it?
How is it used?
Is it a value that is managed by users, or is it something auto-populated by your CRM? (You'd be surprised how often this happens!)
Having the answers to these key questions is vital. It ensures that the right values are brought over in your conversion and they are mapped correctly in Virtuous.
3. Clean Up the Mess
Just like the old cliché of cleaning before company comes, it's a good idea to do some data cleanup before showing your new software team your database. Nothing makes a shiny new donor database less exciting than putting in data that's not so shiny.
Sweep for duplicate records (if your database has a function for this — it should!) and look for incomplete addresses. There are almost guaranteed to be some folks hiding in your database with email addresses like "dontmailme@noemail.com" and street addresses like "requests no mailers." Make a few passes to polish your data and make sure it's ready for your big move.
4. Take a Critical Look at Your Reports
Many organizations get caught up in trying to recreate existing reports in their new system, mistaking report content for critical needs. Just like knowing the why behind your data, understanding the needs that each department has and what reports they use daily is a must for any successful transition.
Odds are, Virtuous will do things differently when it comes to reports. Instead of spending hours trying to create the exact same report output, focus on creating new reports that meet the needs of each team.
For example, let's look at an organization's "most mission-critical report" that they want to create in Virtuous. We go in and find many unrelated data points, tracking information like donors' year-to-date and life-to-date giving history, recent contact notes, gift designations and a variety of others. Now, let's explore their why behind this report:
Who uses it?

This report was emailed out to every single staff member every day.

How was it used?

HOWEVER, each team only used certain fields that pertained to their use.

Is it a value that is managed by users, or is it something auto-populated by your CRM?

The values from this one specific report were all created in one because of limitations in their old system.
Instead of trying to find a way for this organization to recreate this one big report exactly, we would suggest that they look at what each team needs. After all, they're just picking out the values that are relevant to them. They should figure out which values are relevant to each team and then create smaller, saved reports that each user could run on their own; this way, teams won't have to filter the information they don't need! Bonus: This also gives each user more flexibility. Empowered users could then work in the database (with certain permissions, of course) rather than relying on a static, emailed report. As they say in all the business books, it's a win-win!
5. Prepare Your Entire Team for Change
Managing change effectively can make the difference between success and failure. All too often, conversions go awry, not because of any problems with data or technology, but because there were team members not adequately prepared for change.
And we know change is not easy. But there are ways to lessen the impact for your organization. Provide each staff member with the tools needed for a successful donor database migration.
Getting your team ready starts with clearly communicating the benefits of changing systems. Tell them exactly what things will look like for your organization once you have successfully implemented your new software.
Make sure to build in plenty of time to provide training for each user and for each team as a group. Provide a clear transition plan. Ensure each team's needs are met (for example, do they know how to generate the reports they will need?). Set a clear timeline (and stick to it!) so no one feels surprised at any point.
The Knoster Model
For managing complex change, we refer to the Knoster model, which looks like this: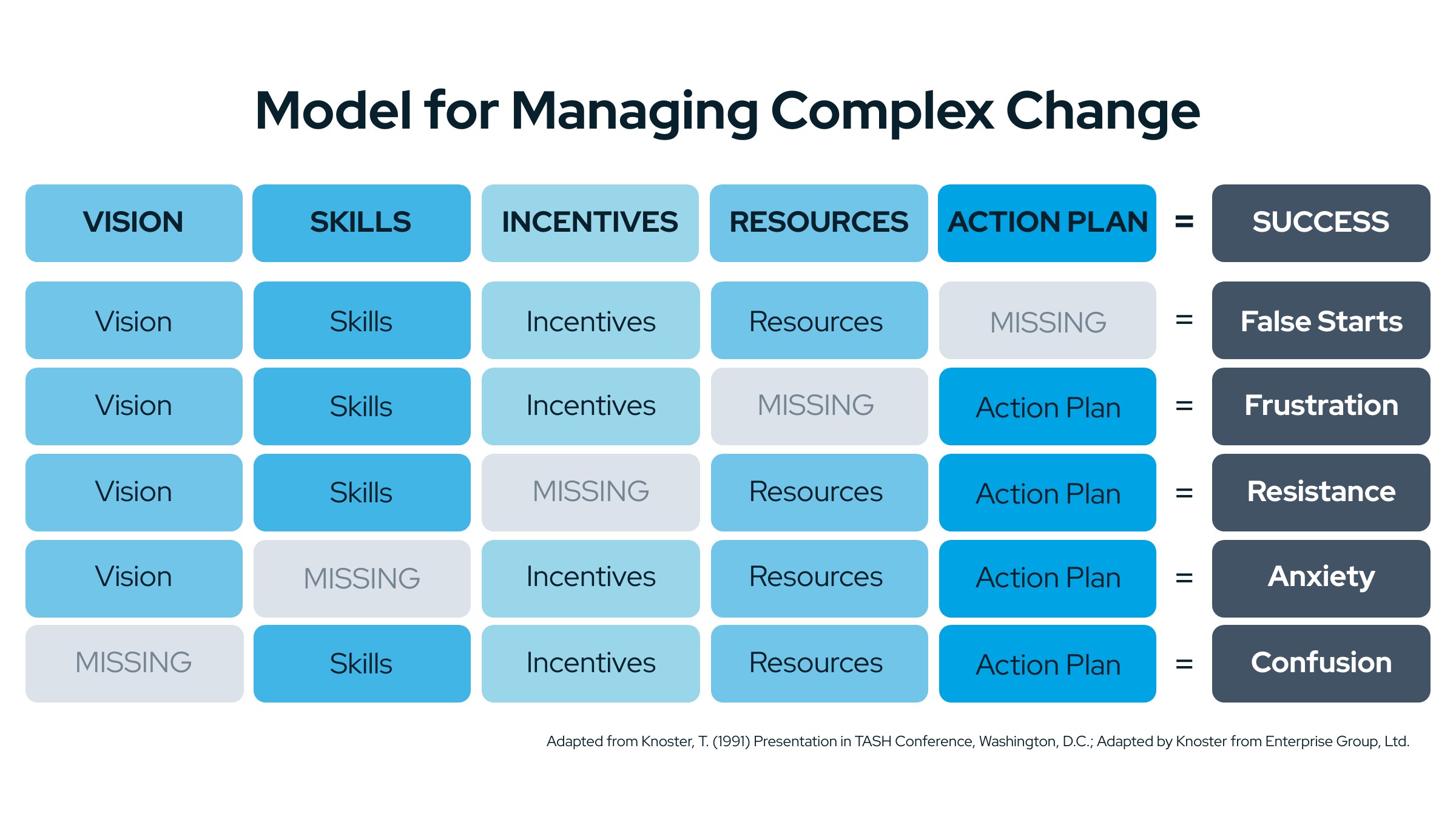 As you can see in the top row, there are five key elements that are necessary to prepare your team for change:
Vision – What will change once you have successfully converted? What does success look like?
Skills – Training makes all the difference! Make sure everyone knows how to use your new tools.
Incentives – How will the new system make things better? Clearly lay out the benefits for each team. Give them a reason to embrace your new tools.
Resources – This is a big one. Do your users have everything they need? Is it clear who to contact with questions? Do they have access to training materials? Are they set up with necessary hardware or supplies to work in your new system?
Action Plan – This includes setting a timeline and making sure everyone knows it. To keep everyone rowing in the right direction, you need everyone to know where you are going and how you are getting there.
As laid out in the graphic, if any one of these elements is missing, then any complex change process will result in poor outcomes, from false starts to organizational confusion.
As with any complex process, there are certainly many factors that will play a role in a successful data migration. But if you keep these tips in mind and take a deeper dive into managing organizational change, you should be able to set yourself up for success.