You're Gonna Need a Bigger Note
Apologies to Roy Scheider, but hey, sometimes, there's just too much to track about some interactions to be captured in just a Contact Note. Sometimes you need to know not only that someone got a phone call, or the date, but also whether the call was a "Major Donor Touchpoint" or part of a phone solicitation campaign.
But, where, oh where, could you put that data? Adding it to your note seems OK, but that's lot ideal for reporting purposes. Creating more Note Types could work, but who wants to have to select from a massive list that includes 12 different types of phone calls?
Well, how about creating custom fields on Contact Notes?
Say...that sounds like a great idea!
It's so good, in fact, that we're introducing this feature in this release!
That's right, now admins can create custom fields for Contact Notes, just like you would for any other object in Virtuous. From the Data Customization tab of Settings, just select Custom Fields and Collections. Then, click to create a new field and you'll see the option to select "Contact Note" from the Object drop-down.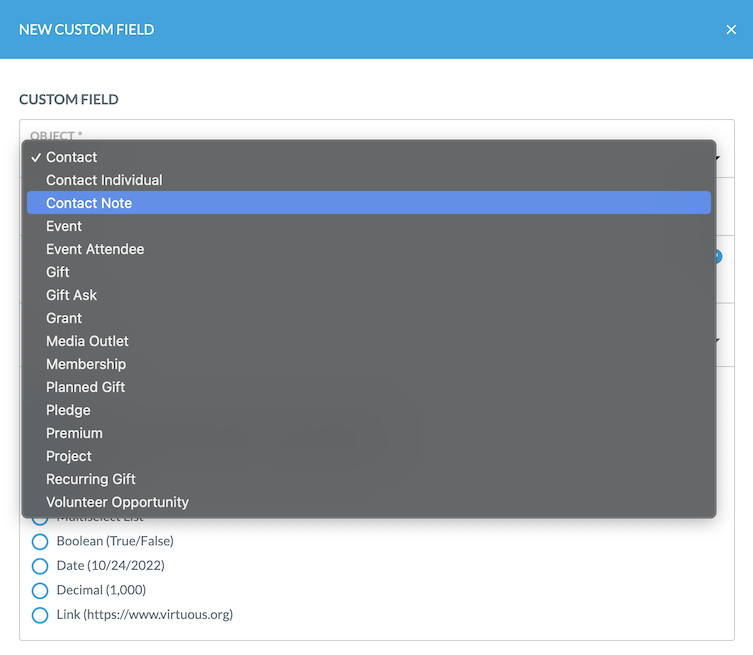 Once you have selected the Contact Note object, you'll be able to create custom fields of any available type, just like creating any other field.
And that's about it—oh wait...do you hear that?
Something is coming this way...
I can almost see it...
It looks like a...catchphrase?
BUT WAIT...THERE'S MORE!
Yes, that's right, we didn't just introduce custom fields for Contact Notes (available wherever you create your Contact Notes), we've also introduced a new shortcut for creating Contact Notes on a Contact record. You can still just start typing at the top of the Activity Feed on the Overview tab, but now you'll see a new "sticky note" icon to add a Note with all of the bells and whistles, including Custom Fields.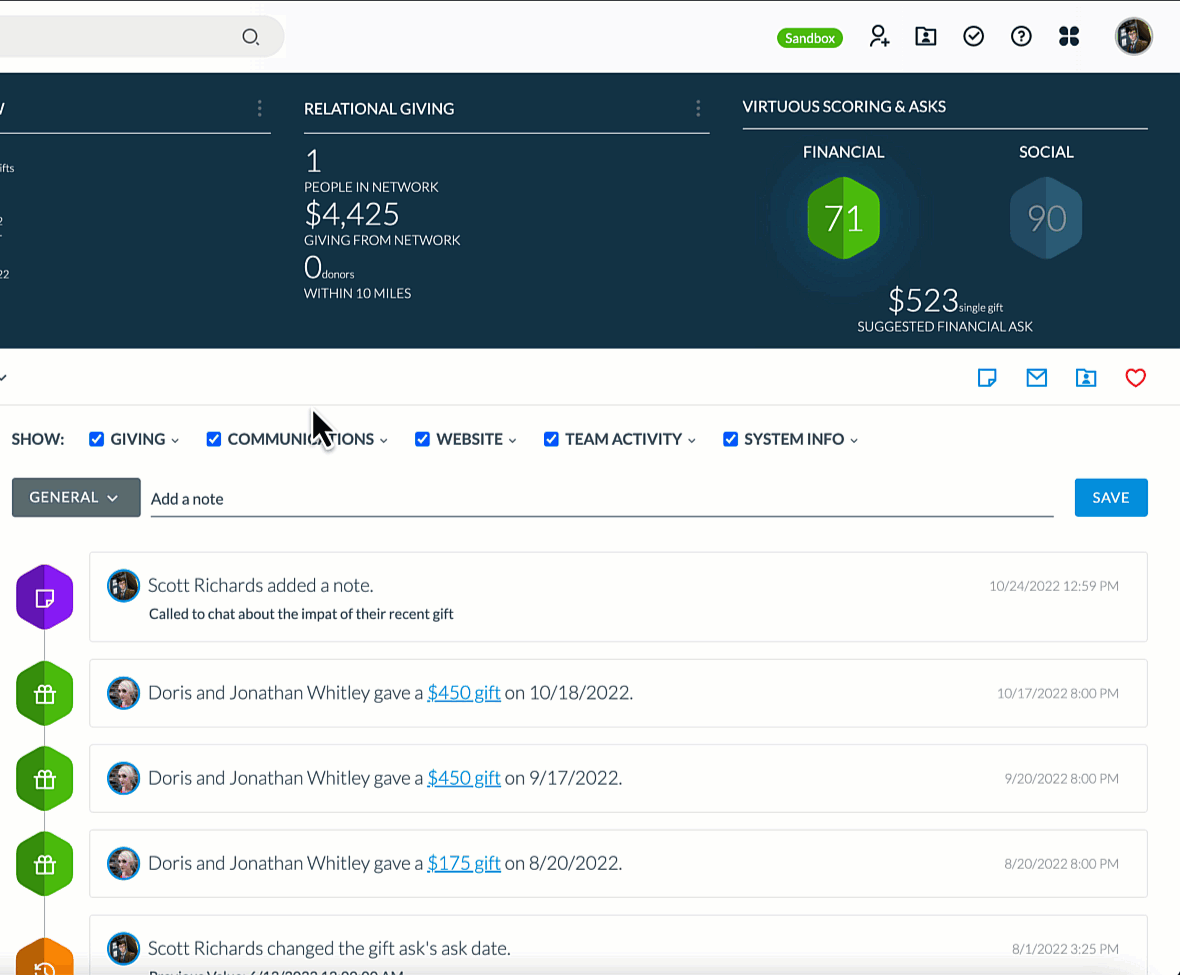 Now, I know what you're thinking: "Why does this section have a weird JAWS theme?"
Or maybe you're thinking: "These custom fields seem great, but where can I see the information?"
Well, to start: because JAWS is a great movie and it's considered a horror movie by some, making it a great fit for the October release.
But, more importantly, custom field values are available in Contact Note queries and when filtering Notes on a Contact record. You'll also see a visual indicator on the Notes tab of a Contact to let you know that there are custom field values present for a specific note.

Ready to get started adding custom fields to your notes? Well then you can read up a little on custom fields and then jump right in! The water's fine, it's a beautiful day, and the beaches are open! (Wait...where have I heard that before?)
Events On a Budget
Our Ticketed Events functionality already includes the ability to create free registration codes and share them with anyone you'd like. Now, there is a lot of room between "full ticket price" and "free," which is where our new discount codes come in to play.
Yes, that's right; you can now create discount codes for any Ticketed Event!
From the Registrations tab on the event, just look for the Registration Codes pane on the left.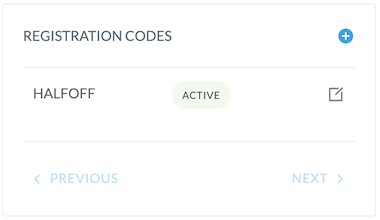 Click on the add button to create a new code. You'll see the option to either create a free registration (those freebies ain't going away!) or choose to create a Ticket Discount.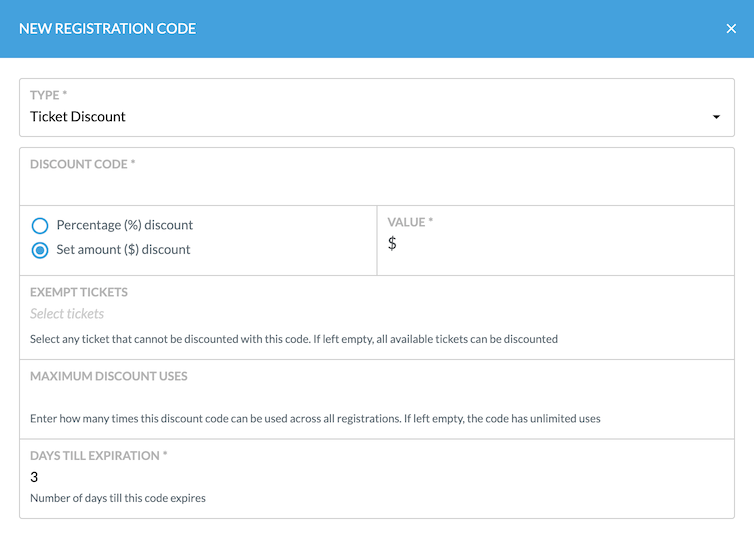 Discounts can either be a set dollar amount or a percentage discount, whichever you prefer. By default, all tickets for your event can be discounted, or you can select specific tickets to exclude. Optionally set a limit on the total number of discounts available, and then each discount will have an expiration, set as a number of days after creation.
You can use discount codes to create "special earlybird pricing" for events or offer a special promo to increase ticket sales. When someone purchases a ticket, they will have a space to enter a Promo Code and then see the discount immediately applied.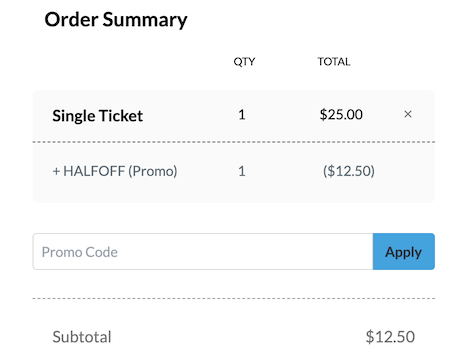 Now, we could have stopped with discount codes, but...then we couldn't say (all together, now):
BUT WAIT, THERE'S MORE!
That's right, MORE. We've also made a few tweaks to registration pages to improve the way multiselect lists are displayed, and we've added new options for customizing the confirmation page for registrants. Now, you have the ability to customize your text formatting, insert images, and even select from a list of merge tags to display dynamic content.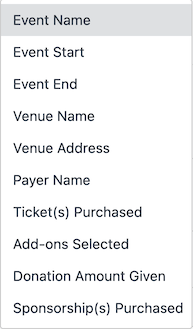 Ready to get started using Ticketed Events? Well, then, might we suggest that you mosey on over and check out this article?
Templates! Get Your Templates Here!
Look, everyone loves a pretty email. And if you're a marketer or a designer, maybe you live for that challenge, starting from scratch. White. A blank page or canvas. The challenge: bring order to the whole. Through design, composition, tension, balance, light, and harmony.
Wait, hold on; that only works if you are a famous artist in a Broadway musical.
For those of use looking for an easier way to create a masterpiece, email templates area great place to start. And in this release, we've freshened up our template gallery with several new designs, just in time to liven up your year-end fundraising!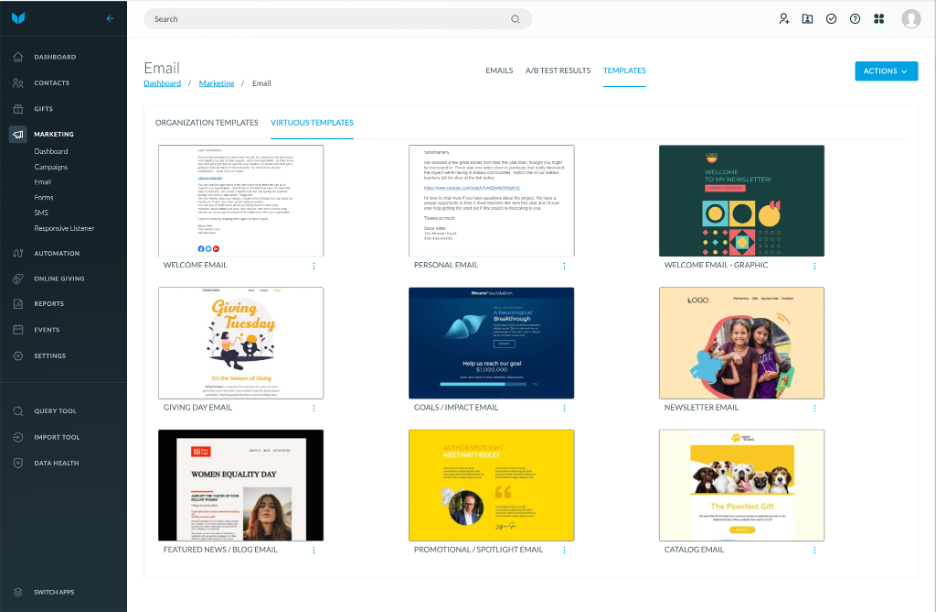 As always, you can use these templates to create a new email, customize the content, and hit SEND, or you can use them as a jumping-off point to create your own organization templates that can be used again and again.
New to using templates? Need a little refresher? Either way, we've totally got you covered. You can read up on using email templates here.
...And The Rest
As with every release, this latest update also includes a number of other fixes, tweaks, minor modifications, and assorted nudges. Among this month's assorted fixes:
Gifts entered with the Qualified Charitable Distribution Gift Type have several special receipting requirements, including that the IRA Custodian should be listed on the receipt. So, we figured it was high time that we added that as a conditional field, just for that Gift Type. Seemed only right. This new field is also available in queries, as a merge field on receipt templates, and everywhere else you might need it. You can learn more about acknowledging these gifts here.

Avid readers of our release notes (or users of Virtuous I suppose) may remember that in our last release, we made some improvements to our search functionality. Well, based on your feedback, we've now made improvements to those improvements! Specifically, we've added the City and State back on Contact results, so you can tell John Smith in Altoona, PA apart from John Smith in Zionsville, IN. We've also added buttons that allow you to clear your list of previous searches or previously viewed records, just in case you'd like to start fresh.

Look, two Individuals on a Contact record? That's easy-peasy, But more than that? Well, it can be hard to easily see all of the Individuals when most of them are hidden away behind three little dots, right? Not anymore! Now, you'll see a drop-down list of all Individuals on a record, with the ability to even search for a specific Individual if you need to. Because the more, the merrier!

One for the "you asked, we answered" category (like so many features): we've added additional Tribute fields as merge fields for receipt templates. Specifically, you'll see Tribute Name, Tribute Type, Acknowledgee, and Tribute Description. Consider this a tribute in honor of all those who requested these fields.

While we've supported the "Semiannually" and "Biennially" frequencies for recurring gifts for some time, some of you may have noticed that these frequencies were not available when processing credit cards in the Gift & Contact Import Tool or in Virtuous Giving forms. Well, we know that at least some of you noticed, because by popular demand, we've added support for these frequencies in forms and in imports. If you'd like you can now fill in your own R.E.M./"What's the frequency, Kenneth" joke here.

Since brevity is the soul of wit (these release notes notwithstanding), Personalized Email Templates have a maximum character limit of 1200 characters. And to make that easier to manage, now we will display the character count on-screen when creating or editing a Personalized Email Template. Because counting on your fingers can be hard to do when typing.

Remember when we introduced a new view for selecting new dashboard widgets? (If not, you can read up on it here.) Well, that feature was so popular that we decided to add the same look and feel when selecting widgets for the header on Contact records. Because why not give the people more of what they like?
And that's the list! Phew! As always, if you have any questions about these or other features, feel free to contact our team using the support widget in Virtuous.