Email, Braveheart-Style
(No, this does not mean you have to wear a kilt when creating emails. It also does not mean you can't wear a kilt. You do you!)
We've had Virtuous Marketing users request, time and time again, exactly what William Wallace fought for (according to Hollywood, anyway).
FREEEEEEEDOOOOOOM!!!!!!!!!!
So in this release, we've made sure to give you more freedom than ever before when it comes to creating emails. Now, you'll have complete control over the look and feel of your email communication, because when creating a new email template, marketing email, or email receipt, you'll have the option to use our visual editor or use our new HTML builder to build your own emails, complete with your own HTML and CSS. (If you don't know what HTML or CSS means, don't worry! You can keep using the same visual editor you already know.)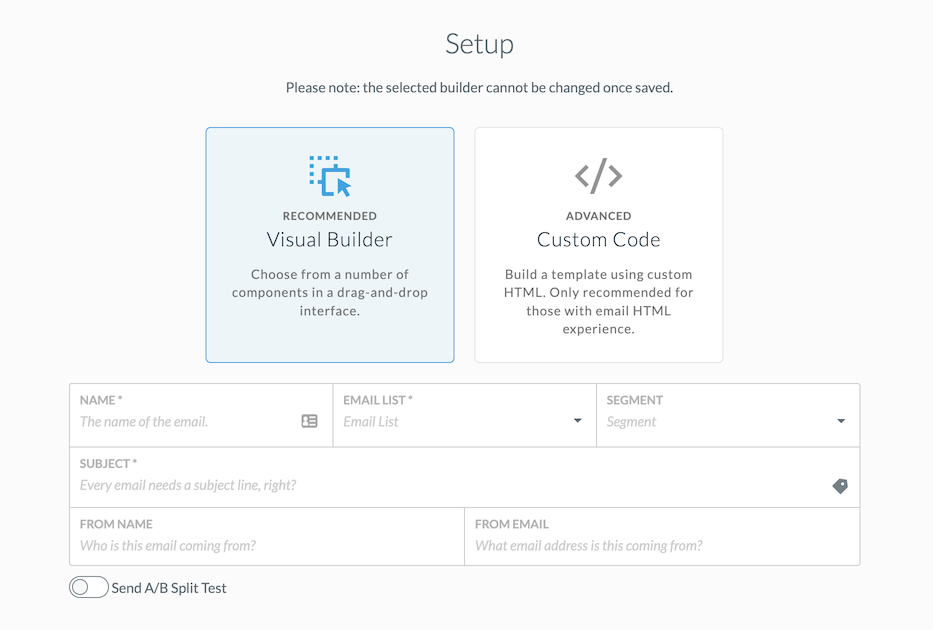 Once you begin using the HTML editor, you'll be free to create whatever you like, and style it just the way you want.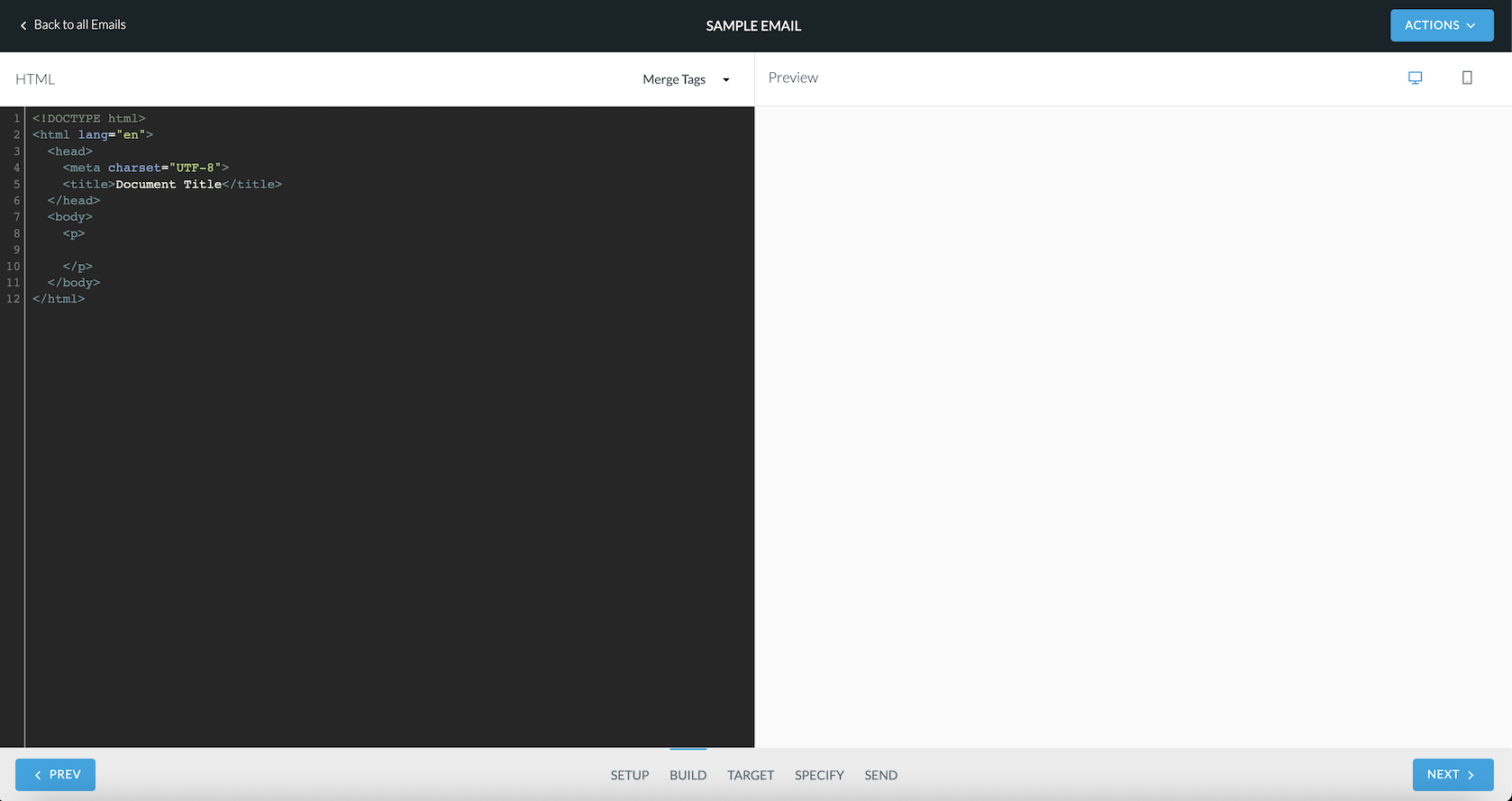 You can even select Merge Tags from the drop-down list at the top of the screen and include them in your email content. As you build your email, you'll see a live preview on the right side of the screen.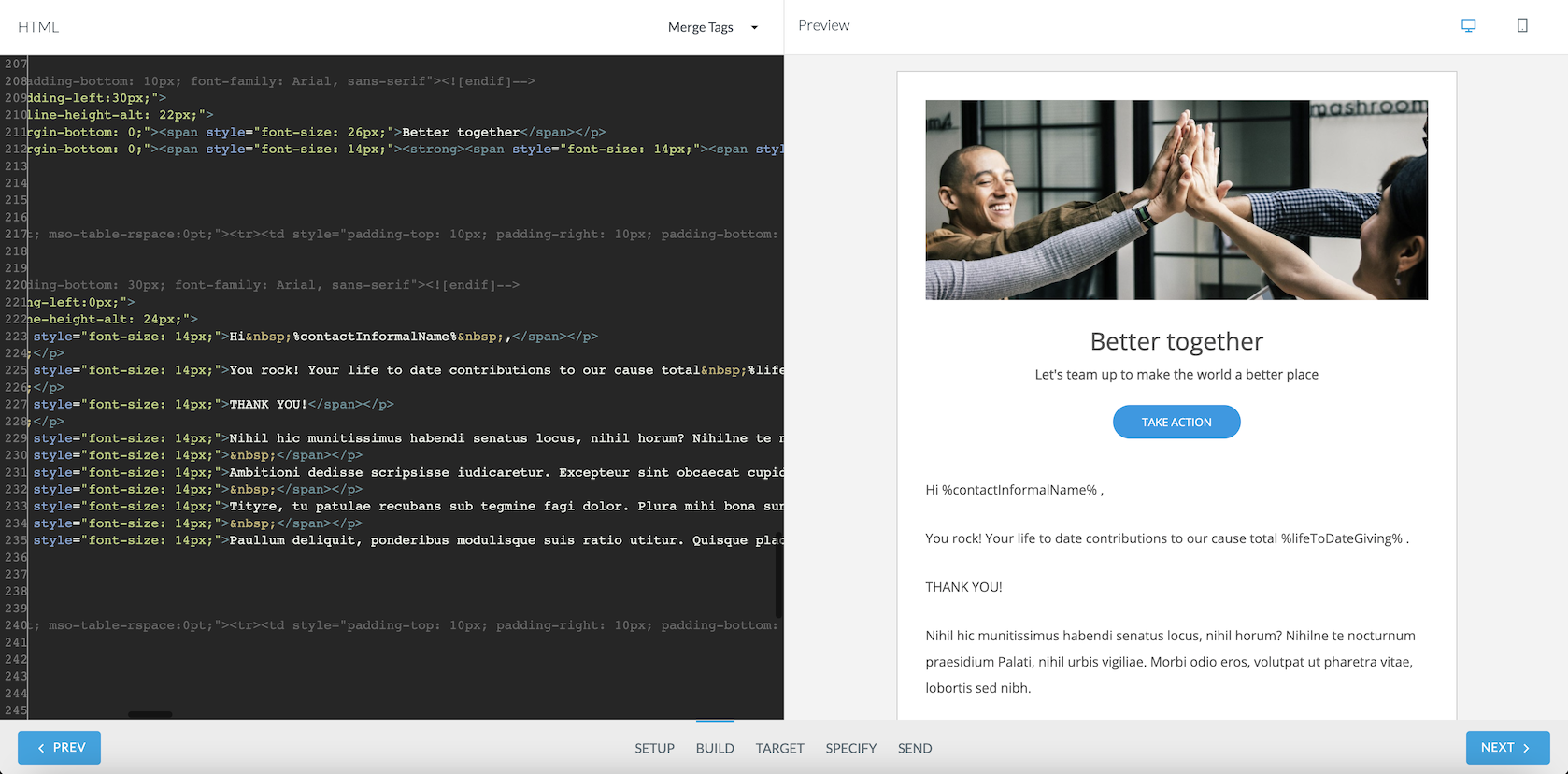 Once you've finished, you can continue to send your email, or save it for later, just as you normally would with the visual builder. Keep in mind, however, that once you have created an email—or an email template—with the HTML builder, you can only edit it with using the HTML interface; you cannot use the visual editor to modify anything that was built using custom HTML/CSS. Just like the Ghostbusters, we try to avoid crossing the streams.
Feeling a little frisky? Well, then you can check out this handy-dandy article to learn more about working with the HTML builder.
Now, seeing as this is the lead item in our release notes, and we haven't added a new subheading just yet, I'm sure you might be guessing that we didn't just stop there with making email improvements.
And you'd be right!
With this release, we've also added the ability to insert merge tags into email subject lines, no matter what editor you choose. Just click on the tag icon when creating or editing a subject line and you'll see a list of merge tags that can be used in your subject line.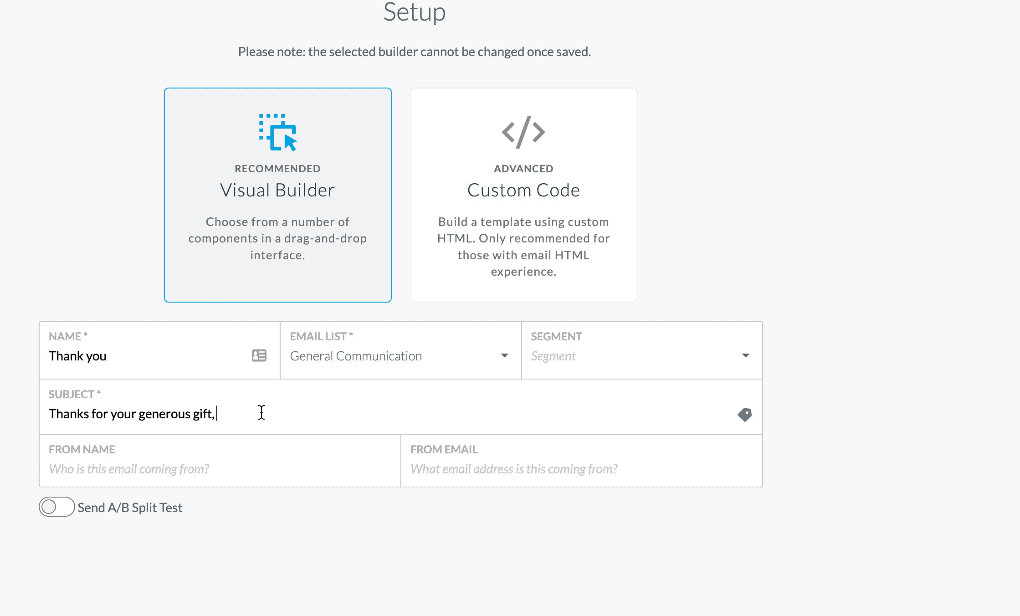 This is a great way to personalize emails, before your recipient even opens the email!
*infomercial announcer voice*
BUT WAIT....THERE'S MORE! (yes, we are STILL doing this, it brings us joy)
We didn't want marketing and receipt emails to get all the attention, so we've also added a handy new feature for Personalized Email Templates. Now, when sending an email from a Contact record, you can can preview your selected template—with merge fields included—right there in Virtuous, before moving to your email client to personalize and send.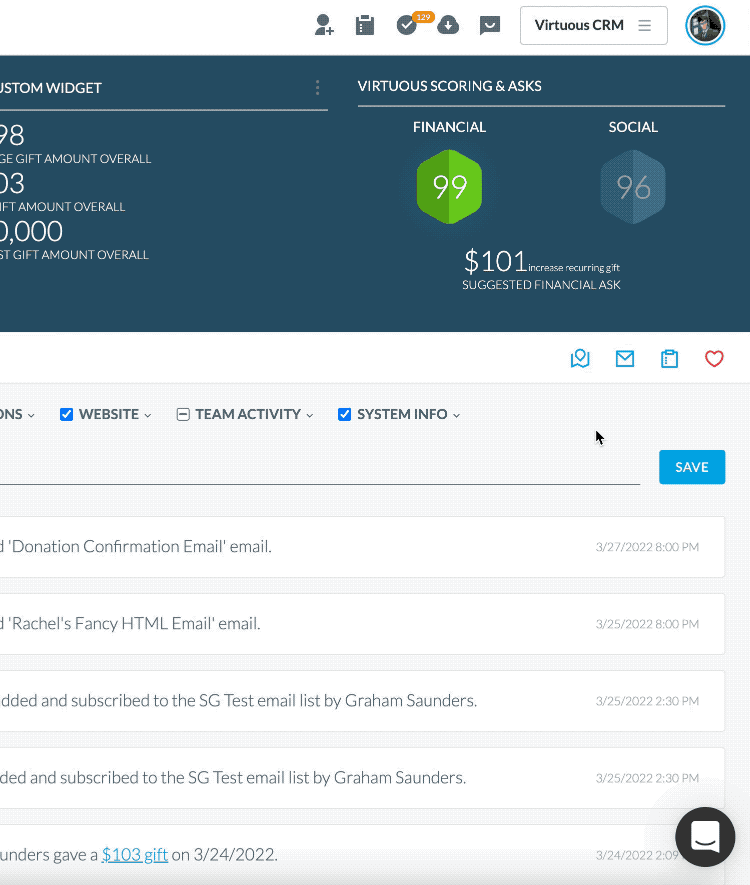 New to working with Personalized Email Templates? No worries! We've got you covered with this support article. Ooh, and maybe check out this one too while you're at it.
Sign on, Sign off
(Apologies to Mr. Miyagi, we just couldn't resist that one)
With this release, you may notice that our login screen has a new look: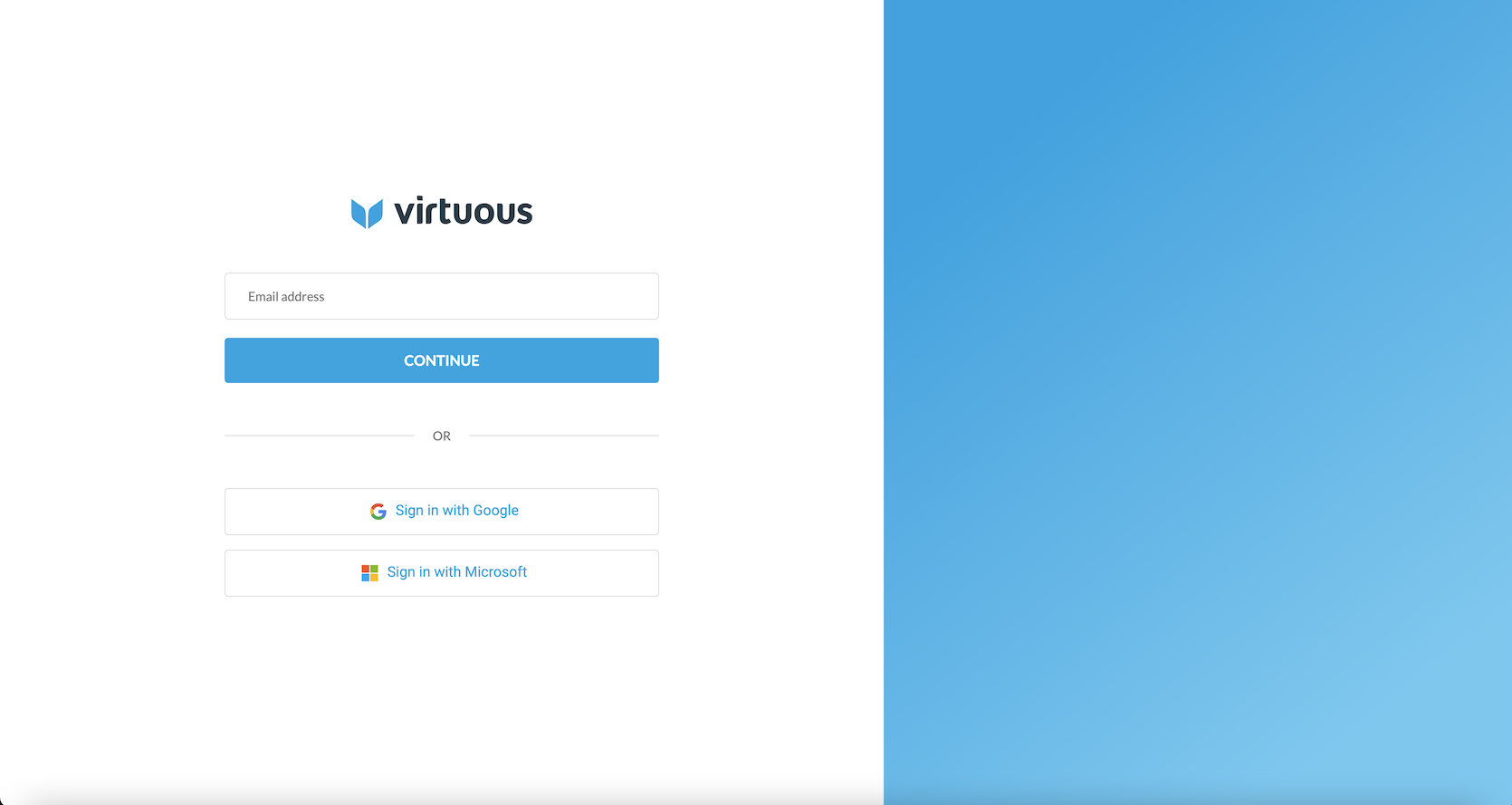 Which we certainly think this new design is rather fetching, this change is also part of expanding our Single-Sign-on (SSO) options, thanks to a new integration with WorkOS. Now, in addition to our existing options to sign in with a Microsoft or Google account, admins can customize the SSO options for their organization, with SAML support and a number of available identity providers, including Azure and Google.
Curious about using WorkOS to manage your users' access to Virtuous? You'll need to reach out to our support team to get started.
How You'll Currently See Currency
If your organization receives gifts in multiple currency, BOY IS THIS THE RELEASE FOR YOU! We've made some changes to the way we handle currency, and the way we display converted amounts. Shoot, we've even changed HOW we convert amounts. We really went for ther whole enchilada!
First and foremost, you'll notice that in addition to the currency symbol, we'll now show the three-letter currency abbreviation. This makes it much easier to distinguish between, say, US Dollars (USD) and Canadian Dollars (CAD). We've even added the ability to filter or query for gifts based on their Currency Code.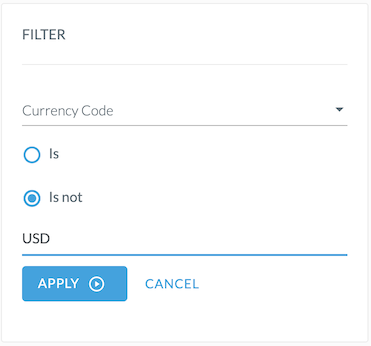 When displaying gifts that are entered in a currency different from your organization's base currency, we'll now display the converted gift amount, instead of the native gift amount. Gifts in a foreign currency will show a line below the amount, which lets you know that you can hover to see the original gift amount, in the native currency for the gift.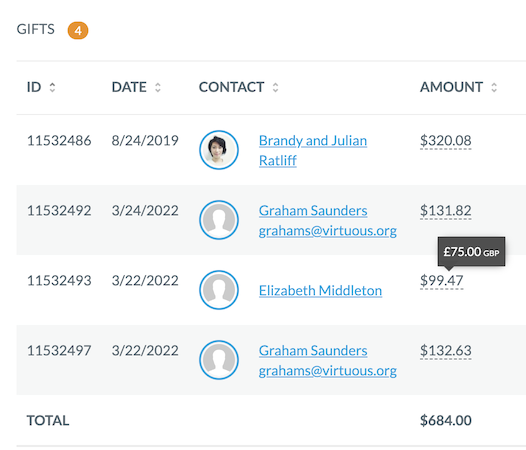 You'll also see both amounts shown when viewing the detail information for a gift, and editing a gift will show an additional reminder that you are editing the native currency amount for a gift. Note that you can ONLY edit the native amount.

Not content to stop with just these changes, we've also changed the way Virtuous calculates the converted amount of a gift. Virtuous will automatically convert gift amounts based on the exchange rate that matches the Gift Date for any gift that is not in an organization's base currency.
As part of these changes, we've also added the ability to set the currency on any gift when manually entering a gift or when importing gifts from a spreadsheet, or via our API. Those of you who have been struggling to do this by managing multiple Organization Groups will have a much easier time processing gifts now!
And the Rest…
As with every release, this month's update also includes a number of other fixes, tweaks, minor modifications, and assorted nudges. Among this month's assorted fixes:
It's time for spring cleaning! And to help with clearing up clutter, we've added the ability to archive Grants and Volunteer Opportunities! Have an old Grant? Archive it! Tired of seeing old Volunteer Opportunities lying around? Archive 'em! Got an old lamp taking up space in your garage? Well...we can't really help with that one. Maybe try having a yard sale?


And while we're doing a little house cleaning, we might as well clean up some unused permission groups too, right? Now, admins will have the ability to delete any unused permission groups! Deleting permission groups that ARE being used? Not a thing.

Not everything is about subtraction! We've added a few new bells and whistles for Gift Asks in this release. First, you'll see the ability to create tasks that are linked directly to Gift Asks. That's right: TASKS ON ASKS! We've also added the ability to assign more that one team member to a Gift Ask. Just edit any Gift Ask, and you'll see that you can set a Primary and a Secondary Team Member. This isn't like a group project in school where one person does all the work and everyone shares the credit though: Gift Asks will only count towards the Primary Team Member's goal.


We've added the ability to create Contact Notes when viewing Contact Search results, and the ability to set not only a date but also a specific time when logging Notes on a Contact record. We've even added quick actions for Important Notes, to make it easier to download attachments or edit notes. Basically, we made Contact Notes a little groovier all around.

Not content with just adding notes, we've made sure that you can add or edit addresses, email addresses, and phone numbers when viewing the results of a Contact Search. Reducing unnecessary clicks? You love to see it.

API NERD ALERT - Prior to this release, we sent out information on API changes for this release to everyone signed up for our Developer Digest emails. This month's update includes new query options for volunteers, new endpoints to access email list subscriptions and Contact Statistics, and support for sending currency codes with gift transactions. If you are a developer, or if you just like to stay in the know on all the high-tech goings-on around here, just reply to this email and let us know, or use the support messenger to contact us. If you are not a developer and you wouldn't like to receive updates about our API, well that's even easier: just do nothing!

We've made a few improvements to Volunteer Opportunities in this release. Specifically, we've added the ability to create new Volunteer Opportunities with a time of "Anytime" and a location of "Anywhere." Because sometimes you just need to be FREE! We've also added the ability to filter and download volunteers when viewing an opportunity.

We've added a new Channel option for Campaign Communications! Now, you can select "SMS" as a Channel for any Communication. Seeing as how texting is hip with the youths nowadays.

When downloading results from a Gift filter, you can now include Gift custom fields in your output file. Because why should queries have all the fun?

Remember when we added the ability to edit Recurring Gifts and change the amount or frequency? Well, now, your donors can do that too when they log in to the Donor Portal! We've also added visibility for memberships and projects on the Donor Portal, so your donors can get a much clearer view of their giving to your organization. Donors managing their own giving! What a concept!

As an admin, when inviting new users to your organization, you'll see the option to add a short, personalized note with the invite email. Being responsive isn't just for fundraising and marketing!

Finally, we wanted to let you know that WE HAVE HEARD YOU! After our last release, many users let us know that they did not like that tasks were no longer listed in order by due date on the tasks page. We heard, and we got right to work, so in this release, you'll see tasks sorted in order by due date once again. Being responsive isn't just for fundraising and marketing! (Wait, where have we heard that before...)
And that's the list! As always, if you have any questions about these or other features, feel free to contact our team using the support widget in Virtuous.