Not your type?
Since the beginning (not the beginning of time, just the beginning of Virtuous), Contact Notes have had Types. There are default Contact Note Types built right into Virtuous, and Admins have the ability to create custom Note Types to track specific activities.
But what about Tasks?
Yes, for too long, poor Tasks have been left out in the cold, with no Types at all, left to fend for themselves (and walk to school every day, uphill both ways, in the snow).
BUT NO MORE!
That's right, in this release—by popular request—we are introducing Task Types. Just like their siblings, Contact Notes, Tasks will have a set of default Types, and then Admins can create additional custom Tasks as needed to track specific types of outreach. You'll see Types when creating a new Task right from the dashboard: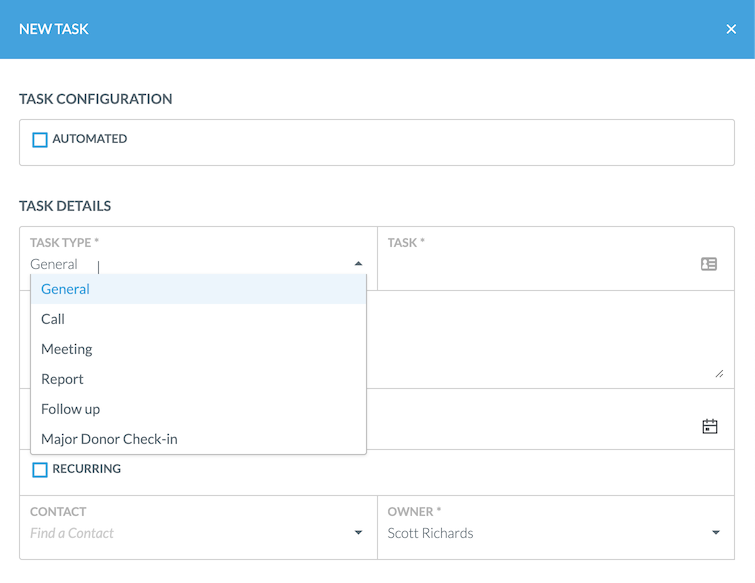 You'll even see Types when creating Tasks in bulk from the results of a Contact query: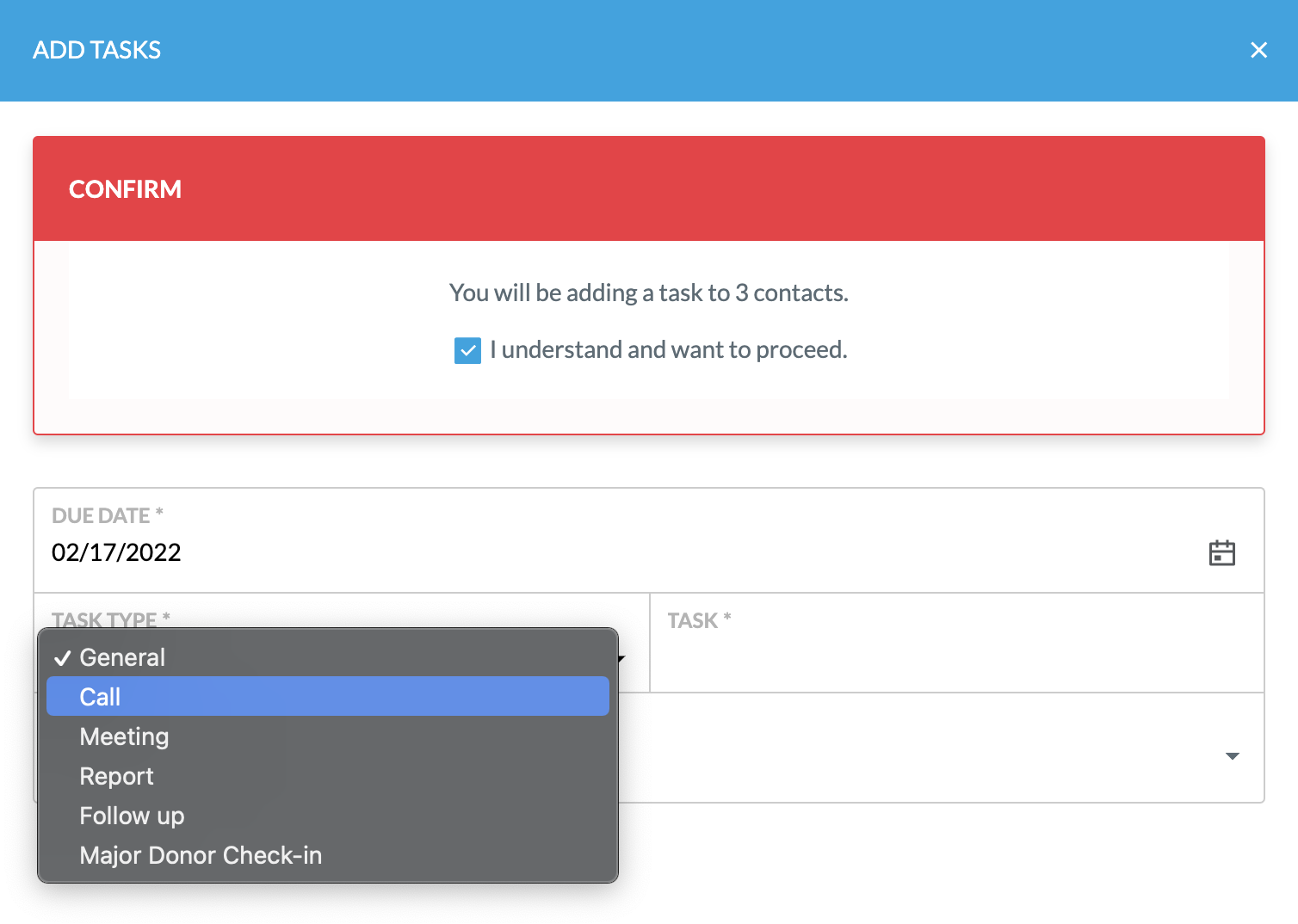 And, of course, you'll be able to assign Types to Tasks created as part of any automated workflow: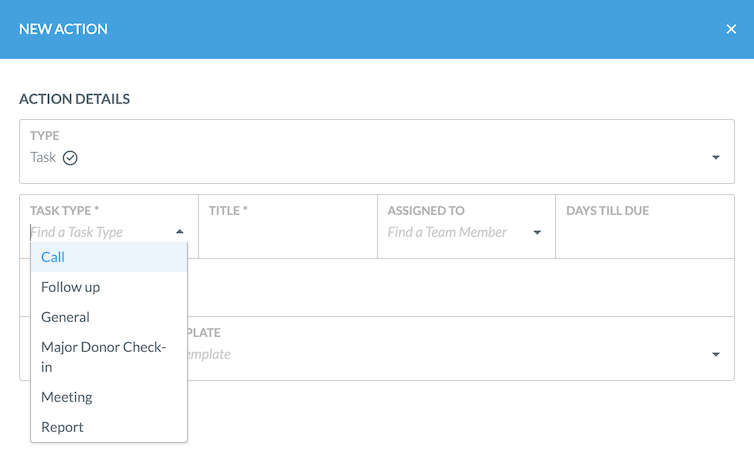 And, of course, since we were giving Tasks some love, we couldn't just stop there. (I mean, we could, but…why?) So you know what that means:
BUT WAIT, THERE'S MORE!
While we were at it, we decided to give the Tasks page a little makeover. Now. you'll see a tidier view, with clearer indicators for the status of each task.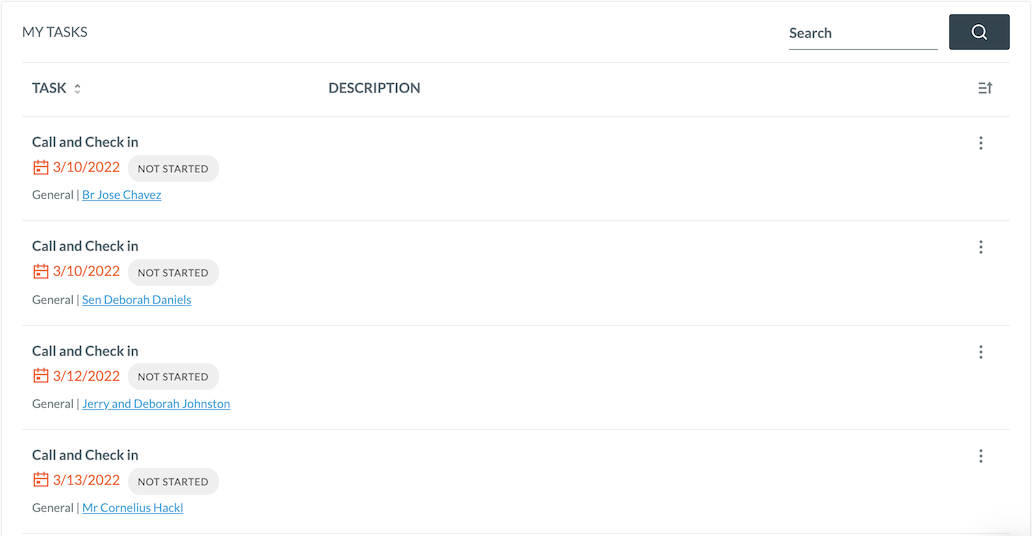 Now, since we were all about establishing some equality between Contact Notes and tasks, we couldn't just stop there! Not at all! We've also added the ability to create a task to the slide-out menu of options on the Contacts page, making it just as easy to create a Task as it is to create a Note.

So now, we have a task for you: go check out the new Tasks page view and see how you can start using Task Types!
Marie Kondo, Eat Your Heart Out!
So you've just found out that an Individual in your database has a new email address. You add the new address, and set it as their new primary email address. Easy-peasy! But now you wonder: should you delete their old email address? You've always been told not to delete donor information, and it's possible that you might need it later to identify that the email address was actually your donor's email address. But you don't want to keep an old email address around, cluttering up the donor record. What to do?
Well, this just got easier, because now you can just archive that old email address instead!
Yes, by popular demand, we've introduced the ability to archive Contacts Methods. Just click to edit any Contact Method, and you'll see the option to archive or delete it.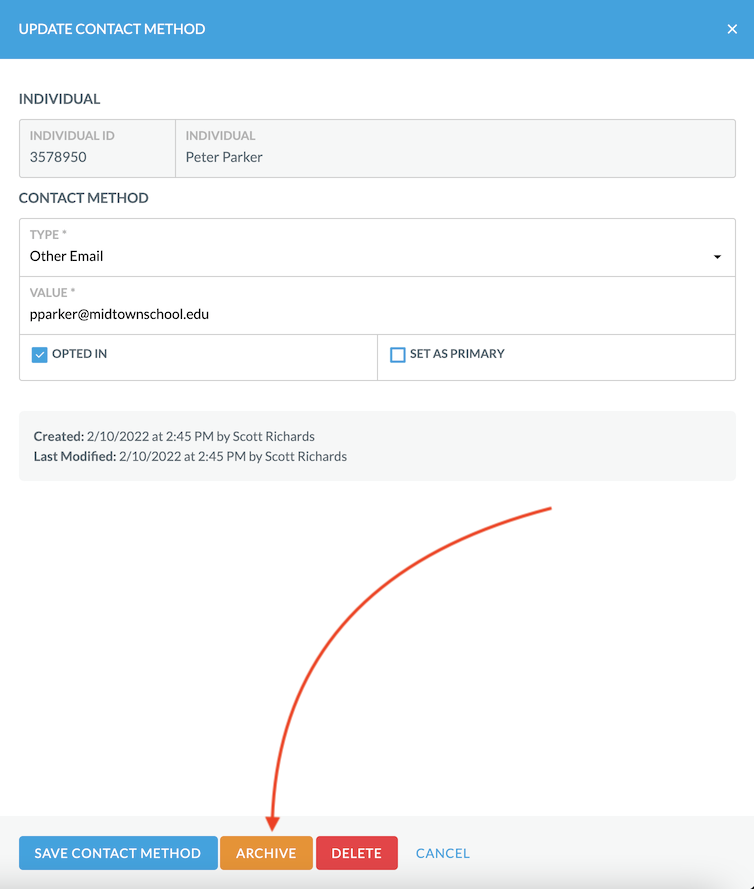 Once you archive a Contact Method, you won't see it when viewing a Contact record, and it will be ignored when sending emails in Virtuous Marketing. But fear not! Click to edit an Individual with an archived Contact Method, and you'll be able to view—or even unarchive—any of their archived Contact Methods.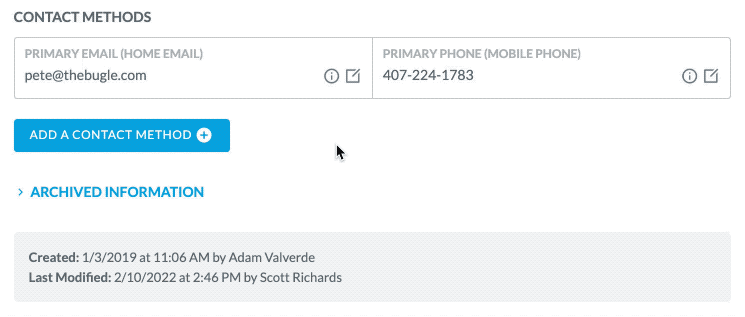 Contact Methods not your thing? OK, OK, you drive a hard bargain.
What if we told you that you can also archive Contact Addresses now? How does that sound?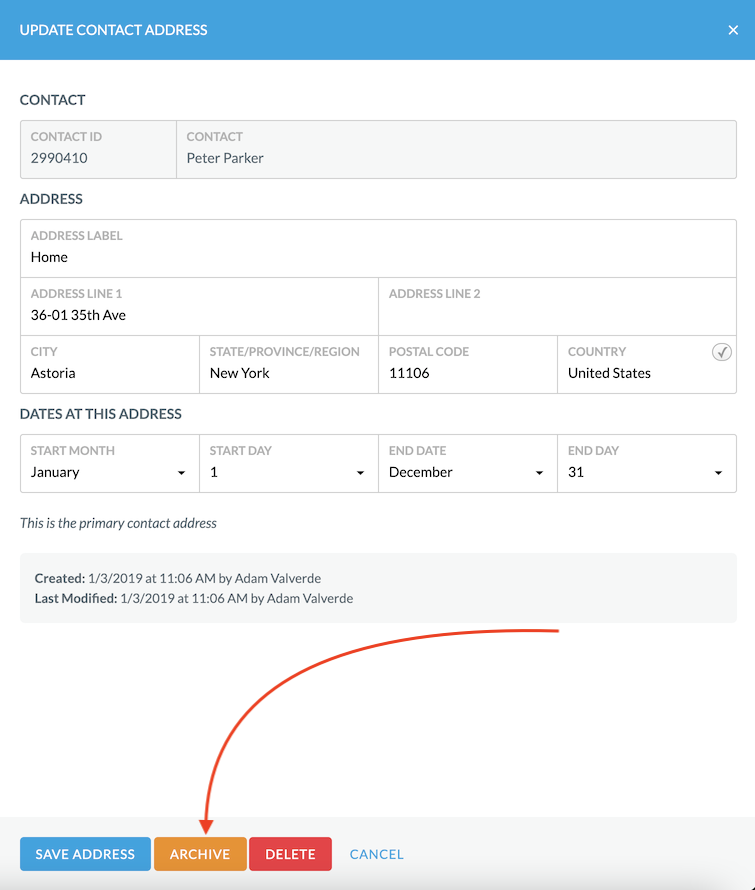 That's right, now you can archive any obsolete Contact Methods OR Contact Addresses! Because a database without clutter DOES spark joy.
Sorting Out Sorting…Sort of
Have you ever wanted to sort the list of Contacts based on when they were last updated? Or when they were created?
Well, you're in luck!
Now, just look for the new sort icon on the right side of the table and you can click to sort, in ascending or descending order, using additional parameters that are not in the table header.

In fact, this new sorting option is so darn handy, we've added it in multiple places throughout Virtuous, including the email page in Virtuous Marketing. Check it out!
And the Rest…
As with every release, this month's update also includes a number of other fixes, tweaks, minor modifications, and assorted nudges. Among this month's assorted fixes:
When printing envelopes for paper receipts, now donor addresses can include the Country. Your non-US donors don't have to be left out in the cold anymore! Well, unless they live somewhere cold…

When planning an event, do you only invite one person? Probably not. So when manually adding Event Attendees, why only add one at a time? Now, you can click "Save & Continue" and keep on entering Event Attendees until your attendee list is ready to roll.

Dashboard widgets are great, but sometimes you might not be sure if they are really showing the absolute latest and greatest information, since they refresh every hour. Well, not anymore! Now, you can click in the upper right of any dashboard widget and you'll see the option to refresh. Voilà! Now your widget is up-to-date!

When processing credit card transactions in the Gift & Contact Import tool, adding a new email address with the credit card will now prompt you to update the Contact Methods for your Individual as well.

We've heard from a number of users who have experienced issues with slow performance recently. Our team has gone under the hood to give our whole system a tune-up, and now Virtuous is a finely-tuned hot rod worthy of the Fast & the Furious franchise.

API NERD ALERT - Earlier this week, we sent out information on API changes for this release to everyone signed up for our Developer Digest emails. This month's update includes our all-new API documentation page, which has examples for GO, C#, Python, C, Node, PHP, cURL, etc. plus more in-depth articles, references, and better organization. We've also added support for static API keys that never expire. Users will no longer have to use oAuth with refresh tokens as the only option. API keys can be assigned to a permission group, deactivated, etc. If you are a developer, or if you just like to stay in the know on all the high-tech goings-on around here, just reply to this email and let us know, or use the support messenger to contact us. If you are not a developer and you wouldn't like to receive updates about our API, well that's even easier: just do nothing!

Some users have reported having trouble in cases where a recurring gift payment is received but the payment is designated to an inactive Project. We've made sure that removing the Project in these cases will now correctly update Recurring Gifts. Because anything less would be uncivilized.
And that's the list! As always, if you have any questions about these or other features, feel free to contact our team using the support widget in Virtuous.