Attachment Theory
When is an email receipt NOT an email receipt?
No this isn't an esoteric koan. The answer?
When it's an email...with an attached PDF receipt!
Yes, that's right—by very popular demand, we've added the ability to send PDF receipts as email attachments!
When creating an email receipt template, now you'll see a checkbox option to "Include Attached PDF Receipt." Once you check the box, you can select an existing PDF template or elect to create a new PDF template later (just make sure you remember to do it later!).
When sending a PDF receipt as an email attachment, you can still use the email receipt editor to edit the email your donors will receive, so you can craft a nice thank-you message, including all of the same merge fields available in the receipt editor, and then direct donors to the attached PDF for their tax receipt.
New to receipting? Need a bit of a refresher? Just dying to read more instructional content because you can't get enough? Well, no matter what, we've got you covered! Check out our whole collection of receipting articles right here.
M-m-m-my Portfolio
(Sure, it might not scan exactly, but when you get a chance to reference The Knack, you take it!)
If you manage relationships with a group of donors, you've likely got an Organization Group that you are using to track those Contacts. (If not, you should!)
But as handy as Organization Groups are, it's not always easy to get a view of your Contacts all in one place.
...until now, that is!
With this release, we are introducing the Portfolio view, which will let you see all of your assigned Contacts at a glance. From the Gifts page, just click on the "Portfolio" tab near the top of the screen.
(We should mention that if you are not assigned to an Organization Group, you...won't see any data on the Portfolio view. Hey, you gotta have a portfolio to see your portfolio.)
At the top of the portfolio view, you'll see two widgets to give you a quick snapshot of giving activity and gift asks for folks in your portfolio.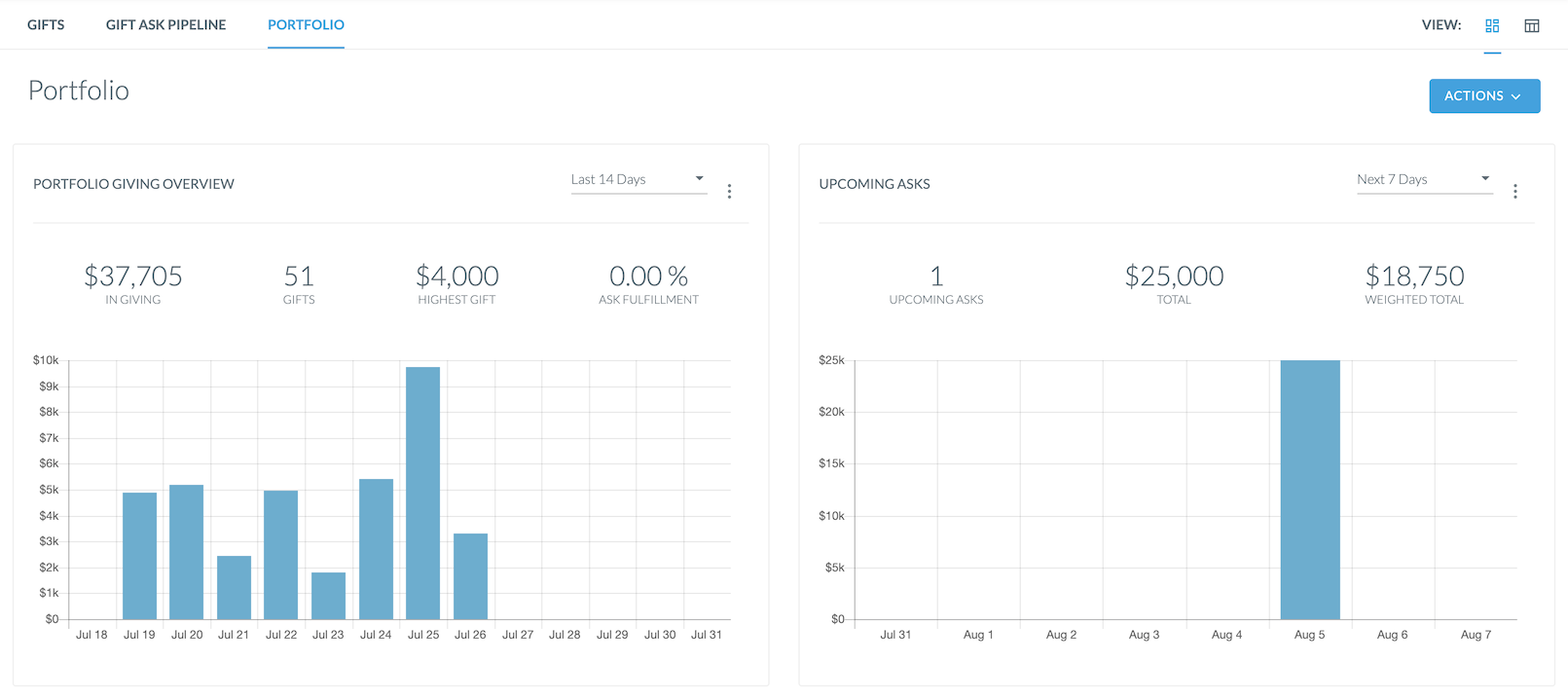 Below these widgets, you'll see all of the Contacts currently assigned to your portfolio. By default, you'll see these Contacts laid out in a "card" view:
Click on the Contact Name on any card to view that Contact. You can also click on the three dots to the right of the Contact Name to see a menu of quick actions, including the ability to edit the Contact (or any of the Individuals), create a task, or remove them from your Organization Group.

Don't like cards?
Fine, be that way!
(We promise not to take it too personally, really.)
Through the magic of settings, you can have it your way! Just look in the upper right and you'll see the option to toggle from a card view to a list view: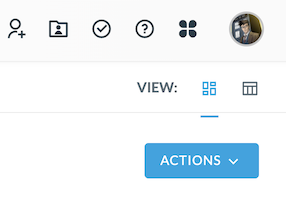 Just click on the list view and voilà! Where once there were cards, now there will be a list.

This Portfolio view should make it much easier to check in on your Contacts and manage your relationships, all from one place. But don;t take our word for it, go ahead and check it out!
The One Where Chandler Tracks Pledges as Receivable
What, you don't remember that episode of Friends? Where Ross drops by Monica and Rachel's apartment in the morning (by the way, an aside to this aside: who does that? Who drops by their sister's apartment to say hi and be social ON THEIR WAY TO WORK IN THE MORNING? Sitcom logic at it's finest!) when Chandler starts talking about pledge tracking and everyone is shocked to find out that Joey has been tracking pledges on a cash basis instead of tracking them as a receivable? Well...everyone except Phoebe, since she hasn't really been TRACKING pledges per se, she just calls them "support intentions," much to Monica's chagrin. Of course, later, at Central Perk, even Gunther joins in on chastising Joey, until Rachel reveals that she hasn't been acknowledging gifts in kind, and then everything goes off the rails...
OK, maybe that wasn't really an episode of Friends (that we know of). But here at Virtuous, we've got a little Tribbiani in our DNA (How YOU doin'?): by default, pledges are tracked on a cash basis in Virtuous. Meaning, pledges aren't tracked as revenue until payments are made.
Tracking pledges as receivable means recognizing pledges as revenue at the time a pledge is made. For some time now, we've offered the option to track pledges as receivable as an organization setting. Until now, this meant that some standard reports and dashboard widgets would include pledged amounts in giving totals (while excluding gifts that are pledge payments), but the effect was a bit limited. In this release, we've added more support for tracking receivable pledges.
Not only have we added pledges to all Standard Reports and widgets, we've also added an option to have pledges included in the results of a gift query:

Pledges can also be included in gift Custom Reports.
BUT WAIT....THERE'S MORE!
(Sorry, we are contractually obligated to mention that in release notes now.)
We've also added a second checkbox option to the organizations settings to have pledges included in Contact Giving Statistics:

What does that mean? Well, it means that pledges will be included anywhere you see Life to Date Giving, or Year to date Giving, or any other Contact statistics. So, if pledges are receivable for your organization, now you'll have more control over your financial reporting and on giving statistics, to make sure you are using the right calculations for your needs.
...And The Rest
As with every release, this latest update also includes a number of other fixes, tweaks, minor modifications, and assorted nudges. Among this month's assorted fixes:
Sending text messages is still hip, but bulk SMS is SO last season! What's in right now? Sending one-off text messages right from a Contact record! (Assuming you have SMS enabled for your organization, of course.) Just look for the new SMS icon and you can choose an Individual, select an existing SMS template, or type out your own message, and then send!

We've redesigned the merge Contact view to make it just a little more user-friendly, and make it even more clear which records is being merged into. Cleaning up duplicates can be hard work, but it shouldn't be hard on the eyes too!

This one has been a popular request, and we are oh-so-happy to oblige. Now, you can create custom Event Types for Standard Events from the Data Customization tab in Settings. Got some special events you want to be able track and categorize? Well, now you can!

And speaking of Events, we've added "Invited" as a query parameter in Event Attendee queries (and we added it as an available export field too, because we're just generous like that).

Not to leave out Ticketed Events, we made a few small tweaks to polish up the wizard for creating a new Ticketed Event. That may sound small, but have you ever tried to polish a wizard? Those hats are pointy!

The Responsive Dashboard just got ever so much more responsive! Now, you can set a timeframe to apply to all of the responsive widgets, with just one click. Just luxuriate in the efficiency!


Receivable pledges might be getting a lot of attention, but we didn't stop there when it comes to updating Contact Statistics. We've added four new Statistics to Contact queries: Fiscal Year Plus Passthrough Giving, Last Fiscal Year Plus Passthrough Giving, Second Last Fiscal Year Plus Passthrough Giving, and Third Last Year Plus Passthrough Giving. Because why should pledges have all the fun?

For those of you using Virtuous Giving with Payments, we've added visibility into the reason why certain transactions are declined. For those of you NOT using Virtuous Giving with Payments, what are you waiting for?
And that's the list! Phew! As always, if you have any questions about these or other features, feel free to contact our team using the support widget in Virtuous.