Don't Be Like Bono
When you use the search bar in Virtuous, it can be so cruel to try a few different searches only to find yourself stuck wondering why you still haven't found what you're looking for.
Well, in this release, we've got something exciting for you (and for U2, assuming Bono and The Edge use Virtuous) that shouldn't leave you numb. We've made several updates to the search bar in Virtuous, so now it's even better than the real thing.
You'll see these changes as soon as you click to search. Now, we've included a list of your recent searches and records that have recently been viewed. No, we don't want to leave you stuck in a moment you can't get out of, but sometimes seeing your recent work can be handy.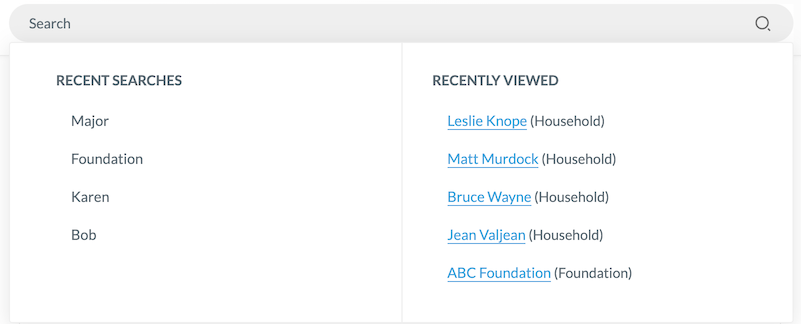 You can click on any of the recent search term to run that search again, or just type a value into the search bar to run a new search when you know that all I want is you. You'll begin to see results below the search bar, as usual, but now you'll also see some additional buttons to refine the type of records you desire.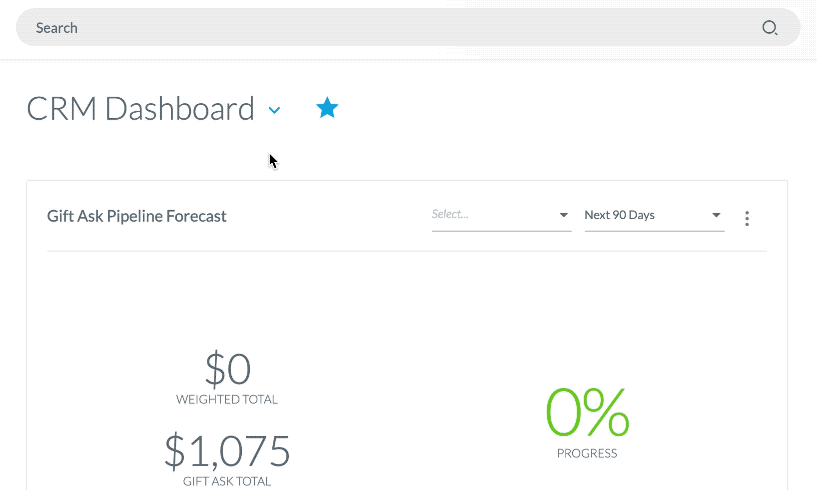 Cool, huh?
You can still hit the ENTER key to view all of your search results, and there you'll see the same option to view different record types. This can be extra handy if you happen to search in mysterious ways.

These new improvements are largely based on collected user feedback, so thank you to all of you who have provided your opinions and insights! Some software companies may be content to build new features with or without you, but we think it's a beautiful day when we can work together to make Virtuous better for everyone.
Okay, we think that's it for U2 references...for now. (How many can you spot?)
Have It Your Way
When we introduced the Quick Actions panel earlier this year, we heard from many of you that it would be incredibly helpful to be able to customize it and set up your own frequently-used pages and tools for your own personal Quick Actions.
So...that's what we did!
Now, you'll see the option to customize the Quick Actions at the bottom of the Quick Actions panel.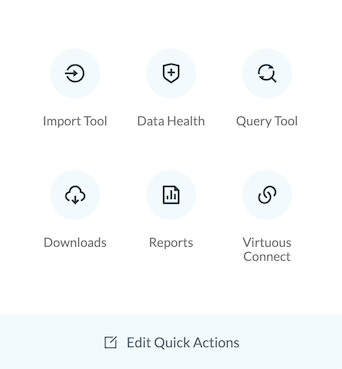 Click to bring up a new pane where you can select the actions you'd like to see.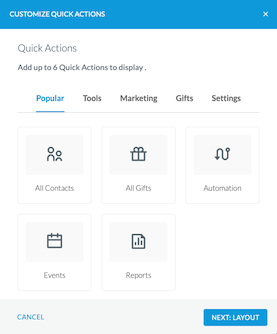 Once you've added the actions you want, you'll have the option to re-order them too.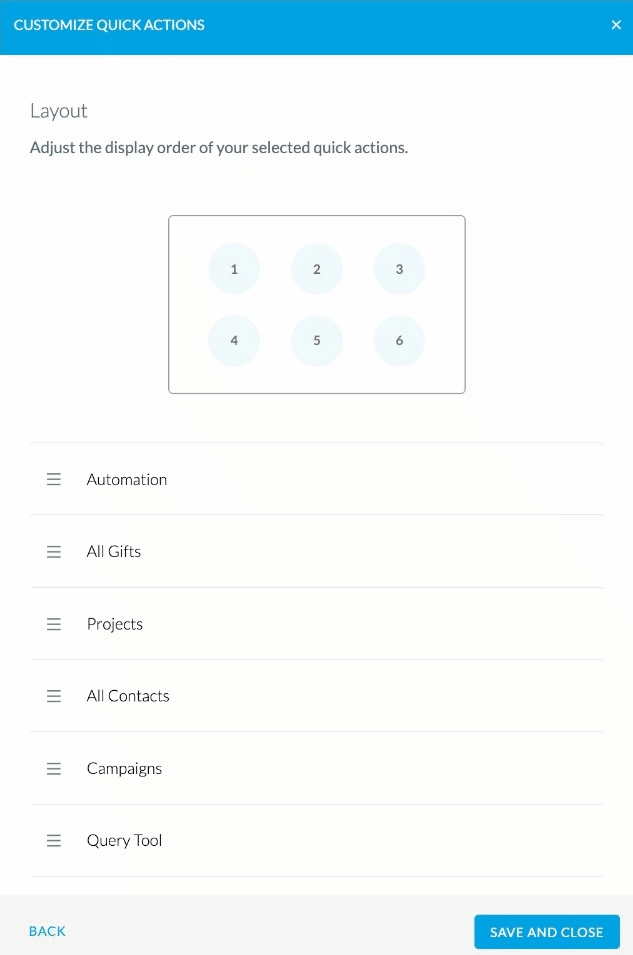 Once, you save, your new Quick Actions menu will be ready to roll!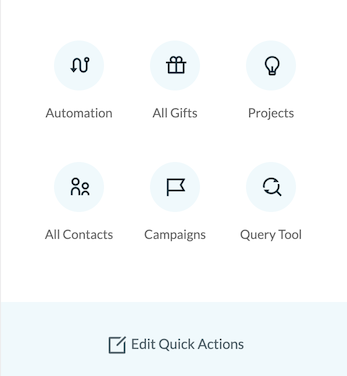 Each user can customize the Quick Actions to their liking, so there's no need to call an all-team meeting and debate which Quick Actions everyone wants to agree on.
Wow, listening AND personalization? Well, what would you expect from the one and only platform for Responsive Fundraising?
Zip-Zap-Zop
If you've used Zapier to connect Virtuous to other systems, you may be among those who have asked for more options. Specifically, more Actions and Triggers (to use a little Zapier lingo). For quite a while, our Zapier integration has only supported four Actions or Triggers: there were two ways to find a Contact, and options to create a Contact or create a Gift.
Well, we've expanded these options...quite a bit.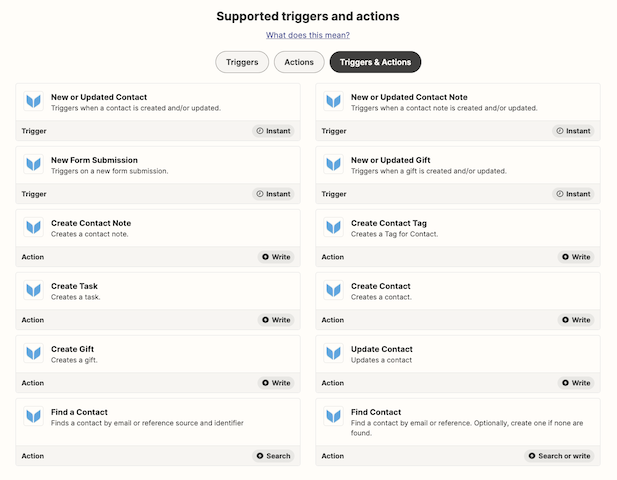 By popular demand, we've added these new options:
Triggers

New or Updated Contact
New or Updated Gift
New or Updated Contact Note
New Form Submission

Actions

Update Contact
Create Contact Note
Create Contact Tag
Create Task
This means that it's now possible to build out much more robust integration processes, including logic to create OR update a Contact record, depending on your incoming data. Or log notes on Contact records to track activities captured in other applications. Or...well, you get the idea. You can do a LOT!
Want to learn more about what's possible via Zapier? Check out the page on our integration here.
...And The Rest
As with every release, this latest update also includes a number of other fixes, tweaks, minor modifications, and assorted nudges. Among this month's assorted fixes:
Just like that brilliant fella who first decided to put chocolate and peanut butter together (or marshmallow fluff and peanut butter, or bananas and peanut butter...hey, there seems to be a trend here...) we've taken two great things and put them together to make them even better. Specifically, we're talking about donations and memberships. Now, you'll see the option to add an additional donation option to any membership form in Virtuous. Because why say no to a little extra generosity?

For those of you Admin users out there, our user permissions page has gotten a rather lovely makeover, if we do say so ourselves. The new design makes it easier to see at a glance what permissions are included for a specific group, with a clearer editing view too. We think it looks fantastic, and we're sure you'll agree it's much easier to use. Because even Admin settings should look fabulous! 😎

Brevity is the soul of wit, and keeping things brief in SMS message templates is also a great way to maximize your ability to send more messages and connect with more supporters. So we've added a small indicator to the SMS template editor that shows how many message segments will be used when sending that message.

For Virtuous Giving users, we've introduced a new automatic notification for donors who are giving semi-annually or annually to let givers know when their card is about to be charged. This ensures that when Mastercard's new rules go into effect, you'll be ready. You don't want to mess with Mastercard, we've heard they are kind of a big deal.
And that's the list! Phew! As always, if you have any questions about these or other features, feel free to contact our team using the support widget in Virtuous.