I'll be Receipting You in All the Old Familiar Places
Yes, we're starting the new year off with a bang! Just in time for creating annual giving statements, we've made a slew of updates to our receipt builder. In particular, you'll see a host of new options for creating paper receipts, without having to be a whiz with custom HTML (though if you already ARE a whiz with custom HTML, by all means, carry on).
For starters, when viewing the list of receipt templates for your organization, now you'll see small previews of each template. No more guessing which is which!

Create a new receipt template, and you'll see an updated interface, starting with the choice to create an email or paper receipt.

But the really exciting stuff (yes, receipts can be exciting!) starts when you select the option to create a paper receipt. You'll see an array of different paper size options to choose from, which should make it easier to create custom receipt templates and even create templates that can be used with existing, pre-printed paper stock.

And folks, we didn't stop with paper size! Oh no. We've also added options for custom margins! Just check the "Use custom margins" box to set custom values.

BUT WAIT....THERE'S MORE!
(Let's be honest, while this stuff is all cool, would we be leading off the release notes with this if there wasn't more?)
We've made it easier to copy any of your existing receipt templates, all of which have been added to your template library. You can choose to build a new template from scratch or start with any of your existing templates to just make a few modifications.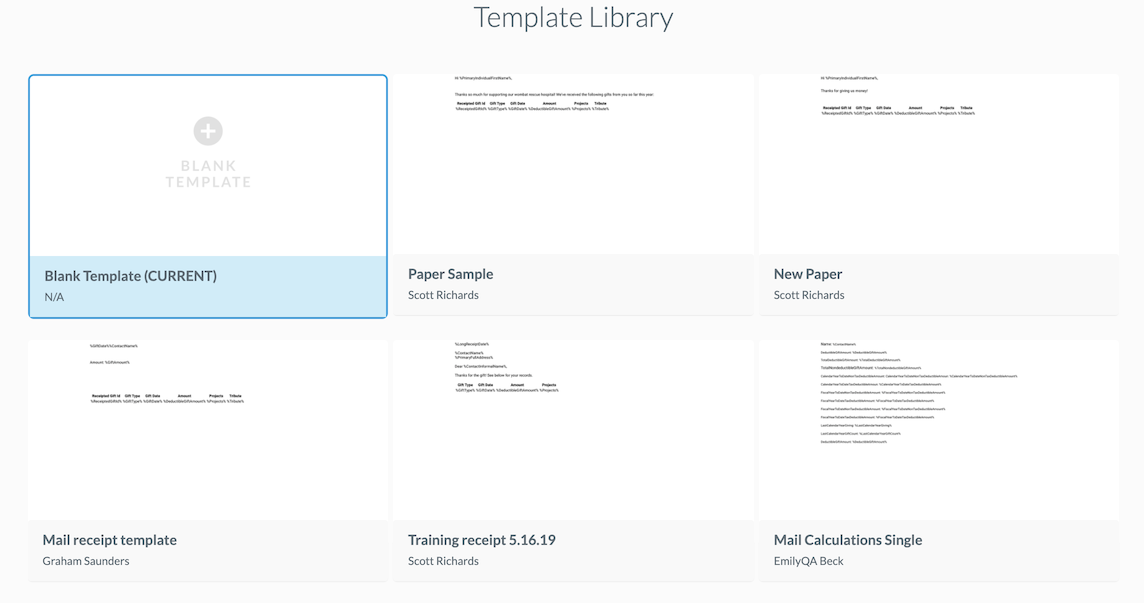 And folks, you may not believe this, but there's STILL MORE!
Yes, more!
Once you enter the receipt editor, you'll notice an updated interface, with a redesigned toolbar, simpler options for selecting fonts and formatting text, and an overall cleaner look.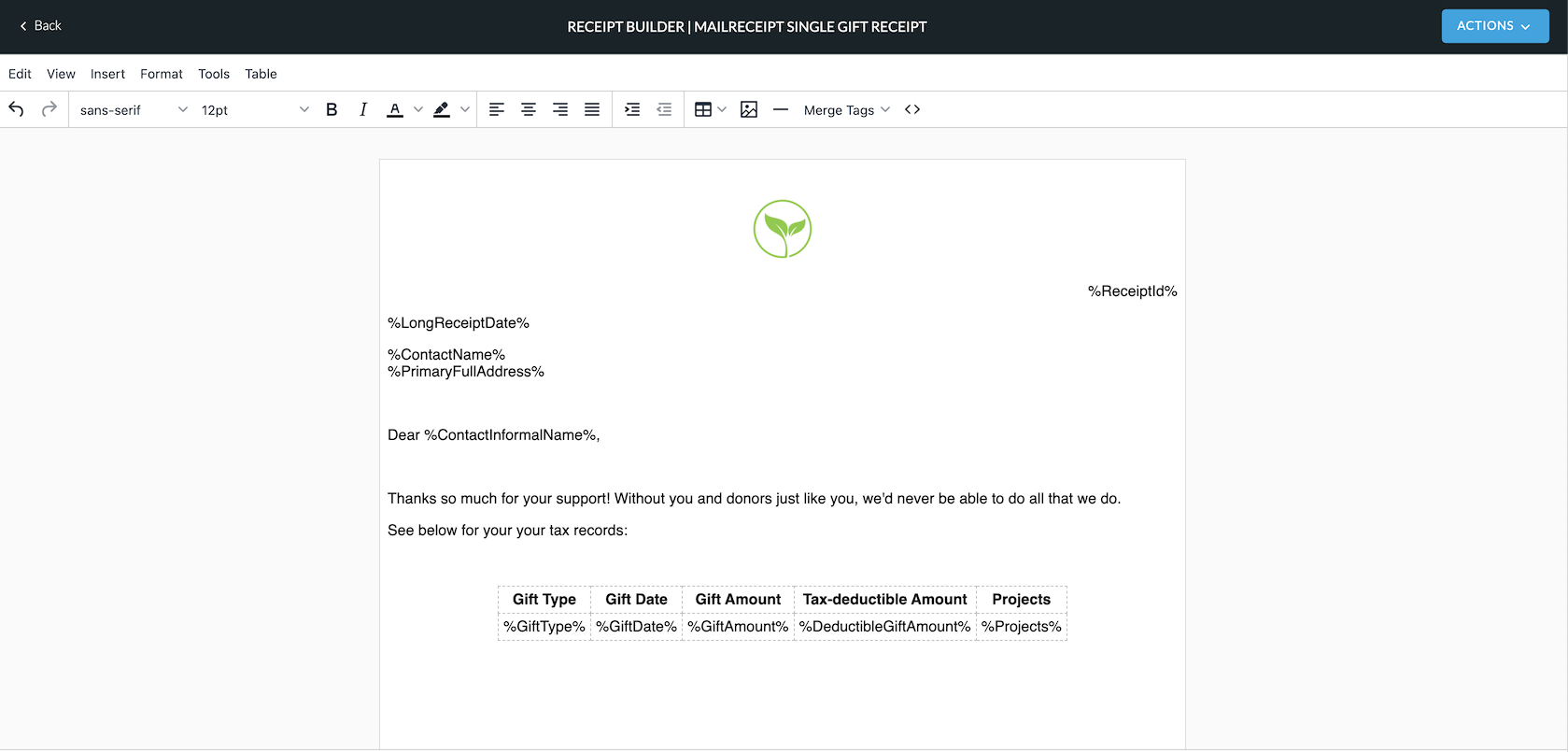 You'll also notice that the option to preview your receipt will automatically generate a PDF, making it easy to review all of your formatting and make sure things are aligned just the way they should be.
With all of these updates, creating annual statements—and your daily gift receipts—should b even easier than ever. Make sure to check out our guide to sending annual statements as well, or check out all of our receipting how-tos here.
The Event of the Season
We've been cooking up some big event features, including new event ticketing options in our RaiseDonors giving platform. In Virtuous, you'll see a few new additions for event functionality as well.
Want to add a list of attendees to an event? Well, that just got easier. You can click on the Actions button from the Attendees tab on any event and see the option to import event attendees.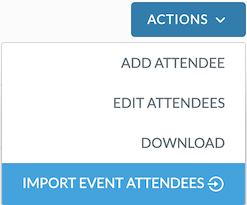 Click, and you'll be able to download the attendee import template. Just format your file to match and you can import attendees and set values for their RSVP status, their response, and even whether they have been invited or have attended the event.
Using event forms in Virtuous Marketing? Well, good news! Now, you can include an option to RSVP (Yes or No) in a form, as well as any event attendee custom fields!
Note that Virtuous event forms are only intended to be used for free events. For paid events, we'd recommend using the Events functionality in RaiseDonors.
Graphic Design Can be Your Passion
If you are an avid reader of our release notes (and really, why wouldn't you be?) you'll remember that we recently rolled out the ability to manage your organization's design settings in Virtuous Marketing.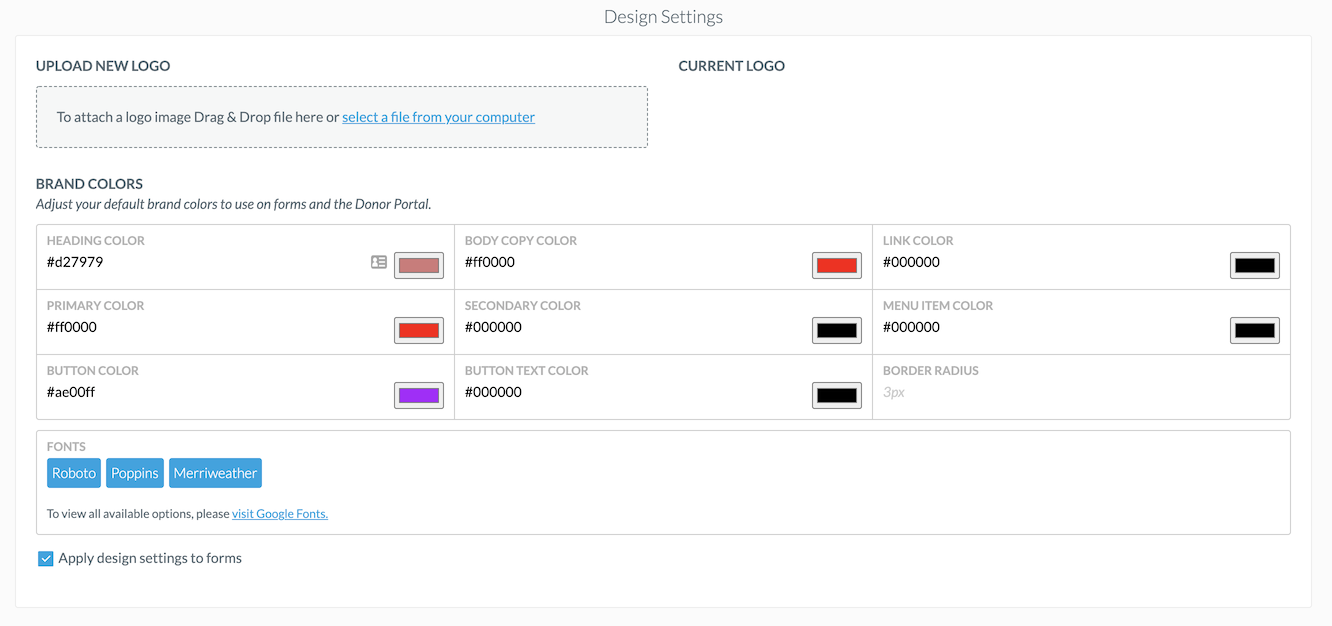 In this release, we're adding even more to this functionality. Now, you can select fonts from Google Fonts to be used as part of your branding, and even access Google Fonts directly to see previews. And design settings will not only be used in forms, but will also be the defaults used for creating new emails and even new receipt templates. Now, it's easier than ever to provide a consistent brand experience no matter what you're building.
Why Yes, We Have Had a Little Work Done
When you log in to Virtuous, you'll notice new icons in the navigation menu, as well as a little sprucing up of our design.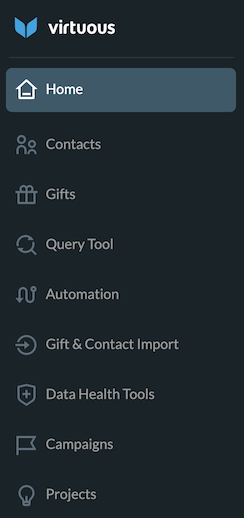 If you tend to rely on tasks, you'll notice that we've moved them from the main navigation menu to the header, so the task icon will now be visible everywhere, even in Virtuous Marketing.

We hope you like the new look!
...And the Rest
As with every release, this month's update also includes a number of other fixes, tweaks, minor modifications, and assorted nudges. Among this month's assorted fixes:
A new year often means it's time to de-clutter, and we are getting into the spirit. Now, admins can archive personalized email templates that are no longer needed. Marie Kondo would be proud!

We've updated our address verification and matching logic in the Gift & Contact Import tool to reduce the amount of records unnecessarily flagged as needing updates. As great as the import tool is, we're sure you'd rather spend more time connecting with your donors.

We've added a new merge field for receipt templates, which may come in handy for giving statements. Now, you can include the total fair market value of all Premiums for a Contact's gifts in this calendar year or the previous calendar year. The market told us this would have value, and we thought that would be fair (see what we did there?).

Webhooks! We've added a new webhook option for event creation, offering some new flexibility for custom integrations. You know what they say about webhooks: the more, the merrier! (They do say that about webhooks, right?)

We've added the ability to bulk update multiselect custom field values from the query results screen. Now you can add multiple values to multiple records, all in one go.


We tackled a bug that was affecting filters on the Merge Contacts tab of the Data Health. They should be a lot healthier now!

Assigning a task to another user from a Grant was not sending a task notification email to the assigned user. While it's fun to keep your coworkers guessing sometimes, this didn't seem like a good way to do that, so we'll be sending task notification emails from now on.
And that's the list! As always, if you have any questions about these or other features, feel free to contact our team using the support widget in Virtuous.