Automatic, for the People
Automated workflows are, admittedly, pretty great already. They allow you to manage processes with less staff time and connect with your supporters in a personalized way, across your entire database. So how could we make them better?
Well, we are just so darn tickled that you'd ask!
What if we made it easier—and faster— to build new workflows? Might that pique your interest?
Because we did! Now, when adding a new workflow step, you'll see the option to create a quick filter, right there in the workflow editor, instead of selecting a saved query (don't worry, you'll still be able to use all the power of queries too!).
​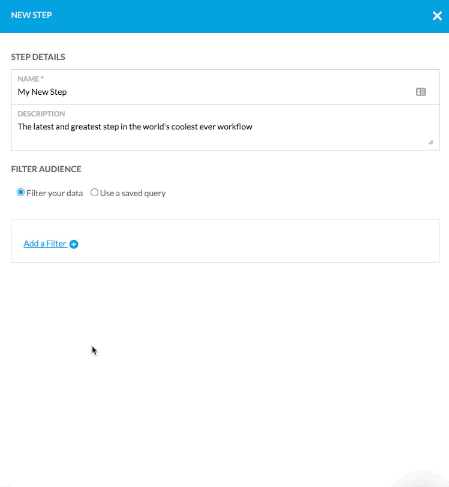 ​This means that you can create new workflow steps much more quickly, all without having to leave the workflow builder. For more complex criteria, you can also choose a saved query, so all those query skills will not go to waste.
OK, sounds great you say, but is that all?
Well, if we have included this imaginary question, you can probably guess that the answer is no. When we take something to new heights, we go straight to the moon!
So not only did we make it easier to create workflows, we've also made it much easier to measure engagement and activity for your active workflows!
Once your workflow is up and running, you can click on the Engagement tab to see stats on email clicks and opens, SMS messages sent, letters sent, task assigned, and even the total number of actions taken within a given timeframe.
​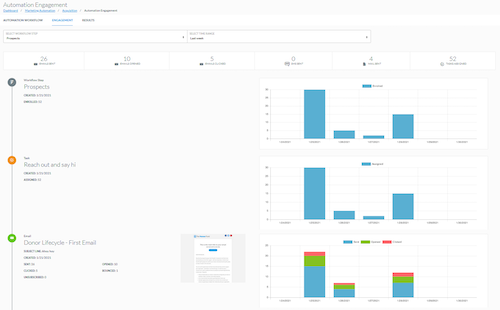 You'll even see previews of emails, letters, postcards, and SMS messages, making it easy to know at a glance what communication is being sent and how your recipients are engaging with your content.
Use the drop-down options at the top of the screen to switch between workflow steps or change the time frame for the included data. Select from a list of set ranges, like "This week," "Last week," or "Last 30 days," or select "Custom" to define a start date and end date for the time range.
Now, it will be much easier to gauge how effective your workflow communication is.
New to working with Automation, or looking for a refresher? Well, look no further! You can find all of our how-to guides for creating and running workflows right here.
Reconcile With a Smile
This one goes out to all of the Virtuous Giving users who have been working hard to reconcile Virtuous transactions with deposits to your bank account. We know that for many of you, having to extract and combine data from Virtuous, your bank, and either Stripe or WePay has been enough to give anyone the collywobbles (what a fun word for a not-so-fun feeling!) or leave you just plumb bumfuzzled (also an actual word, we promise! Isn't the English language delightful?).
Well, collywobbles BEGONE!
Reconciliation just got a lot easier.
Now, for users who are processing with Stripe, you'll see a new reconciliation function, where you can view data for Payouts in Virtuous Giving.
​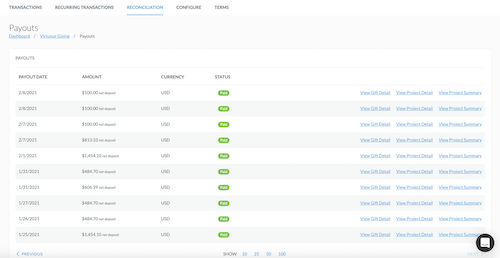 Each payout will show the Payout Date, meaning when funds were deposited into your bank account, as well as the net deposit amount, currency, and status. Use the handy-dandy links to the right of each payout to view (or download) payout data in any of three different flavors. You can view the Gift Detail to see each itemized donation, along with the gross, fees, and net donation amount for each Gift.
​

Or view the Project Detail to see each Project Split separately, including the gross, net, and fees associated with each.
​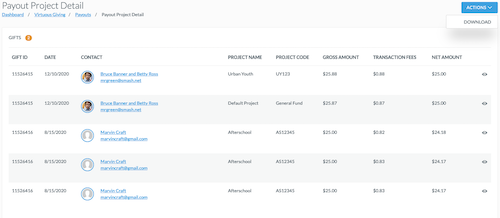 Neither of those perks your pot? Well then, you can give the Project Summary a whirl, with the sum total of the gross, net, and fees designated to each Project included in each Payout.
​

This means no more wrangling and combining/comparing multiple spreadsheets each month to do credit card reconciliation. I mean, if you're into that sort of thing, by all means, we don't mean to stop you! But you shouldn't have to do it on our account.
Thirsting for more knowledge? Quench that thirst with a refreshing look at this support article.
Don't Mind Me, Just Passing Through
When importing gifts from a spreadsheet, the only way to identify Passthrough Givers has been to include their Contact ID in the import file.
But what if you don't know their ID? Maybe you don't even know if they are in your database! You've got their name, their address—everything you'd need—but putting together an import has meant a lot of manual work, searching and manually creating new Contacts, transcribing IDs...not a whole heck of a lot of fun, in other words.
That's why we've added a new Passthrough feature for csv imports. Include the Passthrough Giver's name, address, email—whatever you have—in your import file, and the import tool will use the same matching logic we use for donors to identify the Passthrough Giver or prompt you to create a new one.
​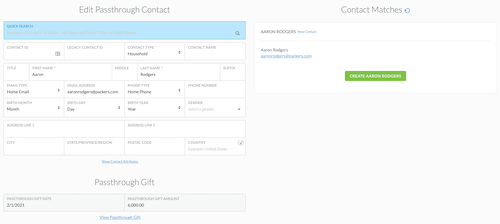 When using this feature, you'll notice that one transaction with Passthrough data included will be displayed as two separate transactions in the import tool, with one for the actual Gift and another just for the Passthrough Contact. Don't be alarmed! You'll still be importing just one Gift; the import tool just breaks it into two transactions to handle Contact matching for the donor and the Passthrough donor separately.
You'll see the new Passthrough Contact fields included in the latest version of the Gift Import Template, which you can download from the Gift & Contact Import page. Make sure to download the new template before importing your next file!
No More Taking Grants for Granted
If you use the Grant Management features in Virtuous, you already know that the only way to export grant information is via the filter options on the Grant Management page.
Well, that WAS the only way...
That's right, we have created some new features to make things easier (like we do, you know us)!
First, you are now able to query on grants, courtesy of the new grants query type. And even better, we've also added custom reports for grants! That's right, now you can create reports and even build your own custom grant widgets.
​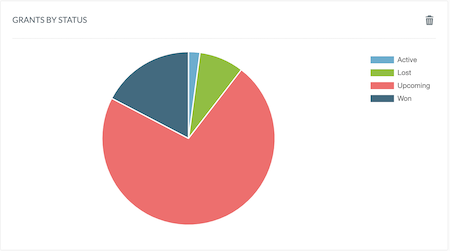 And just to add a little extra love, we even went ahead and made all of the columns on the Grant Management page sortable. Click away and sort to your heart's delight!
You can get up to speed on working with grants by perusing our collection of articles on the topic. Then, get started working with queries by checking out our Query Tool video series and, if you STILL want more, learn all about creating custom reports by checking out this helpful article.
...And the Rest
As with every release, this month's update also includes a number of other fixes, tweaks, minor modifications, and assorted nudges. Among this month's assorted fixes:
Admins! We have heard you, and this one is going out as a special request to all of you. Now, if a user is locked out because they have too many failed login attempts, you will be able to see that by clicking on the user from the Team Management page, and you can end the lockout yourself. No more contacting Virtuous Support! I mean, you can still say hi, we are pretty nice people, but only if you want to.

And this month brings you yet another popular request! Donors who have logged in to their Donor Portal account can now make another donation by selecting one of their existing payment methods, as opposed to typing in their credit card info over and over again. Because research shows that making it easier to give is apparently a good thing.

We've corrected an issue with the Giving Comparison widget where selecting to view data for the current fiscal year was comparing giving data to ALL of the previous fiscal year. It's good to set lofty goals and all, but it seems a lot better to compare against the last fiscal year-to-date, so that's just what you'll see now.

In addition to making workflows easier to build and measure, we've also added filters to the workflows page, so you can find the workflow you want even faster. So go ahead, build more workflows! No more holding back! YOLO!!!

We're not done with Grants! Now, when the status of a Grant is changed to "Won," the header will display the Awarded Amount instead of the Anticipated Award Amount. Because perpetual anticipation is good for the soul, but it's bad for the heart.

Users without access Virtuous Marketing were unable to see email thumbnail images in the Activity Feed on Contact records. Seems less than sporting to rub it in users' faces that they can't access the email tool, so now they can at least see those thumbnails.

Now that it's possible to send SMS messages, it's important to track communication preferences. You'll see a new field available for Virtuous Forms called "Phone Consent," which is a checkbox that indicates whether or not a donor agrees to be contacted at their phone number. If not, then a particular phone number will be opted out of receiving text messages.

And that's not all! (Yes, this is a two-parter.) Now, you can also bulk edit the opt-in or opt-out for Individuals' Contact Methods as a bulk action in the Query Tool. So now it's much easier to keep track of donor communication preferences. If only it was just as easy to understand the stock market...apparently GameStop is good now?


Have you ever though to yourself, "Gee whiz, I sure do like almost everything about Virtuous, but I do so wish I could export the Marital Status field?" Well if so, TODAY IS YOUR DAY! And if not, hey, good news: you can now export the Marital Status field, just in case you ever need to.

Users without permission to Manage Email Lists have been unable to subscribe Individuals to lists. That was not intentional, and now those same users are free to subscribe away!

Editing Project designations on Gifts in Virtuous CRM will now sync with those Gifts when viewed in Virtuous Giving. Because as fun as it is to see different data for the same gift, we think it's just a lot less confusing when everything matches up nicely.

When viewing Gift activity on a Contact record, the Activity Feed will now display the Gift Date, in addition to the Create Date. Keep in mind, the Activity Feed is ordered in reverse chronological order by Create Date, so you may see some timey-wimey entries, but at least now you'll know why.

We've been adding a lot of new Task features recently, including additional tabs on the tasks page and the new Task Board. Now, you can also filter for Tasks by Contact Name on the All Tasks tab. Geez, what will we do next? (I have no idea, but I'm sure it will be good.)

Some users reported missing data for some giving statistics, like First Gift Date Overall, when exporting from a query. Didn't seem right to us, so we've made sure that all fields will export correctly from now on.

​We've corrected an issue that caused the total number of Individuals on some email lists to display incorrectly. Because, seriously, math is hard.
And that's the list! As always, if you have any questions about these or other features, feel free to contact our team using the support widget in Virtuous, or drop us a line at support@virtuoussoftware.com.