Why Go There When You Can Do it Here?
Has this ever happened to you?
You are viewing a list of Contacts and realize that you need to fix a typo in an email address. So, you have to click to view the Contact record, navigate to the Individual with the misspelled email address, and then click to edit the email address and save the correction.
Lots of clicks for one small fix (hey wait...that rhymes!).
If only there was an easier way...
Well, hold on to your socks, bub, because now, there is!
With this release, we're making it easier to add and edit values right from the Contact or Individual list view!
​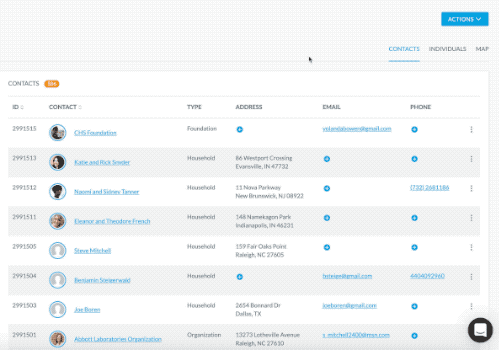 Now, you can click to add an address, phone number, or email address right from the main Contacts view. Clicking to the right of any record will show options to view the full Contact record, edit the record, or even archive it. On the Individuals page, you'll see similar options, with the ability to delete an Individual right then and there.
​

And that's not all! (of course not).
We've also made it easier to sort columns by clicking on the headers, with arrow indicators to show which columns can be used to sort, and in which direction data is sorted.
​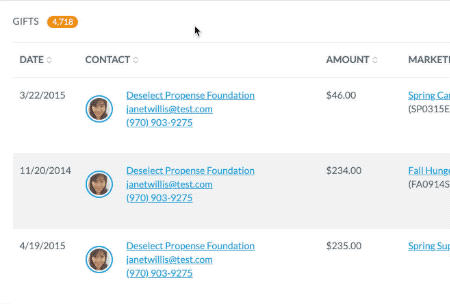 All of these changes should make it even easier to manage your data, and have you spending less time on mouse clicks and more time connecting with your supporters.
Go ahead and check it out on the Contacts page right now!
Self-Service, at Your Service
(We were going to call this section "Self-Service SMS Subscriptions" but you try saying that five times fast. It's a doozy.)
We've made it easier to get started using SMS in Virtuous Marketing. Admin users will see the option to add SMS to your organization's account. Just look for the SMS icon in the menu when you are in the Marketing view (if you're an admin, that is).
​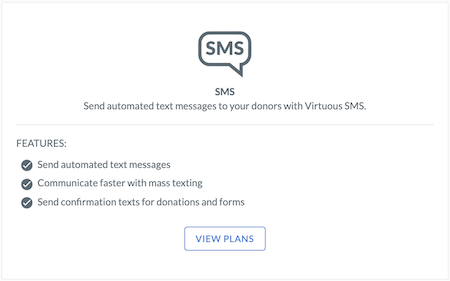 You'll be able to click to view SMS plans, select a plan, and enter a credit card to get started right away.
And once you add a plan, you can now easily keep track of your usage from the SMS screen.
​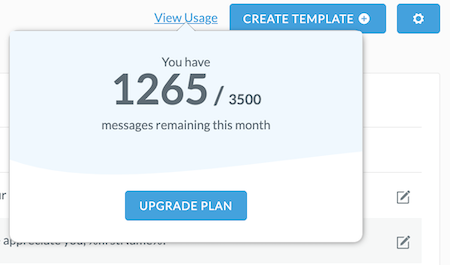 If you are running out of allotted messages, you can even upgrade your current plan, right in the app. Just look for the "Product Add-ons" option in the More Tools menu.
We are all about making things easier this month, huh?
Curious to learn more about SMS messaging? Well then, you're in luck! Just check out our collection of articles to get started.
Get the Inside Scoop!
Have you registered for the Virtuous Insider yet? We're meeting weekly to deliver content designed to help you make the most of working in Virtuous, with client case studies and success stories, strategy tips, product development insights, and of course, plenty of training and how-to advice. You can check out the recording of last week's session on accepting stock gifts online with our partners at Overflow, or any of our previous sessions, on our support page.
You can register for the Insider and add it to your calendar just by clicking below.
​

You'll only have to register once, and you'll be registered to attend every week. Mark your calendars now: the Virtuous Insider meets every Thursday at 3:00pm Eastern. Join us this Thursday, May 6th, for our Product Pulse session with our own Director of Product, Jason VanLue!
If you've already joined us for one of our Insider sessions, let us know what you think! Drop us a line at training@virtuous.org.
...And the Rest
As with every release, this month's update also includes a number of other fixes, tweaks, minor modifications, and assorted nudges. Among this month's assorted fixes:
One other way we're trying to make things more efficient this month: now, when manually creating a new Contact, you'll have the option to save the record, or select "Save and Continue" to quickly create multiple Contacts in sequence. Or in a batch, in bulk, or any other synonym your thesaurus app can suggest.

In last month's thrilling installment of "Virtuous Release Notes: The Series," we introduced our new membership features. This month, we're adding a twist: you can now select an existing Contact membership in the Gift & Contact Import tool to apply a gift as a membership payment. What will we think of next? Stay tuned!

Some users reported that they could not select a Contact Type when creating a new Contact. While this might seem like another cutting-edge feature to save a click, it also makes it a heckuva lot harder to actually

create

a Contact, so we've made sure that users can select a Contact Type now.

Virtuous Giving users! Have you ever wanted to display the selected gift amount right on the Submit button for a giving form (i.e., "Submit my $75 donation")? Well if you have, great! Because now you can do just that in the form builder. And if you haven't, then you're welcome for the new idea for sprucing up your giving form! (Pro Tip: if you are making changes to an existing giving form, be sure to publish your changes 😉.)

More cool customizations for giving forms: if you like the idea of including the selected gift amount on the submit button, might we humbly suggest including it for your recurring gifts check box as well? After all, "Make my $75 gift a monthly gift" sounds pretty good to us. Check it out in the form builder now!

BUT WAIT (yes, we are still doing this bit) THERE'S MORE! We've also added some new options for giving arrays. Specifically, you can now choose to have the "other amount" textbox visible all the time (by default, it only shows once a donor selects "Other" from a giving array) AND you can also select a default value for any giving array. Default values are selected based on the option position (i.e., "Option 3") since some donors may see different amounts on your giving form, if you are using

Smart Arrays

. (You are using Smart Arrays, aren't you? You should!)

We squashed a bug that prevented users from removing invalid characters from Project Codes. Because friends don't let friends use invalid delimiters. Or, in this case, force them to.

By semi-popular demand, we've added the ability to filter Grants based on the Granting Organization Name, since it does seem far more likely that you'd know the name of the organization and not the ID. Unless, of course, you've got all of your Contact IDs memorized. If so, color us impressed; some days it's hard to remember what day it is.

More fun with Grants! You can now export the Description and Award Terms fields. If you're into that sort of thing. If not, hey, you do you, and those export fields will just be there in case you need them someday.

We pulled out our slide rules and double-checked the math on calculating the Gifts per Year statistic for Contacts. We're pretty sure it's right now. #MathIsHard
And that's the list! As always, if you have any questions about these or other features, feel free to contact our team using the support widget in Virtuous.