Membership Has its Privileges
Wait, does that say...membership?
Why yes! Yes it does! (Does it also have a reference to an old American Express ad campaign that may or may not reveal the general age of your humble release notes writer? Also yes!)
Yes friends, this release includes a slew of new features for managing memberships in Virtuous.
For starters, you'll be able to create new memberships—think membership packages or levels—from the Data Management section of the Settings menu. When creating a membership, you can set it as either a one-time or a recurring membership.
​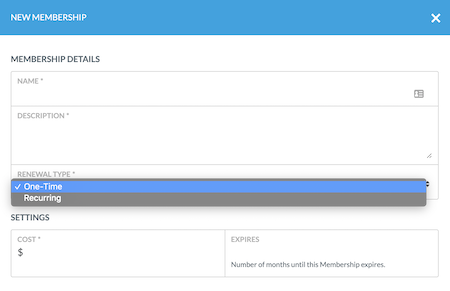 One-time memberships will expire after a set length of time, measured in months. Recurring memberships can be set to have either Monthly, Quarterly, or Annual renewal frequencies.
Once you've created your memberships, you'll be able to view and edit them from the Manage Memberships page.
​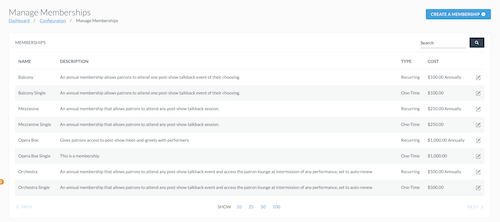 And that's not all! (Of course that's not all! Geez, you think we'd stop there?)
Once you've created your memberships, you'll be able to manually add them to Contact records. Memberships can apply to a Contact or you may choose to select a specific Individual.
​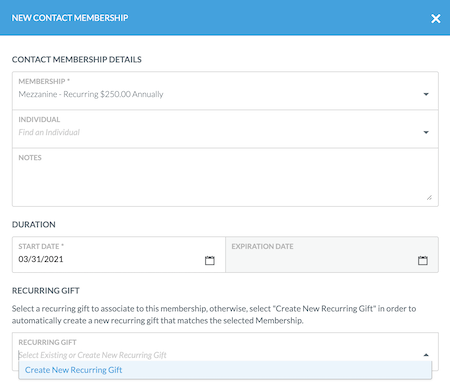 A recurring membership will automatically be linked with a recurring gift in order to track payments. When adding a recurring membership to a Contact or Individual, you will have the option to select an existing recurring gift already on the record or create a new one. You'll be able to link gifts directly to a membership in order to track payments, and even have the option to grant someone a free membership, for stewardship or other purposes.
A Contact or Individual will only be able to have one active membership at any time. You'll be able to view a full history of all of their active and expired memberships from the Membership tab on a Contact record.
​

But wait...(say it with me, friends)...THERE'S MORE!
You'll also see a new query type, "Contact Membership," to make analyzing and reporting on your membership data just as easy as can be.
If you'd like to learn all about memberships, may we invite you to step beyond our imaginary velvet rope and peruse our exclusive collection of support articles on this topic?
GOOOOOOOOOOOOAAAL(S)!!!!
Wait...you don't celebrate hitting your fundraising goals just like soccer players scoring winning goals? (We're not here to tell you what to do, but hey...that sure would shake things up a bit, huh?)
Well, to make it easier to track your progress and know when to celebrate, we're excited about rolling out a new feature designed to help you manage your fundraising goals. Specifically, the ability to define—and track—fundraising goals related to Gift Asks.
When viewing the Gift Ask Pipeline, you'll see a new panel at the top of the page displaying goals and goal progress.
​

Selecting a specific team member will also filter the Gift Asks visible to display only that team member's asks, and the filter panel will show only their progress toward their goal.
Wait, whoa, was that a stealth feature? (Kinda, but is something really "stealth" when we call it out like this?)
Yes, we've also added a new way to filter Gift Asks in the Gift Ask Pipeline. You can still use the standard filter criteria on the left, but now you have the additional option of quickly filtering for a particular team member's asks just by selecting them from the goals panel.
In fact, you'll notice that the Gift Ask Pipeline overall has a bit of a new look, with some clearer metrics and interactive tooltips to help provide more data and context, right at your fingertips.
​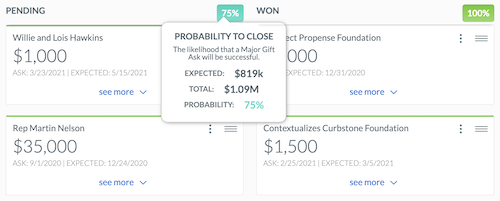 When setting goals, you'll be able to define the structure, including whether you will be measuring on a fiscal or calendar year, and whether you want to define specific goals by month, by quarter, or simply for the year. You will also be able to select team members and define their goals, even copying goals from one team member to another.
​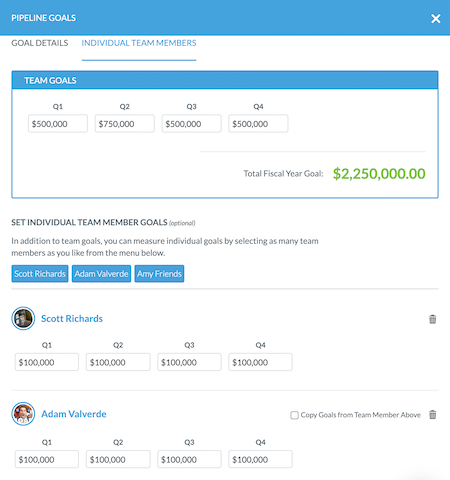 So now you can spend less time manually putting together reports and tracking processes and more time connecting with donors and raising more money!
You can learn more about getting started with goals in this handy-dandy support article.
Be an Insider!
While this isn't technically a new product feature, we are super excited to be rolling out a new opportunity to connect with you, and all of our users, more frequently. Sure, we see each other at least once a month, for our training webinars. But wouldn't it be great to get together a little more often?
Starting this month, we're proud to announce we'll be hosting a new, weekly session: the Virtuous Insider. We'll featuring guests and various members of the Virtuous team, with more insights into our product, an opportunity to share success stories, and of course, plenty of opportunity for training, discussion, and Q&A.
You can register for the Insider and add it to your calendar just by clicking below.
​

You'll only have to register once, and you'll be registered to attend every week. Mark your calendars now: the Virtuous Insider meets every Thursday at 3:00pm Eastern. Join us this Thursday, April 8th, for the first session!
Developer's Corner
Last week, we sent out information on API changes for this release to everyone signed up for our Developer Digest emails.
This month's update includes some updated endpoints and an announcement of the end of support for TLS versions 1.0 and 1.1.
If you are a developer, or if you just like to stay in the know on all the high-tech goings-on around here, just reply to this email and let us know, or use the support messenger to contact us.
...And the Rest
As with every release, this month's update also includes a number of other fixes, tweaks, minor modifications, and assorted nudges. Among this month's assorted fixes:
Getting custom data just got a heckuva lot easier! Now, when you create a custom report, you'll have the option to download the raw data table OR download all of the chart data in csv format. This means that you'll be able to access aggregated values from your chart—like "Average Gift Amount by Type" or "Maximum Gift Amount by State." Or, heck, whatever your heart desires. Go nuts!

We've introduced goals and a snazzy new look for the Gift Ask Pipeline this month, but did we stop there? (You can safely assume we did not, since we're leading with this.) We didn't! We've also added the ability to manually create new gift asks right from the pipeline screen. Just click on the Actions button in the upper right to get started. All your gift ask needs, all in once place.

Maybe the Gift Ask Pipeline doesn't perk your pot? That's fine too! When viewing the gift asks tab on the

Gifts

page, we've added a little something for you: you can now customize the view by adding columns to the page. Just click on the three dots near the upper right to see the available options.

In a perfect world, every email would send to every recipient every time (and they would always open, it, click through, and donate too, but let's not get CRAZY!). Unfortunately, we don't live in a perfect world, and sometimes emails may bounce or otherwise be undeliverable. In these cases, you'll now be able to download an email exceptions report from the Sent Email page. We may not be able to make the world perfect, but we can make it just that much better.

It was brought to our attention that users were unable to sync event with Eventbrite, which made that integration...difficult to use. We have corrected the issue so that events will now be synced to Eventbrite, since that seemed just the right thing to do.

Should you wish to export any of the credit card reconciliation reports from Virtuous Giving, you'll be pleased to know that these exports will now actually generate export files.

We squashed a few bugs that prevented users from entering Custom Collection data. Sorry if that means you now actually have to do data entry!

Some Letters on Demand users may have experienced issues with previewing postcards or reviewing postcard actions in the Contact activity feed. If you are one of these users, good news! We've fixed these issues too. (If you're not one of these users, who knows? You might be someday.)
And that's the list! As always, if you have any questions about these or other features, feel free to contact our team using the support widget in Virtuous, or drop us a line at support@virtuous.org.