Where We're Going, We Don't Need Roads
To celebrate the release of our very first public product roadmap, we now present this brief, imaginary FAQ:
Q: Why are you doing this?
A: Well, it's been a really long time since we've done the whole fake FAQ bit so we thought it was a good time to bring it back.
Q: No, I mean, why are you adding a public roadmap to the product?
A: Oh! Well, we've always valued feedback from our users, and with a rapidly evolving platform like Virtuous, we know that many of you are curious to know what the future holds. So by making our product roadmap available in-app, we can provide more transparency around requested features, collect even better feedback to help us prioritize new feature development, and provide more insight into future enhancements.
Q: Wow! That sounds amazing!
A: Thank you, hypothetical interlocutor!
Q: So, if I'm in Virtuous, how can I see the roadmap?
A: So glad you asked. Just look for the mortarboard hat in the upper right—
Q: Mortarboard?
A: Yep, the graduation cap.
Q: Ah, right!
A: Wait—so you were good with "hypothetical interlocutor" but "mortarboard" was a bridge too far?
Q: Look, you're expecting consistency from me? I'm not even a real person. Just roll with it.
A: OK, point taken. Anyway, just click on the mortarboard cap icon and you'll see the option to view the Product Roadmap.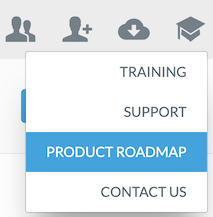 Q: Oh cool! And what will I see on the roadmap?
A: Another excellent question! When you view the roadmap, you'll see features broken up into four categories: Considering, Committed, In Progress, and Released.
​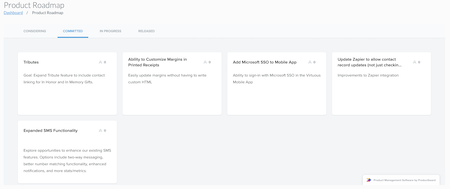 Click on any card to view more detail and even vote for the features you'd most like to see.
​

Q: OK, this looks super cool. If I have an idea for a new feature, can I add it to the roadmap?
A: You betcha! You can still submit new product suggestions by using the in-app chat widget. Our team will continue reviewing your suggestions and adding them to the roadmap as appropriate.
Q: Wait...what does "as appropriate" mean? Will I see my suggestion show up right away?
A: We have always taken feedback very seriously, and our team meets regularly to review suggestions and feedback. One of the things we work very hard to do is to understand the pain that a certain requested feature may be trying to alleviate. In many cases, there are many organizations struggling with the same pain points, all of whom may have come up with different solutions. We like to listen and try to create solutions that will work for everyone. All that to say, you may not see your feature request show up on the roadmap right away, but that doesn't mean that we haven't already started reviewing it, debating it, and evaluating it.
Q: Oh wow, I don't think I realized you guys do all that.
A: We do! We're passionate about creating tools that will help the entire nonprofit sector move forward and implement responsive fundraising strategies that create lasting donor relationships. And that means being responsive ourselves, listening and responding to suggestions and user feedback.
Q: Well, thanks for answering all of my pretend questions!
A: Any time! We love when we get to bring this bit back.
Attachments 2: The Attachening!
(Movie trailer voice) The studio that brought you "Multiple Attachments on Contact Notes" is back with an even better way to manage multiple attachments. Delete files! Add new attachments! And make the world a better place, one Contact Note at a time!
Yes, Hollywood likes a sequel, and we're no different. Avid readers of our release notes—and users of Contact Notes—will recall that we recently introduced the ability to attach multiple files to a single Contact Note.
And with this release, we're taking that to the next level.
Now, when editing a Contact Note, you'll have the ability to delete existing attached files and add new files, all with a few clicks (and maybe a little drag-and-drop action, just for good measure).
​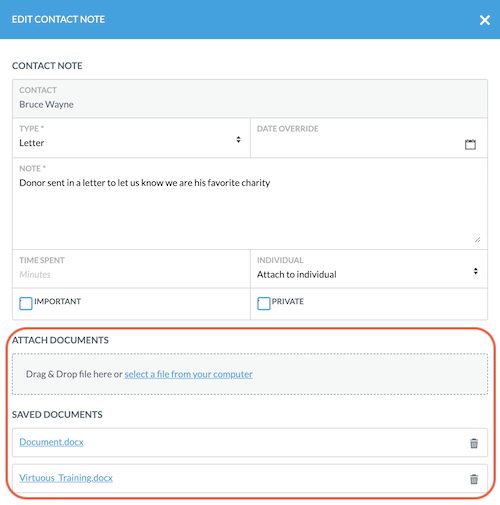 Just click on the trash can icon to the right of any attachment to delete it, or drag a file to the attachment box to add it to an existing note.
What's in a Name?
Would Cher be just as famous if she was still known as "Cherilyn Sarkisian?" Would Tom Cruise even have been cast in Top Gun if he was still going by "Thomas C. Mapother?" Would the people of Pawnee love Lil' Sebastian just as much if his name was something more like "Biff the Tiny Horse?"
Well...maybe not!
Names are important. And now, you can have even more control over the names of custom fields in your Virtuous instance. Just like Norma Jeane Mortenson was much better known to the public as Marilyn Monroe, your custom fields can now have both a name, which serves as an internal name, and a Display Name, which you can think of as a stage name.
When creating or editing an existing custom field, you can enter a value for the Display Name.
​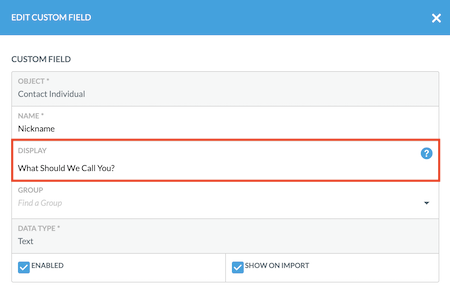 Once you do, you'll see the Display Name listed below the field name on the Custom Fields page.
​

Also, when adding a custom field to any form in Virtuous Marketing, you'll see the Display Name is automatically used as the Field Label on your form.
​

This option is a great way to make your custom fields a little friendlier and easier to understand, without having to rename your actual fields and update multiple queries each time you do make a change.
And hey, stage names are fun! Just ask Ramon Estevez...er, Martin Sheen.
Get the Inside Scoop!
Have you registered for the Virtuous Insider yet? We're meeting weekly to deliver content designed to help you make the most of working in Virtuous, with client case studies and success stories, strategy tips, product development insights, and of course, plenty of training and how-to advice.
You can register for the Insider and add it to your calendar just by clicking below.
You'll only have to register once, and you'll be registered to attend every week. Mark your calendars now: the Virtuous Insider meets every Thursday at 3:00pm Eastern. Join us this Thursday, July 29th, for a Partner Spotlight session with our friends at DonorSearch
If you've already joined us for one of our Insider sessions, let us know what you think! Drop us a line at training@virtuous.org.
...And the Rest
As with every release, this month's update also includes a number of other fixes, tweaks, minor modifications, and assorted nudges. Among this month's assorted fixes:
Ever wished you knew where the Gift Asks in your database came from? (Technically, they come from someone doing data entry, but you know what we mean.) Well, wonder no more! Now, you'll see the option to associate a Gift Ask with a Segment. Use Segments when filtering the Gift Ask Pipeline or in reporting to see which of your activities is generating the most major gift opportunities.

Look, no matter how awesome your organization is, sometimes users leave. And now, when they do, and your admin disables their access, that admin will need to select an active user to receive all of the disabled user's

outstanding tasks and future task assignments. Because missing touch points with donors because of staffing changes isn't exactly responsive.

Remember when we rolled out the ability to attach multiple files to a Contact Note? Well, we just cranked that feature all the way to 11 because now, you'll see the option to delete existing attachments and even add new ones whenever you edit an existing Contact Note. Rock on!

Are you a curious sort of person? Would you like to know why Recurring Gifts are cancelled, and maybe even report on cancellation reasons? Well if so, you are in luck! (If not, maybe just let your co-worker who DOES want to know things like this enjoy having a win, OK?) Now, when cancelling a recurring gift, you'll be prompted to select a Cancellation Category and type in any additional background. Admins can create new Cancellation Categories on the Data Customization tab of the full

Settings

page.

Remember when we were talking about how important names are? Well, because names ARE important, we've renamed Event Invitations, since "invitation" sounds an awful lot like "embossed card in an envelope being delivered by a footman in full livery," as opposed to "someone who registered to attend our event." Now, you'll now see the term "Event Attendees" used in place of "Event Invitations" on the Events page, in queries, and anywhere you get your event information.

🚨 New merge tag alert! 🚨 You can now include fields for your organization's return address when creating mail receipt templates. Because typing's OK but merge tags are cool.

By popular demand, we've expanded the ability to receive notifications about form submissions to forms of all types, including giving forms. You can include as many users as you like on the Submission step of the form builder. But you may need to set up an inbox rule to manage notifications before Giving Tuesday this year!

Continuing a theme from our recent releases, we've included the ability to customize the columns included in the table view of the Gift Ask Pipeline. One more way Virtuous says you can have it your way (please don't sue us Burger King) (if you are not old enough to get that joke, please just laugh anyway and don't make us feel old please).

When adding Volunteers to a Volunteer Opportunity, you can now search for Individuals by Individual ID as well as name. (We don't have a snappy joke here—sometimes a handy little improvement is good enough to just stand on its own.)

Those of you who have migrated data to Virtuous and migrated recurring charges to Virtuous Giving know that these are two very separate processes. And there's been no way to link migrated Recurring Gifts in the CRM to recurring transactions in Virtuous Giving. Which, frankly, isn't great. So now, as recurring payments are imported to Virtuous CRM, once a payment is matched to a Recurring Gift, we'll link the Recurring Gift to the recurring transaction. This will make it much easier to manage changes and cancellations, right from a Contact record.

And speaking (or more accurately, typing) of cancelling Recurring Gifts, we've fixed an issue where cancelling a Recurring Gift on a Contact record wasn't cancelling the linked recurring transaction in Virtuous Giving. Now, you can just cancel once and be done.

We've squashed a bug where Informal Names were being automatically generated for Contacts that were not Households. Now, you'll be able to manually add values for Informal Name for Organizations or Foundations as needed.

We've updated our Contact webhooks (if you don't know what webhooks are, you can

check out this article

if you're curious, or just zone out for the rest of this bullet—up to you really) so that update webhooks will be sent when there are changes to Tags or Organization Groups on any Contact record.
And that's the list! As always, if you have any questions about these or other features, feel free to contact our team using the support widget in Virtuous.