SMS: Now Twice as Responsive!
Or maybe thrice? Not sure, we haven't quite done the math.
When we introduced the ability to send text messages to your supporters via automation, we heard from many of you that you loved the feature, but you wanted more. So we introduced the ability to do bulk messaging via SMS. Which is just peachy keen and provides yet another way to connect with your audience.
But, what about listening?
Yes, listening is a core part of the responsive fundraising framework, and in this release, you'll have some new options to be able to listen—and respond—to SMS replies.
When creating or editing an SMS template, you'll have to ability to create a default response message.
​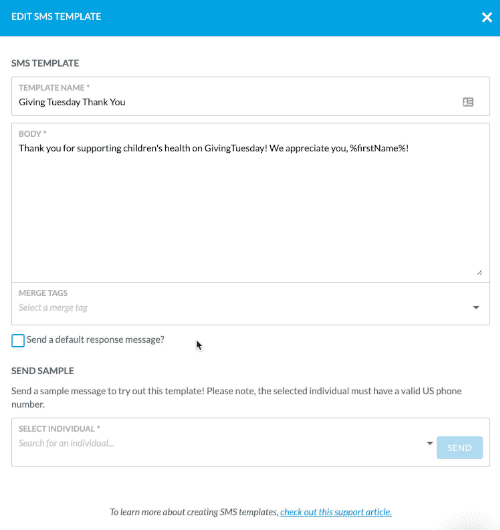 Then, if someone replies to your message, they will receive an automatic response, which you can use to direct them to a different communication channel, like email, phone, or maybe even a contact form on your website.
​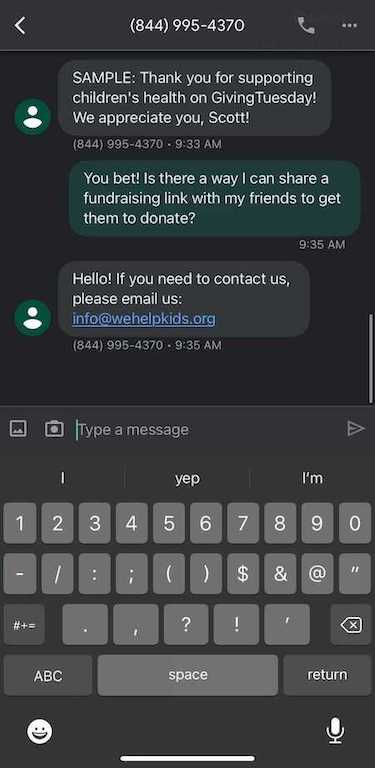 But wait....
(yes, we're still doing this bit, it's an oldie but a goodie)
THERE'S MORE!
Because sending a response is great, but it would be REALLY great to be able to see responses from your supporters. Currently, these are visible in the activity feed on each Contact record, but wouldn't it be a lot easier if all of the replies were in one place?
Well, you're not gonna believe this, but...we've added one place where you can see all of the SMS replies you've received! When clicking on the settings on the SMS page, you'll notice that "View Sent Messages" will say "View Messages" instead.
​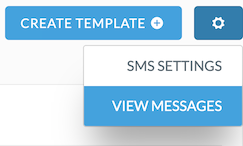 Click, and you'll see two tabs, one to view sent messages, and another to view all received messages.
​

Of course, replies will still be available in the activity feed on Contact records...we wouldn't want to hide them from you there! (If you're super into scavenger hunts, there are more fun ways to do that.)
With all of these new SMS features, you'll be able to respond to your supporters' replies and make sure you keep your conversation going with each of them across multiple channels
Excited? Intrigued? Super-duper interested? Well then you can learn more by perusing this handy support article!
Welcome to the Multi(select)verse
Previously, on "Virtuous," we rolled out the ability to create multiselect custom fields. This was a popular request, and we're so glad we were able to deliver this functionality. And since it's so popular, we figured the only way to make multiselect fields better is to offer...MORE multiselect fields!
Yes...more! (Look, we tried and tried to make some sort of "multi-multi select" joke here but it didn't test well in previews.)
In this release, we're adding the ability to include multiselect custom fields when creating a Custom Collection. Just look for the "Multiselect list" option when creating a field.
​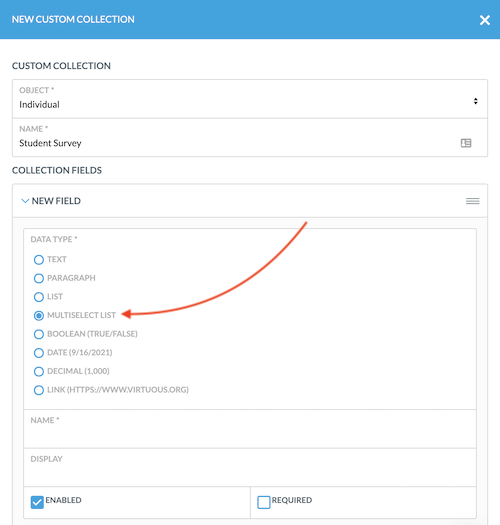 Now, you'll have maximum flexibility when it comes to tracking custom collection data. Multiselect values can be used in Custom Collection queries, just like your friendly neighborhood multiselect values can.
New to working with Custom Collections? Have no fear! You can learn more in this article right here.
Developers' Corner
Last week, we sent out information on API changes for this release to everyone signed up for our Developer Digest emails.
This release includes some updated endpoints and new webhook options.
If you are a developer, or if you just like to stay in the know on all the high-tech goings-on around here, just reply to this email and let us know, or use the support messenger to contact us.
...And the Rest
As with every release, this month's update also includes a number of other fixes, tweaks, minor modifications, and assorted nudges. Among this month's assorted fixes:
Exciting news for fans of pledges: we've added not one, but two new frequencies! Now, you can create a weekly pledge or just create a pledge with a frequency of "Once." In addition to all our previously existing frequencies, of course. (No word yet on when we'll be adding "every third Tuesday only during Daylight Savings Time" as a frequency, but hey...you never know!)

You can now re-order list values in Custom Collection fields! So not only are giving you even more flexibility with Custom Collection data this month, we're also letting you reorganize to your hearts' content. Because we're just generous like that.

Have you ever created a new Segment, only to realize that you haven't created the query you need in order to run segmentation? Of course! We all have. Now, you'll have the option to create a filter OR select a saved query (just like adding a new workflow step) so you can create your segment, add your criteria, and keep on going!

Some organizations were not able to link an incoming Grant to a Project. Since we believe in fair play, we've ensure that now ALL organizations can connect Grants to Projects.

Using filters to look for Contacts just got a whole lot more powerful. We've added additional Contact Statistics to make it easier to identify specific donor segments. What you do after you identify them is totally your business, we won't interfere.

For those of using Virtuous Giving, we've added the ability to view additional details about recurring transactions from the Virtuous Giving page, including successful charges, failed charges, and updates to payment methods. Just click the three dots to the right of any recurring transaction and then click "View." (Or don't! We're not here to tell you how to live your life.)

Some users reported seeing discrepancies in their receipt templates between the template preview and the actual export. We've made sure that things are a little more consistent now. I mean, sure, it's a little predictable, but that's not a terrible thing when it comes to receipting, right?

As mentioned in the "Developer's Corner" above, we've added some new webhook options, Now, you can subscribe to Contact Note and Form Submission webhooks. Because we believe in playing nicely with others.

Got gifts with Legacy IDs? Wanna be able to see those Legacy IDs when viewing gift details? Well then, this might seem like a crazy coincidence, but we've released that EXACT feature. What a crazy world!

Some users were unable to see email receipt templates when adding a template to a gift. Which, as it turns out, was not super helpful. So now we've made sure that all available receipt templates are available at your fingertips. Or, at least, at your...mouse cursor?

Because we apparently like to keep things interesting, scheduled reports set to run on a monthly frequency were not quite behaving as they should. We've made sure they will stay in line and follow directions from now on.
And that's the list! As always, if you have any questions about these or other features, feel free to contact our team using the support widget in Virtuous.