The Winds of Change
We've made our list AND checked it twice, and this was a VERY popular request that we are thrilled to be able to leave under the tree.
In this release, we are very happy to report that you can now modify the amount of a recurring gift in Virtuous.
*cheering ensues*
So, how does it work?
Well, we are glad you asked. Pull up a chair, grab a mug of hot cocoa, and we'll show you.
The functionality is a little different for recurring gifts made via Virtuous Giving vs other recurring gifts, so let's take a look at each scenario, shall we?
Scenario 1: Recurring Gifts NOT made through Virtuous Giving
We're starting here because it's simpler, and hey, we have to start SOMEWHERE.
Click to edit a recurring gift, and you'll see that the amount can be edited. (yes, it's THAT SIMPLE!). Assuming your recurring gift includes project designations, you'll need to update the Project Split Amounts to ensure that the total amount designated equals the new recurring gift amount.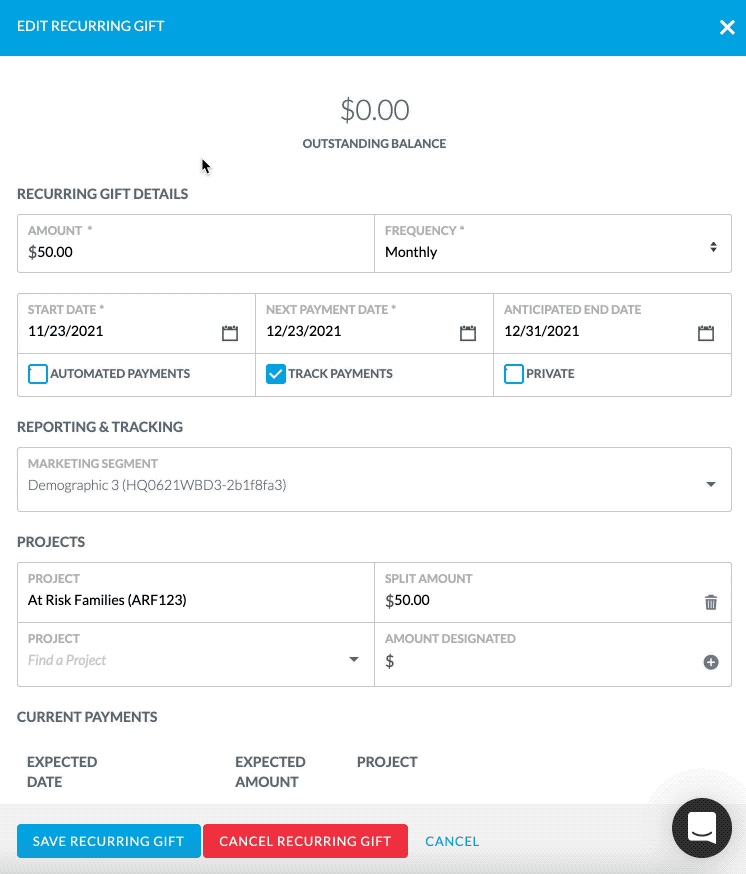 Then, just click "Save Recurring Gift" and you'll be all set.
Scenario 2: Recurring Gifts made through Virtuous Giving
OK, first things first: how do you know if a particular recurring gift was, indeed, made through Virtuous Giving? Well, just look for the union label Virtuous logo!

Did you know that you can even filter for recurring gifts based on their Transaction Source from the Gift page?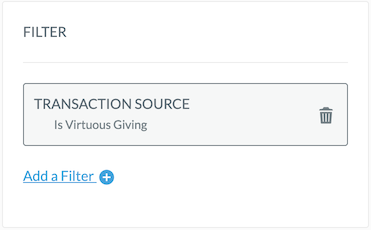 Well, if you didn't before...now you do! The Virtuous logo will also be visible in that view (and anywhere else you might encounter recurring gifts).

For any of these recurring gifts, when you click to edit, you'll see a slightly different view of the recurring gift information at the top of the edit pane.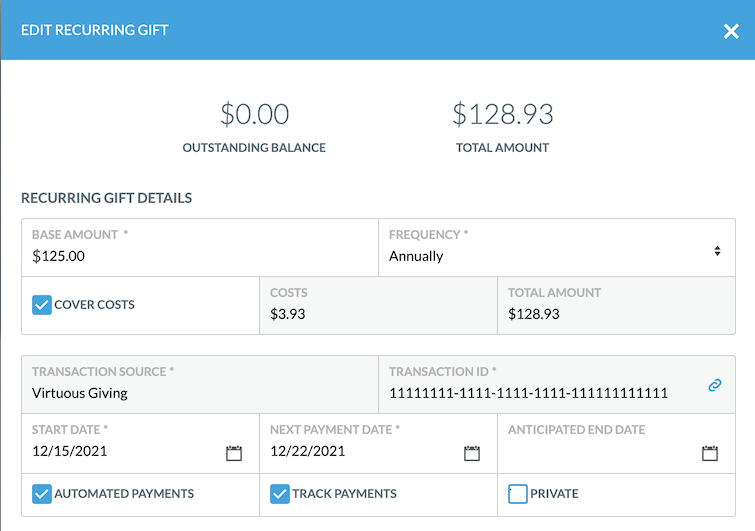 In particular, you'll see that the total recurring gift amount has been split into two components. The Base Amount and Costs. These are combined and displayed as the Total Amount.
If a donor has opted to cover the transaction costs, you'll see that the Cover Costs checkbox is checked. Virtuous will calculate the costs and display that value. When you modify the Base Amount, you'll see the Costs recalculate accordingly.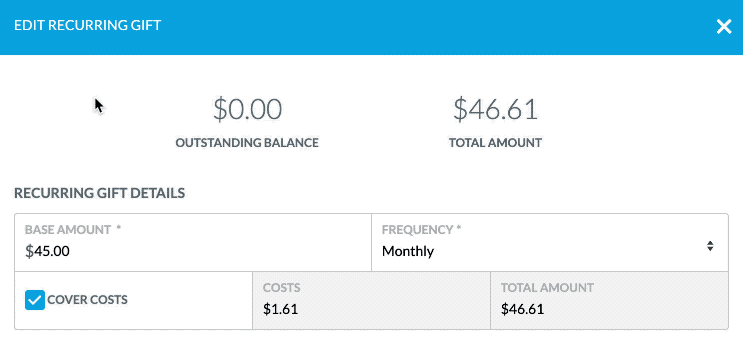 As you can see above, your donor will also receive a notification whenever the amount of their recurring gift is modified, because these changes will affect how a donor's card is charged going forward.
But whither Projects?
Well, never fear! We've made a change to the way project splits can be modified on a recurring gift. Now, you won;t have to click to edit and then see all the projects disappear; you'll see each split listed and you can modify any one you want. (If a recurring gift is set for the donor to cover costs, we'll display the "Donor Paid Costs" split as well, but you won't be able to modify it.)

We know that this is a long-awaited feature for many of you. Now, you'll be able to easily have donors upgrade their giving and be able to make changes without the need to cancel and recreate recurring gifts for each change. Consider this our Christmas gift to you!
The More (Stats) the Merrier
We're not sure about the statistical validity of more = merrier but we do know that more stats are generally a handy thing. Especially when the stats in question are available as query parameters (and export fields) in the Project Donor query.
Haven't used the Project Donor query?
Well, it's a handy query type that allows you to query specifically on the relationship between a Contact and a Project, based on giving data (hence the name, "Project Donor" instead of "Project Contact"). With this query, you can identify when a Contact made their first gift to a particular Project, regardless of whether they may have previously donated to different Projects.
In this release, we're adding additional statistics for:
Rolling Year Giving to Project

Rolling Year Gift Count to Project

Fiscal Year to Date Giving to Project

Fiscal Year to date Gift Count to Project

Last Year Giving to Project

Last Year Gift Count to Project
Make sure to go ahead and give it a whirl next time you're in the query tool!
...And the Rest
As with every release, this month's update also includes a number of other fixes, tweaks, minor modifications, and assorted nudges. Among this month's assorted fixes:
We will now display the Last Modified Date for Contacts, Individuals, Addresses, and Contact Methods. You'll see this data displayed when viewing records, and even in tooltips when editing a Contact or Individual record. No more wondering, "Didn't I just change this?" Now, you'll know!

This one is for admins only: when viewing the list of archived Contacts, you'll now see the total number of archived records displayed at the top of the screen. Now, sure, if you'd still rather count them all yourself, we won't stop you, but you no longer have to.

Some users have had intermittent trouble verifying addresses in imports or when adding/editing records. We've made some changes to the address verification tooling, which should make for much smoother sailing going forward. Verify to your heart's content!

API Nerd Alert! We've added the ability to link a gift with a pledge payment via the API. Check out the API reference page to learn more. (Or if you're just curious about our API, no one is judging you.)


Some users reported that the display order for selected fields in custom reports was changing when editing an existing report. We've set down with all of the fields and let them know the importance of staying put, and they have promised to behave from now on.

In some situations, blank records were displaying in the Contact merge tool. While everyone loves a good mystery, we've made sure that these phantom records won't be showing up going forward.
And that's the list! As always, if you have any questions about these or other features, feel free to contact our team using the support widget in Virtuous.