When is a Letter on Demand not a Letter?
Why, when it's a receipt, of course! (Or a postcard, but hey, that's not what we're going for here.)
Yes friends, with this release, we're proud to announce that you will be able to utilize our Letters on Demand service to send paper receipts to your donors, all without having to stuff envelopes, touch any stamps, or make any trips to the post office!
(Look, if you want to go to the post office, we're not stopping you. By all means, we've all been locked down for a year, get out there and enjoy life! But you won't have to just to send receipts.)
On the Receipting page, users can still choose to create an email or mail receipt template, or choose to create a Receipts on Demand template.
​

When creating a new receipt template, you'll be able to select an existing default template and then customize it as needed. You can even include a perforated page with a tear-off reply device!
​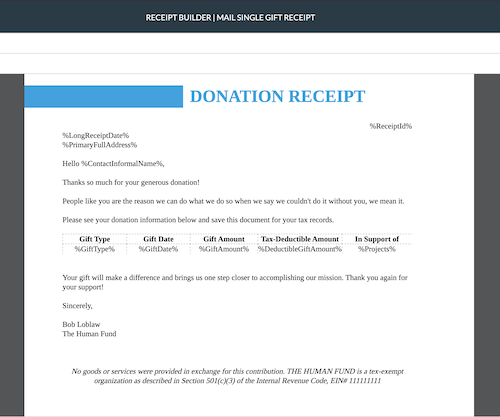 Once you've created your first template, you'll be able to create a new Receipting Group and select a Receipts on Demand template.
​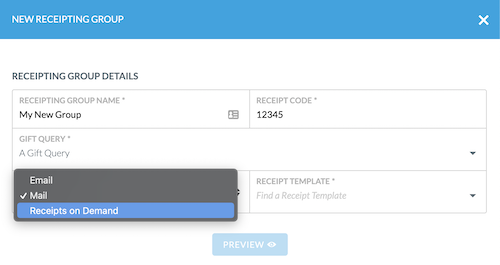 New to Receipting Groups? Well then, you're in luck! We just happen to have a support article that will help you get started.
Access to the Receipts on Demand feature will require activation and a subscription to Letters on Demand. (We should also note that, just like Letters on Demand, Receipts on Demand can only be sent to US addresses.) You can reach out to your Account Manager to start the activation process (especially if you already have access Letters on Demand) or to learn more.
Of course, if you'd rather learn more without having to talk to anyone (we are introvert friendly!) you can always spend some time perusing this support article all about working with Receipts on Demand.
All I Task of You
(Apologies to the Phantom of the Opera, but this was too good a title to pass up.)
Look, we've all been there: you create a task for someone else on your team. Maybe they have to call a donor and confirm their mailing address. Maybe you need to invite them to secret singing lessons in your lair under the Paris opera house. Or maybe you want someone on your team to make a thank-you call. Who knows?
But you create the task and put it out there in the world and then...you wonder. Did they do the task? Did the falling chandelier scare the opera company and prove you mean business? Is the task still out there waiting to be completed? Are we past the point of no return?
(OK, enough of the Phantom of the Opera references, we'll stop.)
Well, with this release, you won't have to wonder anymore.
By very popular demand, we've added email notifications when users complete a task you have assigned to them!
​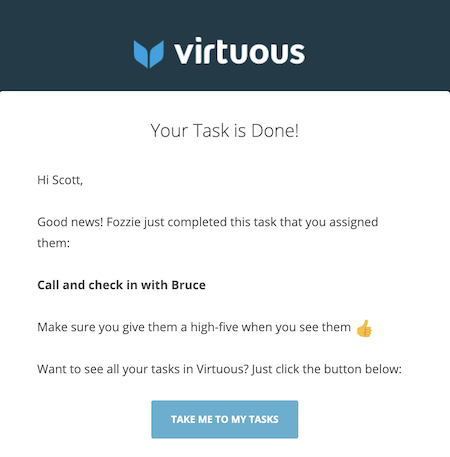 And of course, you can still view the list of all tasks you've assigned to other users on the Tasks page in Virtuous.
Keep Your Data Intact in Intacct
(Proofreading that section title was tricky!)
Sage Intacct is a powerful, cloud-based accounting platform for nonprofit organizations. And now, it integrates directly with Virtuous!
Users can log in to our new Integrations app and select Sage Intacct integration to get started and configure the integration.
​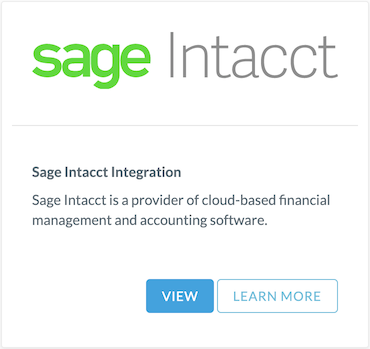 Once the integration is set up, any gifts created in Virtuous will automatically be synced from Virtuous to Intacct. Since Sage Intacct offers flexible options for tracking and categorizing gifts, the integration includes the ability to customize the mapping of gift and project data fields between Virtuous and Intacct.
​

If you are using Sage Intacct—or, heck, if you're just plumb curious—you can let your eyeballs roam freely over this support article all about the integration.
Get the Inside Scoop!
Have you registered for the Virtuous Insider yet? We're meeting weekly to deliver content designed to help you make the most of working in Virtuous, with client case studies and success stories, strategy tips, product development insights, and of course, plenty of training and how-to advice.
You can register for the Insider and add it to your calendar just by clicking below.
​

You'll only have to register once, and you'll be registered to attend every week. Mark your calendars now: the Virtuous Insider meets every Thursday at 3:00pm Eastern. Join us this Thursday, July 1st, for our latest Product Pulse session with our own Director of Product, Jason VanLue!
If you've already joined us for one of our Insider sessions, let us know what you think! Drop us a line at training@virtuous.org.
...And the Rest
As with every release, this month's update also includes a number of other fixes, tweaks, minor modifications, and assorted nudges. Among this month's assorted fixes:
Tasks aren't the only feature with snazzy new email notifications! Now, when creating a lead form in Virtuous Marketing, you can select a "Notification User" who will receive an email whenever someone completes and submits your form. Instant gratification!

More lead form goodness! We've improved our handling of international submissions. Now, when someone selects a country other than the United States, the "State" field will not display a list of US states to select. Because, apparently, not every country has a North Dakota. Who knew?

We just keep on making improvements to our new Membership features, and this release is no different. Now, when creating a new membership for your organization, you'll select whether the membership targets Contacts or Individuals. This will allow for much cleaner data and tracking, especially when donors sign up via a membership form. (

remember those

?)

Continuing another recent theme, we've added a new option to the Contacts page. What option, you ask? Why, the option to create a new Contact Note, we reply. And you can do it without having to open the Contact record! Get in, log your note, and keep moving! Just click the three dots to the right of any Contact and you'll see the note option.

Not content to only beef up the Contacts page, on the Gifts page, you'll see options to add a range of new fields to any of the gift tabs, including an expanded list of Contact Statistics. And of course, once added, these fields can be re-ordered or removed from the view at any time. Any changes will only affect you, so each user can have their own, customized view of donor data.

🚨 New merge tag alert! 🚨 You can now include Individual ID, as well as Contact ID, as a merge field in a marketing email. We don't know why this warranted an alert per se; mostly, we just wanted to use the 🚨 emoji.

In the "why didn't we think of that sooner" category, we will now display the Contact type for each record when comparing two Contact records for a merge. Sometimes, little things can make a big difference.

We already have many parameters that can be used to search for a Contact when entering gifts; now, we've added support for searching with a Segment Code. Of course, this does require that you have actually run segmentation on a particular communication. But hey, you're doing that regularly, right? ...right? (insert Anakin and Padme meme here)

If you use your Microsoft or Google account to log into Virtuous, and you forget your login and ask for a password reset email, you'll now receive an email that gently reminds you that you access Virtuous via your Microsoft or Google account, so try that instead of trying to reset your password.

We squashed a bug preventing some users from adding address data to Contacts from the results of a query. Now, when you want to add addresses, you can go for it. Carpe diem!

Some pledge balances were not updating correctly when pledges were edited. We've corrected this issue and fired the offending bad code into the sun.

Some sent emails were not displaying the correct status on the Sent Email page. And if there's one place where you probably want the send status to be accurate, Sent Emails would be it. Though why would we make you pick just one place? That seems weird. The status should be accurate no matter where you look!

(And it is 😉)
And that's the list! As always, if you have any questions about these or other features, feel free to contact our team using the support widget in Virtuous.