Would You Like That Report to Go?
Between filters, queries, standard reports, and custom reports, Virtuous has a lot of options to get the data you need, when you need it. But what if you need to see fundraising data and you're NOT logged in to Virtuous?
Well, with this release, we've got you covered.
Now, you'll be able to schedule custom reports to run on a recurring basis and have the results emailed to yourself, or to any other Virtuous user!
​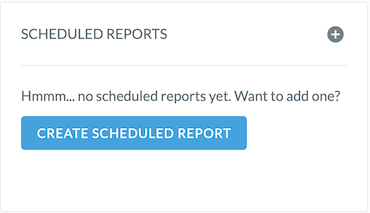 On the Reports page, you'll see a new pane for "Scheduled Reports." Clicking the "Create Scheduled Report" button will open a new form where you'll be able to configure your scheduled report.
​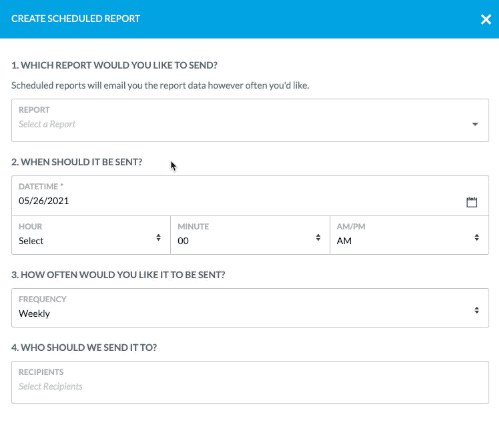 When the report runs at the scheduled time, an email will be sent that includes two attachments: the chart data and the complete report data, both in CSV format.
And the best part? Scheduled reports will align with user permissions, so even if you send a scheduled report to users who are restricted to seeing only certain gifts, or only a certain group of Contacts, each user will only see data that they are allowed to see, based on their permissions. Neat, huh?
Wanna learn more? Of course you do, silly! Check out this support article to get the full scoop on scheduled reports.
A Whole New Form
(Were you singing the song from Aladdin in your head as you read this section title? Well, now you are 😉.)
We recently released a batch of new membership features, allowing you to create memberships, assign them to Contact records, and even track membership payments. In this release, we're taking things a step further, with new membership forms in Virtuous Marketing!
Now, you'll be able to create membership sign-up forms and embed them on your website, so web visitors can purchase a membership online.
When creating a membership form, you'll be able to offer up all of your memberships or select specific memberships that you'd like to include, and even specify a default membership to display on the form.
​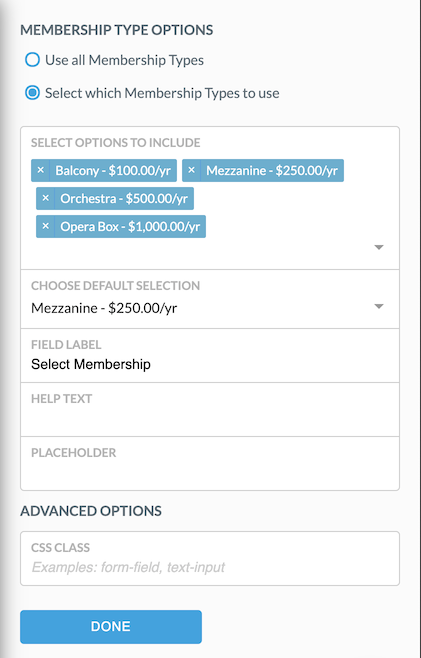 Memberships will now have both a name and a code, just like most other objects in Virtuous, meaning that membership names will no longer have to be unique. These new membership codes can be used as URL parameters for membership forms, to pass a specific membership to a form via the page URL.
You'll also notice that as part of this update, we've given the forms page a little visual refresh, just to keep things tidier. We're like that.
To learn more about creating membership forms, just mosey on over and check out this plumb handy support article.
Custom Receipt Templates Just Got MORE Custom
So, you're creating a beautiful, earth-shatteringly perfect custom receipt template. You decide that the only thing that could make it complete would be to include data from a custom field in your database (maybe it's "Employer" or "Giving Platform," or maybe it's "Favorite Member of the Backstreet Boys," we're not here to judge).
And then you realize that, woe and betide, your masterpiece will remain imperfect, because you can't use custom fields as merge fields in receipt templates.
If this has happened to you, we are pleased as punch to say: it won't anymore! That's right, you can now use custom fields as merge fields in receipt templates!
​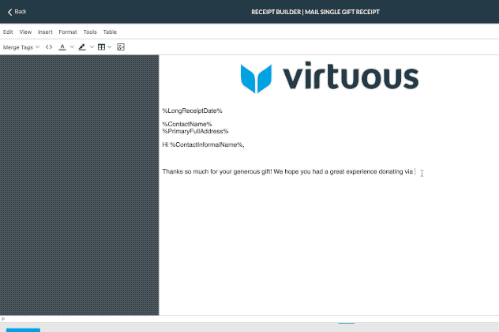 Since receipts are related to both a Gift and a Contact, you'll be able to use either Gift custom fields or Contact custom fields in your receipts.
If it's been a while since you revisited your receipt templates, or you haven't created any templates yet, you can check out our collection of receipting how-tos to get started.
Get the Inside Scoop!
Have you registered for the Virtuous Insider yet? We're meeting weekly to deliver content designed to help you make the most of working in Virtuous, with client case studies and success stories, strategy tips, product development insights, and of course, plenty of training and how-to advice.
You can register for the Insider and add it to your calendar just by clicking below.
​

You'll only have to register once, and you'll be registered to attend every week. Mark your calendars now: the Virtuous Insider meets every Thursday at 3:00pm Eastern. Join us this Thursday, June 3rd, for our Product Pulse session with our own Director of Product, Jason VanLue!
If you've already joined us for one of our Insider sessions, let us know what you think! Drop us a line at training@virtuous.org.
...And the Rest
As with every release, this month's update also includes a number of other fixes, tweaks, minor modifications, and assorted nudges. Among this month's assorted fixes:
Along with the rollout of our new membership forms, we're also introducing the ability to add a membership to a Contact record as part of the gift entry process. Memberships everywhere! Whoooo!

Virtuous Marketing users will notice that we've made a slight change to the email targeting step when sending out a marketing email. We've re-ordered the radio buttons to make sending to a list the default, since sending an email to a query is not recommended. Email lists allow for more precise targeting since you can target subscribed Individuals and even filter your audience with Contact OR Individual queries. Seems only fair we'd make it easier to send to a list, right?

More customizations! On the Contacts and Gifts pages, you can now click on the gear icon in the upper right to add additional columns to your view and even re-order additional columns. This will only affect your view, not other users, and your selections will remain as you navigate between pages. So, want to add Cash Accounting Code for Gifts or Marital Status for Contacts? You do you, boo!

We've spruced up the view for downloading from a filter, which should make it easier to search for and add export fields. We've even added the total number of export records, because that seems like handy information to have.

Even MORE cool new views news! (We had to make it rhyme, you know us.) Like the Gift Ask Pipeline, and all the cool filtering options, but just wish you could see all the Gift Asks in a table or list view? Well then, hypothetical reader, today is your lucky day! Look for the view options in the upper right corner to switch between the table and card view. Whichever you select will be your default view...until you change it.

We've updated the Birth Month field in forms to display actual month names instead of numbers. Extra fancy!

We've also tightened up the criteria for the Recurring Gift Aging Report. Now, each group is more clearly defined, with past due gifts and total expected payments sorted into those past due by 0-30 days, 30-60 days, 60-90 days, and 90+ days. Apparently, accounting requires accuracy and precision. Who knew?

Contact Notes are super handy, and they are getting even...more...super-duper handy. Now, you'll have the option to attach multiple files to a single Contact Note. You'll need to select multiple files when attaching and add all of your files at once. But hey...that's efficiency!

Gift import users will notice a new option to set a default Transaction Source when importing gifts from a csv file. This can be handy for identifying transactions from a 3rd party platform. Just include the Transaction IDs in your import file. No silly jokes here, gift entry is SERIOUS BUSINESS.

Some users reported seeing some odd pledge error messages when importing recurring gift payments. We've poked at our code a bit to fix error handling for recurring gift payments, so we won't be crossing the streams between pledges and recurring gifts anymore.

While we're on the subject, now Contact imports will show a summary of all Contacts created and all Contacts updated once an import is complete. No more guessing if you got it right! Sorry if you're into guessing games, no harm intended.

Workflow engagement data will now include wealth data append totals, so you can keep better track of your DonorSearch activity. DonorSearch already does, so it seems only fair that you can too.

Speaking of DonorSearch, we've also corrected a bug that prevented Total Real Estate value from populating correctly in wealth data results. Apparently, real estate is kind of a big deal when evaluating wealth.

By popular demand, you can now re-order list values for list-type custom fields. Man, we really went for it on the customization theme, huh?

Apparently, expired tags have been sneaking into query results. We've shown them the door and told them never to come back again.
And that's the list! As always, if you have any questions about these or other features, feel free to contact our team using the support widget in Virtuous.